Black Friday Holiday Weekend With Pinot's Palette!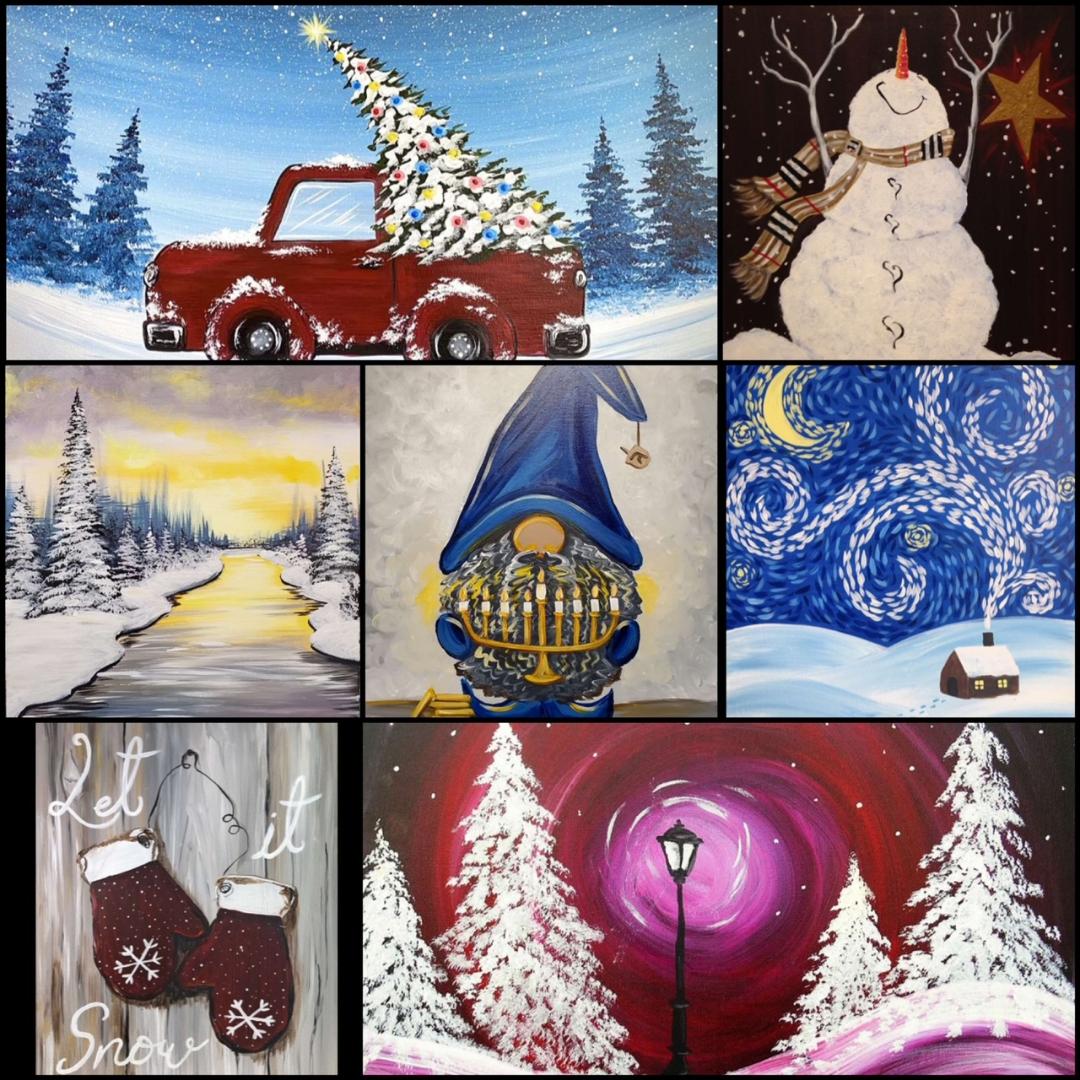 The idea of 'Black Friday Weekend' is different for everyone…
Some love the idea of getting right into the holiday mood by shopping sales and the rush of finding great deals on gifts; Others think of this holiday weekend as a time to unwind from Turkey Day with leftovers, family, and comfy clothes.
No matter which category you fall into, we've got A LOT to offer for this special weekend!
From fabulously festive classes, to virtual paint fun, DIY gifts, discounts, and more, Pinot's Palette is the place to be!
Here's What's Going On At The Studio:
***FRIDAY, Nov. 26***
Starry Winter Night
Enjoy a nice cozy night in this cute cabin with a starry night view.
https://www..../event/573448
Winter Wonderland
Seeing the northern lights in person can be on many bucket lists. Create your own forever bucket list scene (in the warm studio!) for a wondrous scene that everyone can enjoy.
https://www..../event/573479
***SATURDAY, Nov. 27***
Festive Shaggy Cow
Shaggy cows are so cute and fun to paint! Add some roses, bells, greenery and metallic gold paint to make it festive!
https://www..../event/573491
A New Winter
Step into a new winter and enjoy this refreshing nature scene.
https://www..../event/573498
Snowman's Bliss
*A long-time customer favorite!!!
This snowman is livin' his dream! A beautiful snowfall on a dreamy winter's night, with only a gingerbread star to light the sky. He can play until his heart's content, while little ones are tucked in bed! This charming painting will put a smile on your face and brighten your heart!
https://www..../event/573449
On This Winter's Night
"This winter's night stars shine like silver bells. This winter's night the mistletoe kiss and tell, snowflakes fall like frosting, and I sit on the street. Strangers look like neighbors with every smile that you meet." – Lady Antebellum
https://www..../event/573480
***SUNDAY, Nov. 28th***
Rustic Winter Mittens
Customize these adorable rustic mittens to match your winter decor!
https://www..../event/573506
Hanukkah Gnome
Celebrate the season by painting this cute gnome!
https://www..../event/573559
Holiday Truck
Deck the halls with this adorable holiday truck!
https://www..../event/573515
And Don't Forget To Book Your Holiday Party!
If you're looking for the perfect place to have your holiday party this year, look no further than Pinot's Palette! From in-studio classes to virtual events, we have something for everyone! Whether you're looking to have a fun time with friends and family at your annual Christmas Party OR looking for a unique pace to host your Holiday Office Function, there are tons of options for you and your crew! You'll pick the painting, the date and time, and of course the guest list when you book a private event with us; Bring in food, choose the drinks, come in early to decorate, and build in extra time for a gift exchange or games...
Anything you want to do for your event, we're here to help make it happen!
Virtual:
https://www....ivate-parties
Celebrations:
https://www....ivate-parties
Corporate/Team-Building:
https://www....porate-events