Paint Like Van Gogh!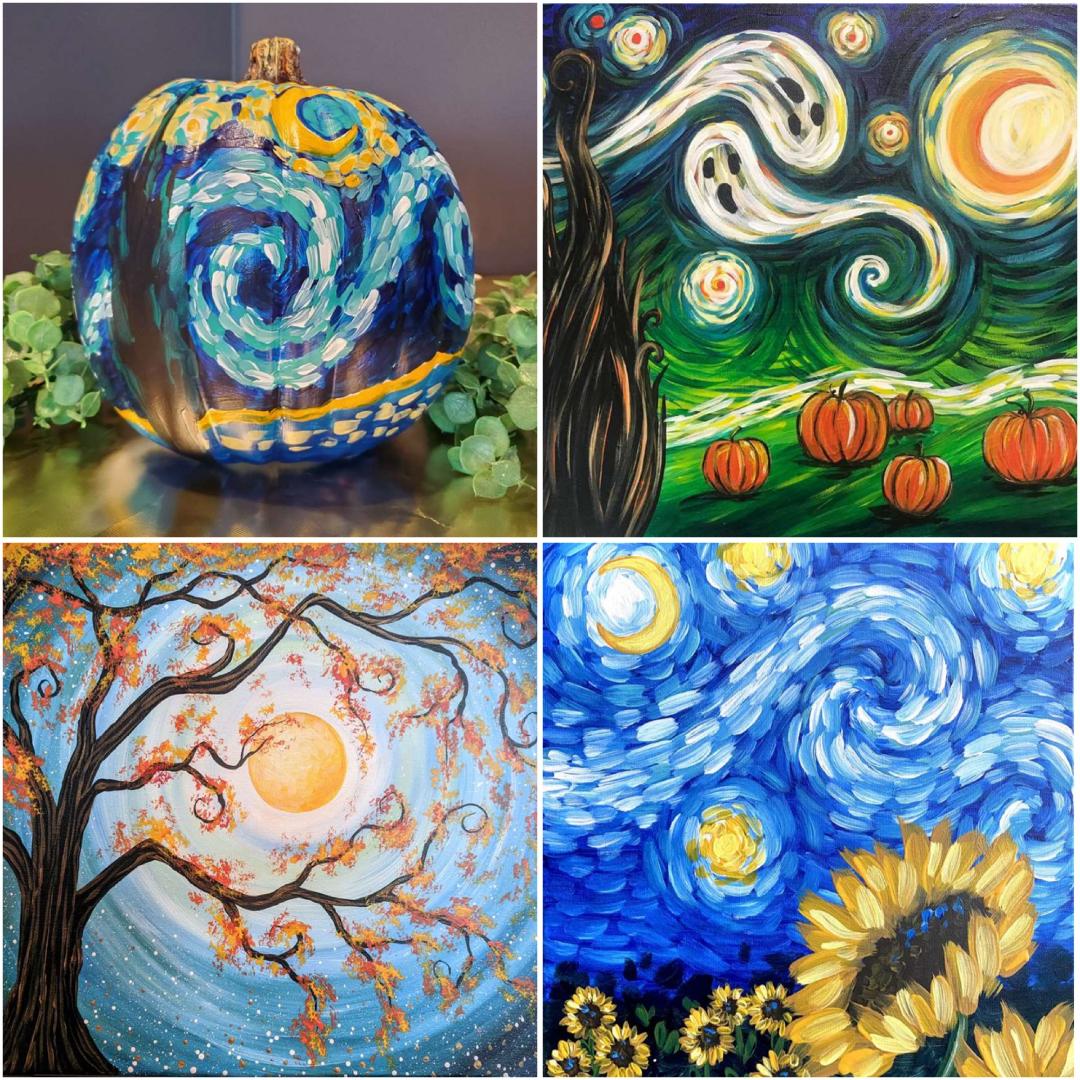 Vincent Van Gogh was born in Southern Holland on March 30, 1853. He was the oldest son of a Dutch minister, and grew to become one of the most well known and influential artists of the 19th century. Van Gogh decided to become an artist as age 27, after trying our several other careers in his early life. His early works are dark portraying downtrodden city dwellers as well as Dutch peasants at work.
In 1886, Van Gogh moved to Paris where he became familiar with the work of the Impressionists and Neo-Impressionists. He befriended Pissarro, Monet, and Gauguin. Van Gogh began to lighten his color palette and experimented with different shorter brushstrokes. His works changed from peasant workers to images of Paris, portraits, self-portraits, and images of flowers.
In 1888, at the age of 35, Van Gogh moved from Paris to Arles where he had dreams of starting a community of artists. Fellow artist Paul Gauguin joined him for a short time however, the two frequently had disagreements and Gauguin soon left. Van Gogh threatened Gauguin with a razor and ended up cutting off a portion of his own ear. Struggling with fits of madness Van Gogh spent time in an asylum in Arles and then in Saint Remy.
Van Gogh spent much time in the asylum at Saint Remy though it was later believed that he suffered from epilepsy. While there he painted some 150 paintings. Upon his release in 1890 he went to Auvers-sur-Oise where he was under the care of physician and painter, Dr. Paul Gachet. In two months Van Gogh was averaging a painting a day. At the age of 37, Van Gogh attempted suicide, while in a wheat field he shot himself in the chest. He died two days later with his beloved brother, Theo at his side. Six months later, Theo died as well and was buried next to Vincent in the small church at Auvers-sur-Oise.
Van Gogh's main symbols of his work was color, movement, and the heavily-textured look he achieved with his quick, choppy brushstrokes. Thick-looking paint, strewn upon the canvas, looking like a quickly-created work of art, while at the same time, seeming to have every single brushstroke places in the right place liek the well-thought-out masterpiece that it is.
*****
It might come as no surprise to hear that some of our most popular paintings are the ones that are inspired by Mr. Van Gogh, himself. His masterpieces like 'Starry Night', 'Sunflowers', and 'Irises' are recognizable, world-wide, with many people owning his art in some form or another; Whether it's a postcard from a loved one, a magnet on your refrigerator, that poster that you had in your college dorm, or a re-created work of art hanging in your home, we've all heard of him and his stunning style of artwork.
--- --- --- More artwork this month, coinciding with the style and movement of Van Gogh's work:
10/1 A Walk Through Color
A walk through a whimsical pathway
https://www..../event/558243
10/2 'Starry Night Sunflower'
Sit under the stars and smell the sunflowers with us here at the studio!
10/8 Autumn Moonlight Delight
Join us this fall to paint Autumn Moonlight Delight!
https://www..../event/559855
10/9 Starry Night Pumpkin
Paint a craft pumpkin in Van Gogh's Starry Night theme!
https://www..../event/565352
10/13 Autumn Waves of Amber
Create the bright, crisp colors of Fall in this dreamy lake landscape.
https://www..../event/558237
10/16 Van Gogh's Starry Night Halloween
Join us for this fun twist on Van Gogh's Starry Night - Halloween Edition at Pinot's Palette studio near you! "There is magic in the night when the pumpkins glow by moonlight."
https://www..../event/560030
10/16 Birch Grove At Sunset
Paint the sunset warmth under the branches of this birch grove.
https://www..../event/560059
(Virtual):
https://www..../event/561233
10/19 Crisp Mountain Air
There's nothing better than cool, crisp, mountain air! Join us to paint this lovely Autumn scene.
https://www..../event/560031
Use these codes to Save!
Buy2Save10 ***Buy 2 Reservations in the same class, get $10 off your Purchase!
Buy3Save15 ***Buy 3 Reservations in the same class, get $15 off your Purchase!
Buy4Save20 ***Buy 4 Reservations in the same class, get $20 off your Purchase!
https://www..../event/558996
Share Interesting facts about Van Gogh | Sign up for a class!