Hi There.
Thanks for visiting our site! While Pinot's Palette is a franchise, our South Hill Studio is 100% locally owned and operated. We thought we'd take a minute to introduce ourselves.
Truth is, we weren't looking to brave the adventure of small business ownership. Seriously. With two full-time jobs, dual membership in the Washington Army National Guard, a toddler and two house horses (what we call our English Mastiffs), we'd be crazy to start a business, right?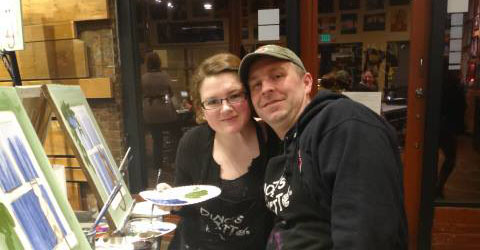 Yep,,, we're crazy.
We discovered Pinot's Palette in Spokane, WA, where Jackie Casey runs one of her fantastic studios – we drove past it a couple of times before I Googled it. Was it a wine bar? Was it an art studio? What is this "Paint and Sip" thing anyway?
We were around the one-year mark with our first, and we needed some "us" time, for real. Not just a date, but something that would help us reconnect and rekindle the romance back to pre-baby levels. We needed to be able to actually talk to each other, not just sit in the dark next to one another like in a movie, or yell at each other for a couple of hours over really loud bar music. Paint and Sip? Bingo! Ray was skeptical at first, but was a good sport – and besides, they had beer!
It was an awesome experience, everything I was hoping for and more. Our first date night was in March last year, and we signed on as franchisees in April. So here we are, on the brink of Paint and Sip greatness! (Trust me, it's gonna be Great!)
In the aviation community there is this great expression that helicopter pilots share: "Hold my beer and watch this!"
So… Hold my wine and watch this!
Hope to see you soon!
Heidi & Ray
Looking for a great date night idea that lets you uncork your creativity? Come to Pinot's Palette. Pour your art out and turn a blank canvas into a masterpiece of an experience with your loved ones.