Unique but Simple Vegan Foods for Memorial Day Potlucks
Been invited to a couple different Memorial Day potluck gatherings, and you have been tasked with bringing some Vegan options? Here are a few ideas for something new and fresh to bring to the table! Most of these have minimal prep and are relatively inexpensive, however, they might require a bit of searching in the store. Let's go!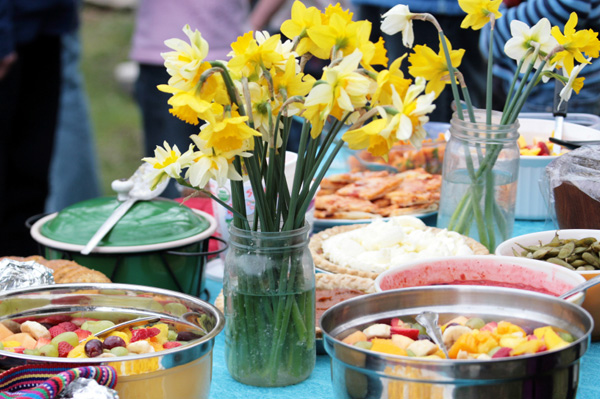 Jicama Sticks
Pronounced "HIH-kah-mah" and when found in the produce sections of stores like Sprouts or Pavillions, looks like a massive light-brown bulb covered in wax. They're usually priced around $1/lb and each one usually weighs less than 3 pounds. This sweet, crunchy, refreshing vegetable can also be found pre-cut and packed at Trader Joe's with a higher price-tag. To cut it, slice (with a really sharp heavy knife) the wax away from all the edges and both ends. Then cut into sticks about 1/2" thick, refrigerate until go-time, and place in a cute serving bowl— no cooking required!
Banana Peel Pulled Sliders
Now hear this out—since banana peels are usually only associated as either trash or the thing characters slip on in funny old cartoons—the nutritional value of cooked banana peel is through the roof! It also happened to be a really inexpensive way to bring a vegan option to the party. So here's what to do: get a bunch (5-6) ORGANIC** bananas that are barely tinged green, peel them (eat, bake with, or freeze* the banana parts for later), use a spoon to scrape out the pith (sticky bitter white stuff) from the insides of the peels, and then use a fork to "shred" the peels before chopping them in half or thirds of their length. Now, they can either be cooked up right away, or placed in a container with dry rub to marinate until Memorial Day weekend (current favorite seasoning is the Trader Joe's BBQ dry rub with coffee and garlic that comes in an awesome little brown tin for only $2.29, just sayin'). Head's up, they will quickly change from yellow to gray, it's ok! When they are ready to cook, dice or slice one entire onion, sauté the onion in oil until translucent, add 2 cloves minced garlic, add the shredded and seasoned banana peels (if unseasoned add bbq sauce and add again if it looks too dry), cook until tender. Serve with the same buns and toppings as pulled pork would be, except no sweet piggies were turned into pork for this dish!
*with the help of a solid blender, the frozen banana can also be turned into a 1-ingredient plant-based-soft-serve. Summer, here we come.
**while the fruit of non-organic banana is fine to eat, the peel is covered in pesticides that should not go in anyone's tummy.
Simple 'Slaw
To go with the BBQ banana peel, obviously! For quick prep, grab a bag of Trader Joe's mixed green and purple shredded cabbage, toss with a tablespoon (or more, to taste) of apple cider vinegar, a tablespoon of olive oil, maybe add some sunflower or sesame seeds, cover and chill for at least an hour to let the acidity settle into the cabbage. That's all, life is super simple when it's dairy-free!
Trader Joe's Roasted Plantain Chips
These chips are mind-blowing and are a mere two ingredients: roasted plantains and sunflower seed oil. Plantains are bursting with potassium, and these have a salty, nutty taste and are much more nutritious and possibly more delicious than the standard ruffle-cut potato chip. Also, only $1.79 a bag, folks! At the same price, TJ's currently has a jerk-style plantain chip, they're spicy!
If you're looking for something fun to do in or around the South Orange County area( Mission Viejo, Lake Forest, Foothill Ranch, Ladera Ranch and Rancho Santa Margarita), we make a great spot to visit for everything from a fun and unique date night, an awesome girls' night out experience, and we even offer private events!
Our spacious two room studio is also available to celebrate a birthday, bridal shower, reunion, retirement, and more with friends and family, sharing their artistic sides, together. Make memories that will last a lifetime with a souvenir to treasure forever with one our classes.
*We also play host to kids birthday parties kids ages 7 and above can join you to paint a masterpiece.
https://www....ainting-party
This Summer we have camps schedule in June and July. Check our calendar for dates and information.
*Learn more about our private parties, here:
https://www....rivate-events
We also play host to tons of corporate events, too! Why not book your next work party or team building event with us? We offer several styles of paintings that incorporate team building strategies, encouraging the whole office to work together, creating a stunning world of art!
https://www....porate-events
*Read more about corporate events, here:
https://www....porate-events
Finally, in addition to out studio parties, we offer mobile events, off-site! You choose the location and we'll come to you with all of the supplies!
*Learn more about out mobile events, here:
https://www....ainting-party