Celebrate Mother's Day
It's Easter Sunday and suddenly you realize that Mother's Day is around the corner. Frantically, you start searching "best ideas for Mother's Day" or "Things to do for Mother's Day" . I bet your first instinct is to make a Brunch reservation, but you did that last year and the year before.
This year, do something that better than Brunch. Take her to Pinot's Palette Rancho Santa Margarita, because she deserves an Original!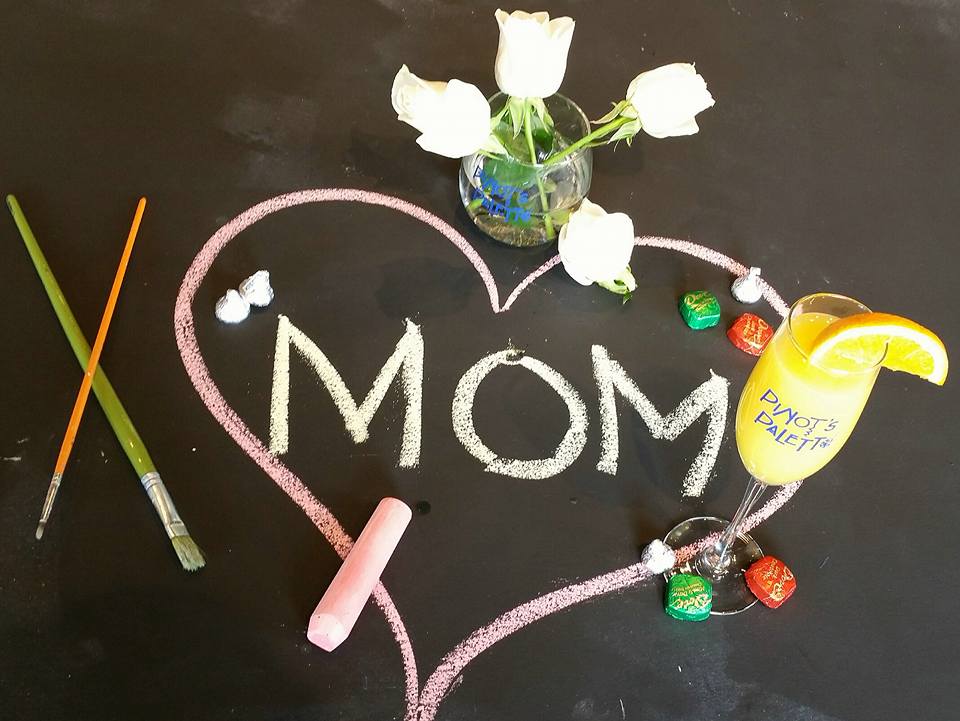 Our May calendar is filled with a variety of events through out the week from May 8th to May 12th - From Canvas Painting, Succulents workshop, Jewelry design to Wood Pallets. So whether you are looking to surprise mom with a personalized home accent or celebrate with Mom we have something for everyone. Below is our schedule of events:
Sun May 5th: Project Pet
Create a personalized portrait of your pet at Project Pet. Once you sign up for the painting, email us a high quality digital photo of your pet (one pet per canvas, please) and we will do the rest. Each photo will be transferred onto a 16"X20" canvas. Our talented artists will walk you through the steps to create your very own Pet Portrait!
https://www..../event/322498
Sun May 5th : Apricot Rose
This beautiful painting represents the beautiful apricots roses and can be a special gift to yourself or Mom. Change up the rose colors for a new special meaning!
https://www..../event/312666
Wed May 8th: Succulents Workshop: Tea Cup Arrangement
Succulents Workshop. Create a unique and beautiful arrangement with live succulents. Each class will have a different featured design
https://www..../event/317675
Sat May 11th Floral Delight
Relax and paint this bright, fun, & colorful bouquet. With bright pops of color, and abstract flowers - this painting is sure to be a hit!
https://www..../event/315259
Sat May 11th El "Love" Phant
Two elephants, a mother and child, bonded together by love and by their intertwined trunks!
https://www..../event/322466
Sat, May 11th A Walk in the Rain
A peaceful moment on a walk home in a slight drizzle with pools of rain on the ground reflecting bright colors from the surrounding environment. This woman could be anyone, your mother, friend, sister, or even you! We encourage people to customize her outfit to whatever colors they like.
https://www..../event/322467
Sat May 11th Palette full of Posies
This Springtime Beauty is a great addition to your home decor! Its simple and fun to paint and will add a pop of color to your walls at home!
https://www..../event/322468
Sun May 12th Country Tulips
Paint on wood pallet This attractive bouquet of flowers will brighten you day!
https://www..../event/322457
Sun May 12th Family Bouquet
A perennial favorite, flower bouquets are one of the best gifts you can give your mother on Mother's day. This year though, her bouquet will last a lifetime. Personalize it with family names and paint in some of her favorite flowers. She will sure be proud of your lovely creation!
https://www..../event/322453
Sun May 12th Paint on Canvas Tote Bag
Love is a flower that grows in any soil, works its sweet miracles undaunted by autumn frost or winter snow, blooming fair and fragrant all the year, and blessing those who give and those who receive
https://www..../event/322459
Or if you are interested in hosting your own Mother's Day party, all you need 10 of your closest family members or friends to host your very own private party. You get to pick you Painting, Date & Time. Give us a call to plan your event 949.393.1340
Pinot's Palette located in Rancho Santa Margarita is the premier destination for Paint Parties. Perfect for Date Nights, Moms Night Out, Family Night out, Kids birthday parties, Office team building, Bachelorette parties and any other celebration.
Our Spacious 2 room studio is located in the El Paseo Plaza ( next to Bed, Bath, Beyond) and easily accessible from all cities in South Orange County - Mission Viejo, Foothill Ranch, Lake Forest, Laguna Hills, Irvine, Ladera Ranch, Coto De Caza and Rancho Mission Viejo.
For more details on hosting a kids birthday party visit:
https://www....ainting-party
For details on Office Team Building Visit:
https://www....porate-events