Welcome 2019 with Cheer and Creativity! Our January Calendar is waiting for you!
Start of a new year makes for the perfect time to come in and try out a painting and wine class!
Join us in our warm studio and make good on your new year's resolutions to be more creative, try new things, or spend more time with loved ones!
Here's what's coming up this month: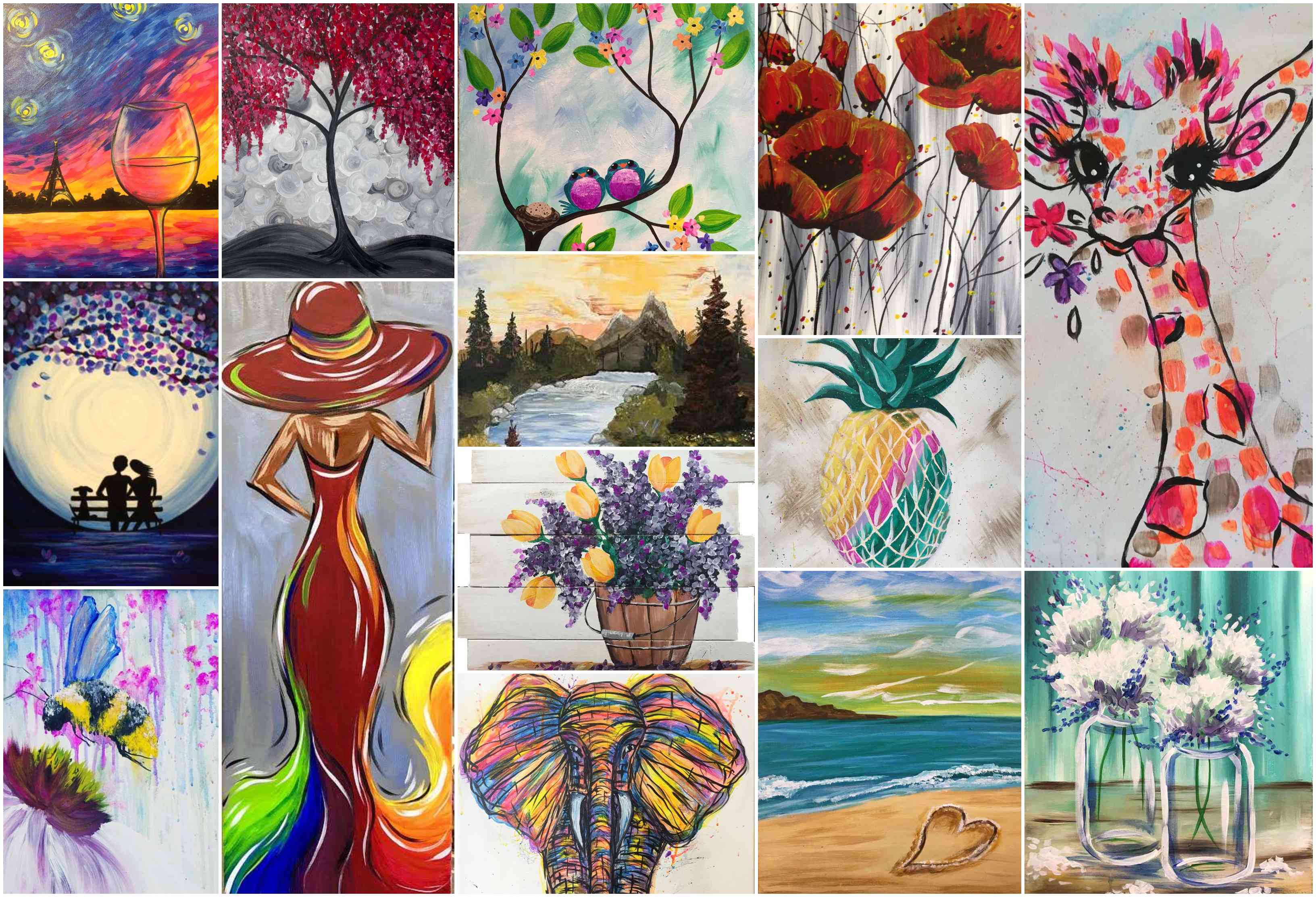 Moonlit/NightSky Paintings
1/11 Midwinter Solistice
A continuation on a lunar series, this one is the winter installment featuring an icy palette
https://www..../event/289019
1/16 Frosted Moon
https://www..../event/286528
This frosty moon is hanging low in the sky on a cool night.
1/19 Van Gogh Starry Night Over the Rhone
https://www..../event/288840
Van Gogh's fascination with the night sky and the effects of light at night can be seen throughout some of his most famous paintings. This scene depicts a beautiful, clear night sky over looking the Rhone river near his home in Arles, France.
Black Light Parties
This class will be super fun as we turn off the bright lights and turn on the "Black Lights". Wear black light clothing, paint your faces, arms or hands and light up the night in your own way!
1/11 Japanese Maple Glow
https://www..../event/288318
A manicured hillside path dips to reveal this giant radiant beauty.
1/18 Calm Winter Night
https://www..../event/296936
A calm winter night under the black lights!
1/25 Harmony Tree
https://www..../event/296935
There is evidence of balance and harmony everywhere. Feel that energy and peace while creating this piece. This piece comes alive under the blacklight.
Beach and Ocean Scapes
1/12 Day at the Dunes
https://www..../event/289008
Kick back and relax as you drift away to the waterside and enjoy A Day At The Dunes!
1/18 Heart in the Sand
https://www..../event/287675
Draw your heart in the sand on this serene beach. Let the waves roll in and take you away on this relaxing vacation to Pinot's Palette.
1/19 Dream Island
https://www..../event/292602
Escape the reality of everyday life and drift off to this dream island.
1/23 North Shore
https://www..../event/296122
It's where everyone surfs! Come catch a wave with us!
1/25 Socal Sunset
https://www..../event/289023
A little piece of paradise in Southern California!
Family Events
Every saturday and sunday we host special family events which are open to ages 7 and above. These events are perfect for the entire family to spend time together and create something cute
1/12 Sly Guy
https://www..../event/292620
S-L-O-W and steady wins the race with this sly,
smiley little sloth!
1/13
1/19 Sassy Girraffe
https://www..../event/292604
A cute, very easy rendition of a baby giraffe eating some flowers.
If you're looking for something fun to do in or around the South Orange County area( Mission Viejo, Lake Forest, Foothill Ranch, Ladera Ranch and Rancho Santa Margarita), we make a great spot to visit for everything from a fun and unique date night, an awesome girls' night out experience, and we even offer private events!
Our spacious two room studio is also available to celebrate a birthday, bridal shower, reunion, retirement, and more with friends and family, sharing their artistic sides, together. Make memories that will last a lifetime with a souvenir to treasure forever with one our classes.
*We also play host to family events where kids ages 7 and above can join you to paint a masterpiece.
https://www....ainting-party
*Learn more about our private parties, here:
https://www....rivate-events
We also play host to tons of corporate events, too! Why not book your next work party or team building event with us? We offer several styles of paintings that incorporate team building strategies, encouraging the whole office to work together, creating a stunning world of art!
*Read more about corporate events, here:
https://www....porate-events
Finally, in addition to out studio parties, we offer mobile events, off-site! You choose the location and we'll come to you with all of the supplies!
*Learn more about out mobile events, here:
https://www....ainting-party