Holiday Event Calendar
We are so excited about our Holiday calendar. Our calendar is filled with some of our seasonal favorites and brand new DIY activities. We can't wait to paint these with you. Here are some of the highlights!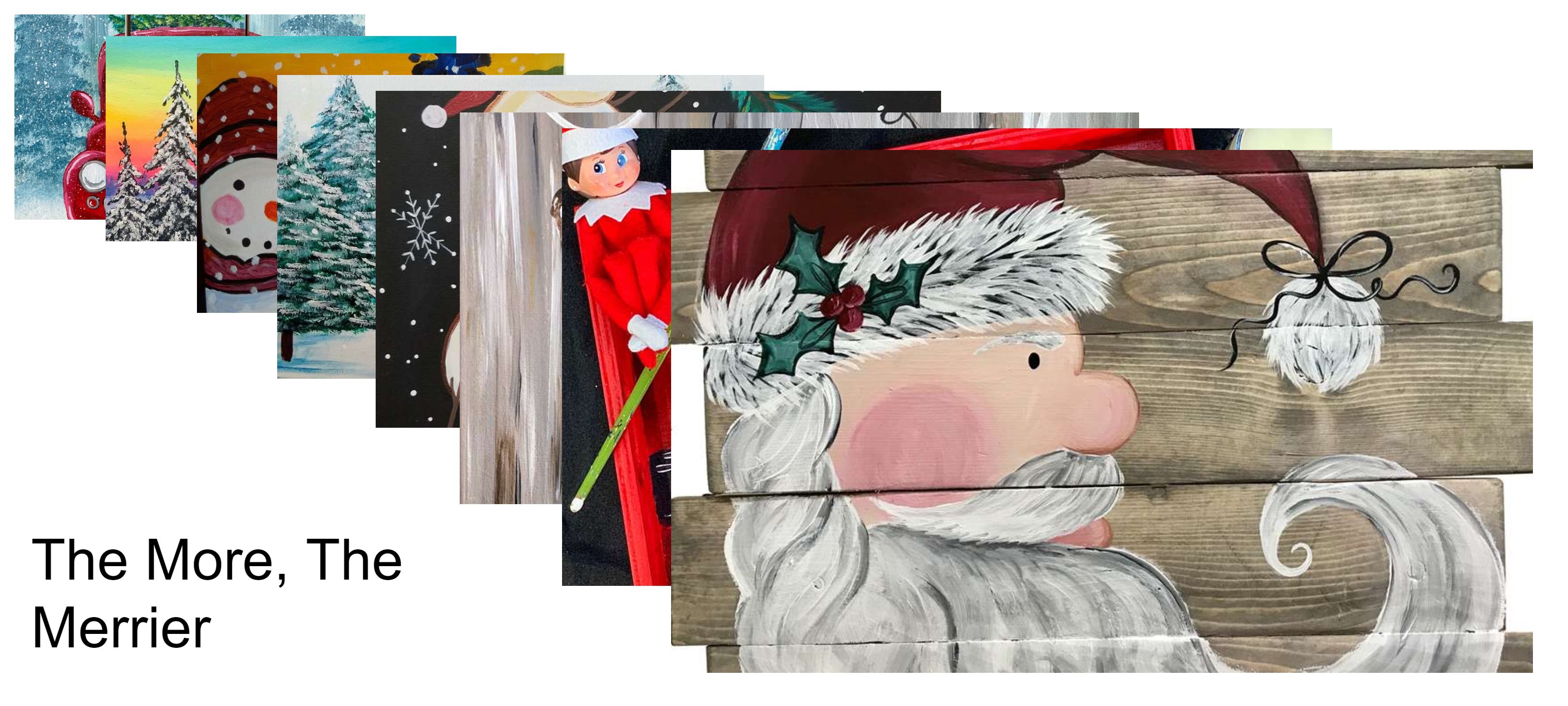 Sun, Nov 17th - Family Event; Open to ages 7+
Dear Santa Cookie Tray: Paint a cute santa on a Wood tea tray. Santa will be so happy to see the tasty treats left on this tray by the tree! Merry Christmas!!
Day After Thanksgiving: We have a great set of events scheduled for the Day after Thanksgiving.
Hanging with Rudolph: Fri, Nov 29th 2pm
Rudolph is so endearing with his quirky expression. This is such a fun painting for people of all ages.
Star Bright: Fri, Nov 29th 3pm
https://www..../event/380943
The North Star shines brightly upon this sweet little chapel in the snowy woods.
Perfect Tree: Fri, Nov 29th 7PM
https://www..../event/367282
Every Christmas Eve we drove into the woods to pick out a tree. It's one of my favorite childhood memories. Climbing into that beat-up old truck. Carols playing on the radio. And every year we would come back with the 'Perfect Tree'.
Drop and Shop: Nov 25th, 26th and 27th 9:30a - 1pm.
Want to get some Thanksgiving shopping done? Then this Drop & Shop kids camp is perfect for you. Each day the kids will create a new piece of art. Please send a packed lunch. We will provide snacks.
https://www..../event/369568
https://www..../event/369569
Family Cookie Decorating Class: Sunday Nov 24th
https://www..../event/373979
And there's more!
Our studio is also available for child's next party, a wedding celebration, retirement, reunion, a fundraising event, book club meeting, or any other reason you have to gather.
You and your guests will have a blast, mingling and learning more about one another in our studio space, as you paint and enjoy a creative celebration!
If you're still not sure that our classes and studio environment is the right fit for you party, join us for a public class and see what we're all about!
We hope to see you soon for a fun, exciting, unique, creative, and above all, memory-making activity at Pinot's Palette!
Make some memories and masterpieces this holiday season, or any time of year, with Pinot's Palette in Rancho Santa Margarita.