Valentine's Day Events at Pinot's Palette
Valentine's Day is just around the corner and its time to starting planning for the Day.
Planning a romantic dinner at a restaurant is so last decade. Start off the new decade by planning a extraordinary night out to win your Valentine's heart.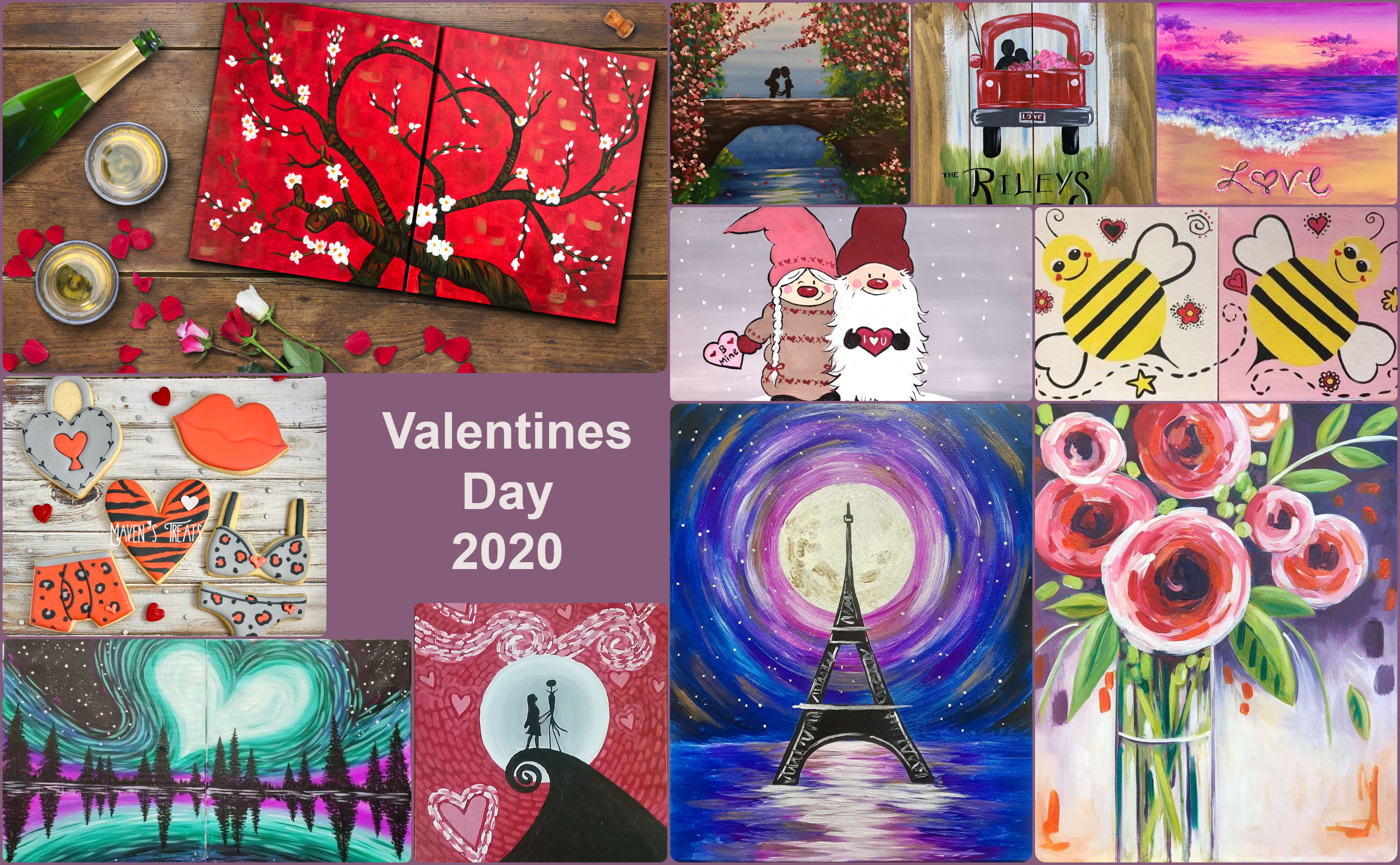 This year Pinot's Palette Rancho Santa Margarita has a great set of events on the calendar to help you celebrate this special holiday of love.
From Date Night (2-person) paintings, to Paris-themed artwork, and even an Family event where you can paint with your junior valentines.
Check out the many classes we're offering and see which ones you like the best!
Sign up you and your Valentine for a paint and sip class to always remember!
The great thing about choosing a painting and wine class as your Valentine's celebration is that it's something new, unique, creative, fun, AND you get to leave with a handmade souvenir to treasure forever!
Spend the holiday of love at Pinot's Palette where you'll make memories and masterpieces with that special someone.
WE have 3 events scheduled on Valentine's Day Feb 14th
Fri, Feb 14th: Love at the Beach 4pm
https://www..../event/404890
What's better than a romantic sunset at the beach? Paint this vibrant sunset full of pinks and purples. Personalize your painting by adding a special message in the sand.
Fri, Feb 14th: Van Gogh's Love Blossoms 7PM
https://www..../event/404876
Fall in love all over again while painting this heart shaped cherry blossom tree with your honey. This unique diptych is inspired by the iconic cherry blossom color studies of Van Gogh.
Fri, Feb 14th: Northern Love Lights 7PM
https://www..../event/404891
Celebrate your love with us! Paint this beautiful lake full of reflections of the aurora filled night sky.
In case you are busy on Friday, February 14th we got your covered. We have plenty of events planned for Saturday and Sunday so that you and your Valentine can still celebrate.
Saturday, Feb 15th : Bee Mine Too Family Day Event 12PM
https://www..../event/408288
These cute bee friends are buzzing for some fun!
Saturday, Feb 15th: Socal Sunset 3PM
https://www..../event/409200
A little piece of paradise in Southern California!
Saturday, Feb 15th: Love is in the Trees 7PM
https://www..../event/409158
"Some people like to paint trees. I like to paint love. I find it more meaningful than painting trees." -Robert Indiana
Saturday, Feb 15th: Starry Valentine Kiss 7:30PM
https://www..../event/404889
A famous kiss is re-imagined with a Van Gogh-style Valentine background.
Sunday, Feb 16th: Valentine Gnomes
https://www..../event/408296
*** A Galentine's Day Celebration ***
For some, the prospect of celebrating Valentine's Day on February 14th fills them with joy as they prepare to shower their significant other with saccharine declarations of love.
For others, a far more exciting event takes precedence - Galentine's Day, which falls on February 13th, every year.
As the name would suggest, Galentine's Day is a celebration of female friendship so grab your bffs and come out to paint and sip wine as you celebrate each other and your friendship together!
JOIN US:
Thursday, February 13th is Galentine's Day!
We'll be painting 'Paris In Moonlight' from 7-9:00pm
and we want you and your friends to join in the fun!
https://www..../event/404877
Thursday, February 13th
https://www..../event/409576
Create delightfully decorated sugar cookies!
Come join the party as Michele of Maven's Treats guides you through the process of creating delightfully decorated sugar cookies. Whether you're looking for a new hobby or a fun night out with friends, our lighthearted beginner class requires no previous experience, and even better, no mess in your kitchen.
Our hands-on class will include 2 hours of step-by-step instruction, plus all the materials needed to decorate 6 of the most delicious and mouth-watering sugar cookies you've ever tasted. You'll learn the importance of different icing consistencies, how to use tipless piping bags, the basics of outlining and flooding, wet-on-wet techniques and more. Let us inspire you to create edible art while laughing and learning a new skill that will impress your friends and family! You can even lick your fingers, we won't tell.
You dont' have to wait until Valentine's to spend some time with your special someone to create a hand-made work of art.
We have events scheduled throughout the week.
Check out our calendar at www.pinotspalette.com/rsm/events