Summer Art Camps at Pinot's Palette
Summer Art Camps at Pinot's Palette are back!
School is out and its time to schedule the camp schedule for your kids. If you are looking for a creative and fun camps for your kids, then Little Brushes camps at Pinot's Palette are perfect for you. Below are some of the highlights of summer art camps this year.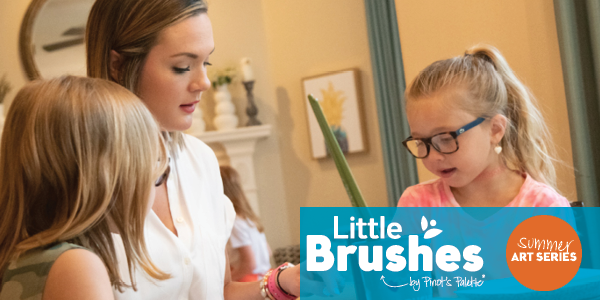 Week of Jul 6th - Jul 10th: Fantasy World
Monday, Jul 6th 10AM - 1PM: You've Got Magical Mail
You've received magical mail from your favorite feathered friend! Customize your painting by changing the hair, the colors of your scarf, or the feathers of your owl.
Tuesday, Jul 7th 10AM - 1PM: Magical Snowy Owl Eyes
Join us for this fun painting while we create our own wizardly owl and castle scene.
Wednesday, Jul 8th 10AM - 1PM: Legendary Llamacorn
The elusive llamacorn has been spotted!
Thursday, Jul 9th 10AM - 1PM: Dinosaurs at Dusk
Journey back to the late Jurassic period to take in the tranquil twilight landscape with these easygoing herbivores.
Friday, Jul 10th 10AM - 1PM: Moonlit Dragon
Gazing up at the night sky, a dragon takes flight in the night, over a sky of stars and a shining moon.
Week of Jul13 - Jul 17th: Cosmic World
Monday, Jul 13th : Sleepover on the Moon
Time to mediate with this lazy sloth who found it's way up on the moon. Napping, painting and being with wonderful friends are great ways to relax just like this sleepyhead.
Tuesday, Jul 14th: What child is this?
This cute baby lizard is eating soup, or perhaps begging for money- what do you think is in his cup?
Wednesday, Jul 15th: Shoot for the stars
With this colorful galaxy painting, we encourage our dreamers to shoot for the stars!
Thursday, Jul 16th: Meet me in Outer Space
Leave the Earth behind and meet us in this colorful stellar landscape.
Friday, Jul 17th: Glowing Galaxy
A glowing moon within a fabulous galaxy that features fun techniques and beautiful colors!
https://www..../event/463747
Week of Jul 20 - Jul 24th: The great Outdoors
Monday, Jul 20th: Simply a Starry Night
A simplified version of Van Gogh's Starry Night focusing on the beauty in the stars and sky. This painting uses greens, blues, and yellows to create a simply beautiful Starry Night!
https://www..../event/463748
Tuesday, Jul 21st: Coastal Calm
A beautiful calm sunset on the beach
https://www..../event/463749
Wednesday, Jul 22nd : Gimme Gimme S'more
This painting really sets the scene. Imagine you are out in nature, off the grid and roasting marshmallows with your favorite person. Gazing together at the night sky, and enjoying the crackling campfire. The smoke swirls into the stars in the shape of hearts, and all is right in the world.
Thursday, Jul 23rd: Green Forest Falls
https://www..../event/463751
Friday, Jul 24th: Field of Flowers
https://www..../event/463752