There is nothing corporate about this company party!
This isn't your same old hum drum company party. Are you the event planner at your company? Or want pass on a great idea to your marketing department? Pinot's Palette Bay Shore might just be the perfect fit for your next company event!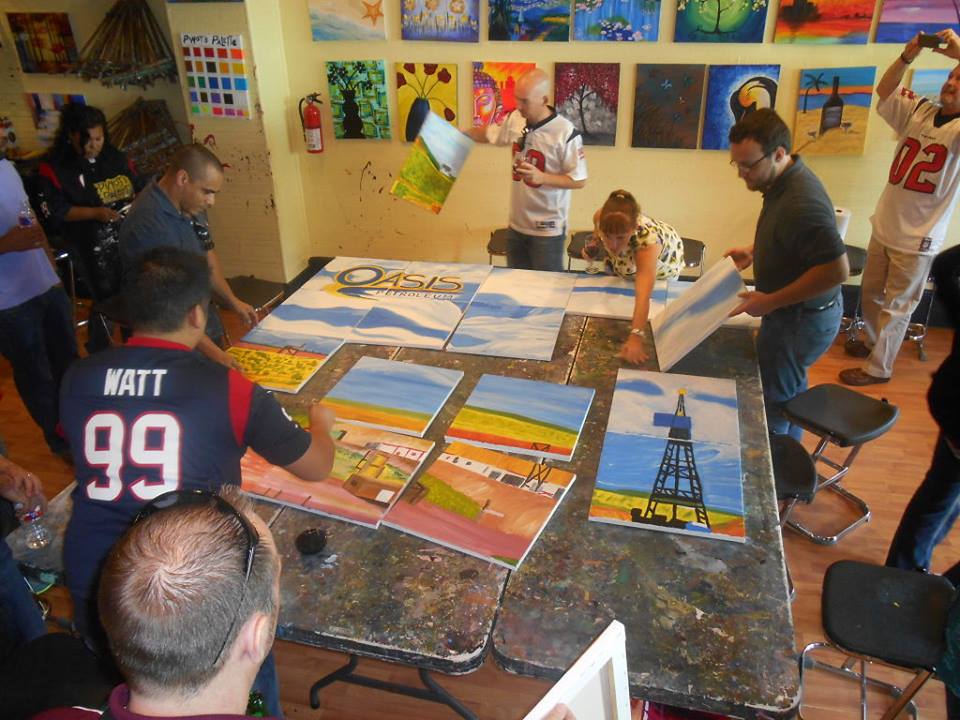 TOP TEN REASONS TO HOST YOUR NEXT EVENT AT A PLACE WHERE THE MOTTO IS, "Paint. Drink. Have Fun.":
1) SPACE: We have the space you need, with 2500 hundred square feet and two art studios we can host up to 60 guests
2) A/V SYSTEMS: Our state of the art audio system and two 65+ inch televisions provides you with a meeting space ready to conduct your next offsite event for brainstorming or strategy sessions.
3) COLLABORATION: Our parties get people away from the computer and off of their cell phones. Don't be stuck behind a big round table in the corner of restaurant, or facility allows you to get up, mingle and mix-it-up. Our paint parties incorporate breaks designed for mingle time and encourage laughter and participation.
4) TEAM BUILDING. Ask about our mystery paint classes (that promote listening skills); musical chairs (when the music stops you move to the next paint station); collaborative paintings (everyone paints the boss/the next product roll-out on one LARGE canvas--perfect to hang back at the office); or jigsaw paintings (where we break apart one image and everyone paints a piece of that large image--perfect as company hallway or boardroom art).
5) LASTING MEMORIES: Not only do we take photos are your event (so marketing team and party planners can relax too) but we share it back in one easy link that you can forward on to management; share on the company intranet or use for the next holiday card. And each person leaves with their own painting as a lasting reminder of your event.
6) NO STRESS: We set up a party invite online (includes the directions, the details, and any text/logo imagery). A $250 deposit allows you to set the date/time and work with a custom party planner and the day of your party that $250 deposit is immediately refunded. DONE. No contracts, no back and forth, no hassle. Plan your next event in just a few hours.
7) GIVING BACK: If you're the type of company that supports a philanthropic cause--we can help you plan your party and even raise money at the same time for a charitable group. Just ask about our fundraising private parties. Have fun while doing good and supporting the company mission.
8) SNACKS: We don't have a kitchen on site--but that allows you to bring in whatever type of food you' like into our venue: so if you want pizza delivered, or to match the food to a particular theme (carnival candy, etc)...it's completely up to you. Bring in what you believe works best and we have tons of catering/food partners just across the street that are ready to serve up your favorites.
9)BAR: We have a beautiful bar with a large variety of wine, beer and non-alcoholic selections. It's just the thing to help stressed out business professionals unwind and mingle with a new coworker.
10) PAINTING. Last, but definitely not least, let that creativity shine through. Most execs haven't picked up a paint brush in years and forget how relaxing and enjoying painting can be. Come create your very own masterpiece and plan a masterpiece corporate party with Pinot's Palette in OC!
See you soon.