Create Your Best Ever Holiday Party!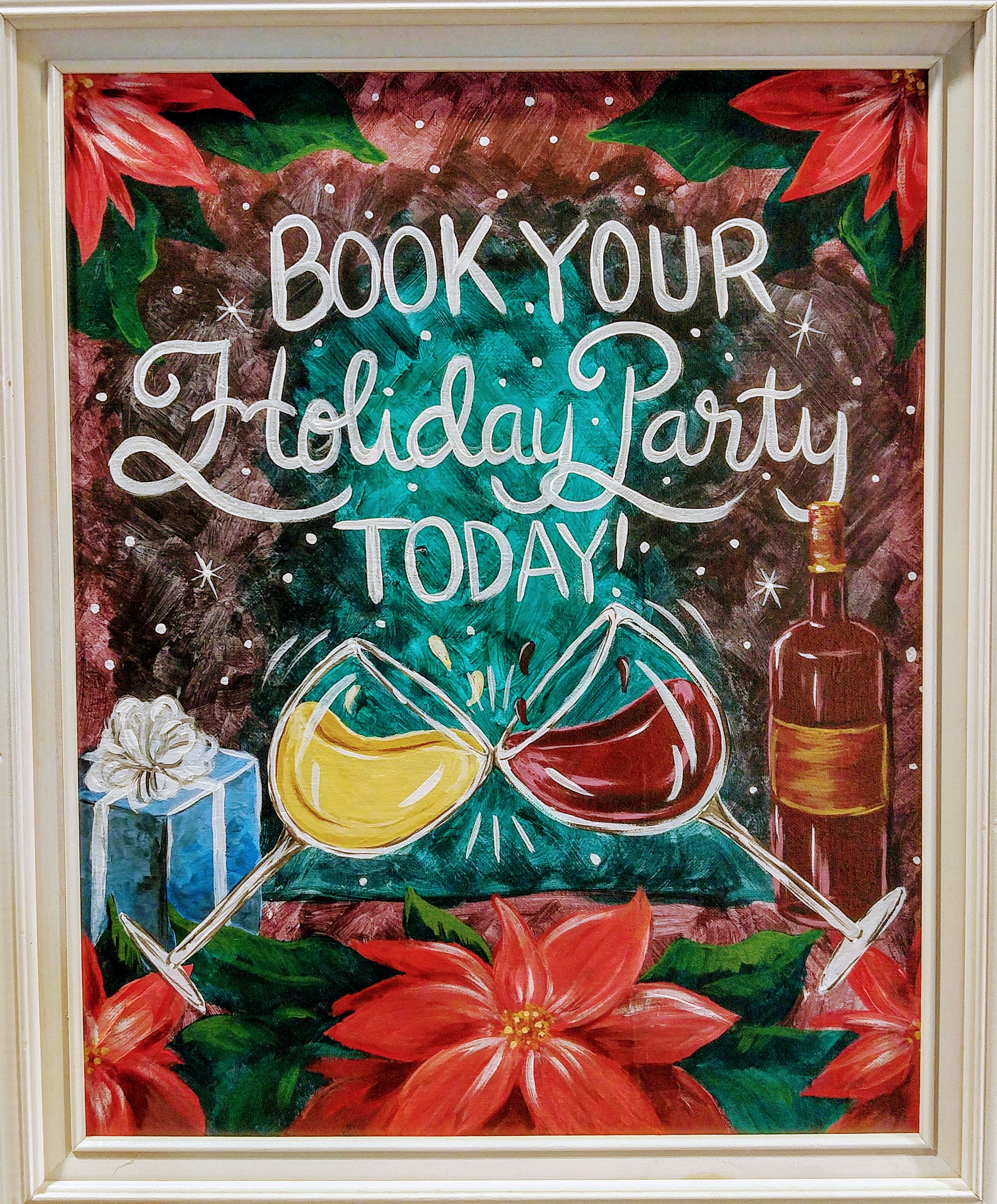 If you're like most of us, chances are, you live an exhausting 9 to 5 grind, five days a week. Unfortunately, you don't often connect with your boss or co-workers. Instead, they remain acquaintances you pass from time to time. Wouldn't it be nice to get to know them better? Wouldn't it be a treat to spend some quality time, one-on-one, rather than just catch up for the occasional small talk?
Here's the solution: throw an awesome holiday party mixing good cheer with creativity. Consider Pinot's Palette Rancho Santa Margarita for a Paint and Sip party for you and your company. By their nature, holiday parties should be fun and exciting—the antithesis of a work obligation. Pinot's Palette can pull off this feat for you and your teammates. Hosting unique and fun parties is what Pinot's Palette does best. With two rooms to choose from, the 2500 sq. ft space is the largest Paint and Sip studio in Orange County.
Such memorable events can be wonderful opportunities to relax and chat, while also engaging the creative side of your brain. Sit back and unwind with a glass of wine and a fresh canvas. Let your imagination run free while your work stress melts away.
Still unconvinced, consider a holiday party featuring paint and wine as a corporate bonding experience. Rather than attend a scripted company retreat, think about showing off your creativity painting and wining with the important folks you rush past every day. Who knows? Maybe you'll prove yourself to be the office's next Rembrandt. The point of these corporate holiday parties is to get to know your boss and co-workers in a festive, fun way. Fellow employees are more likely to be fully engaged at a corporate wine party that's all about looking out for its own. Besides, it's healthy to get to know your co-workers and employer as more than just formal acquaintances during this holiday season.
Ultimately, paint and wine corporate holiday parties are a practical, yet fun way to mingle while providing a refreshing change to the traditional mixer. This holiday season, embrace the holiday cheer. Become your office's favorite employee by suggesting a wine party with Pinot's Palette.
Share Book your Holiday Party Today! | Check out our Public Events Calendar!