Summer Fun For The Kids! Art Camp for the Kids Aug 6th - Aug 10th
End the summer break with a creative and fun filled Little Brushes Art Camp.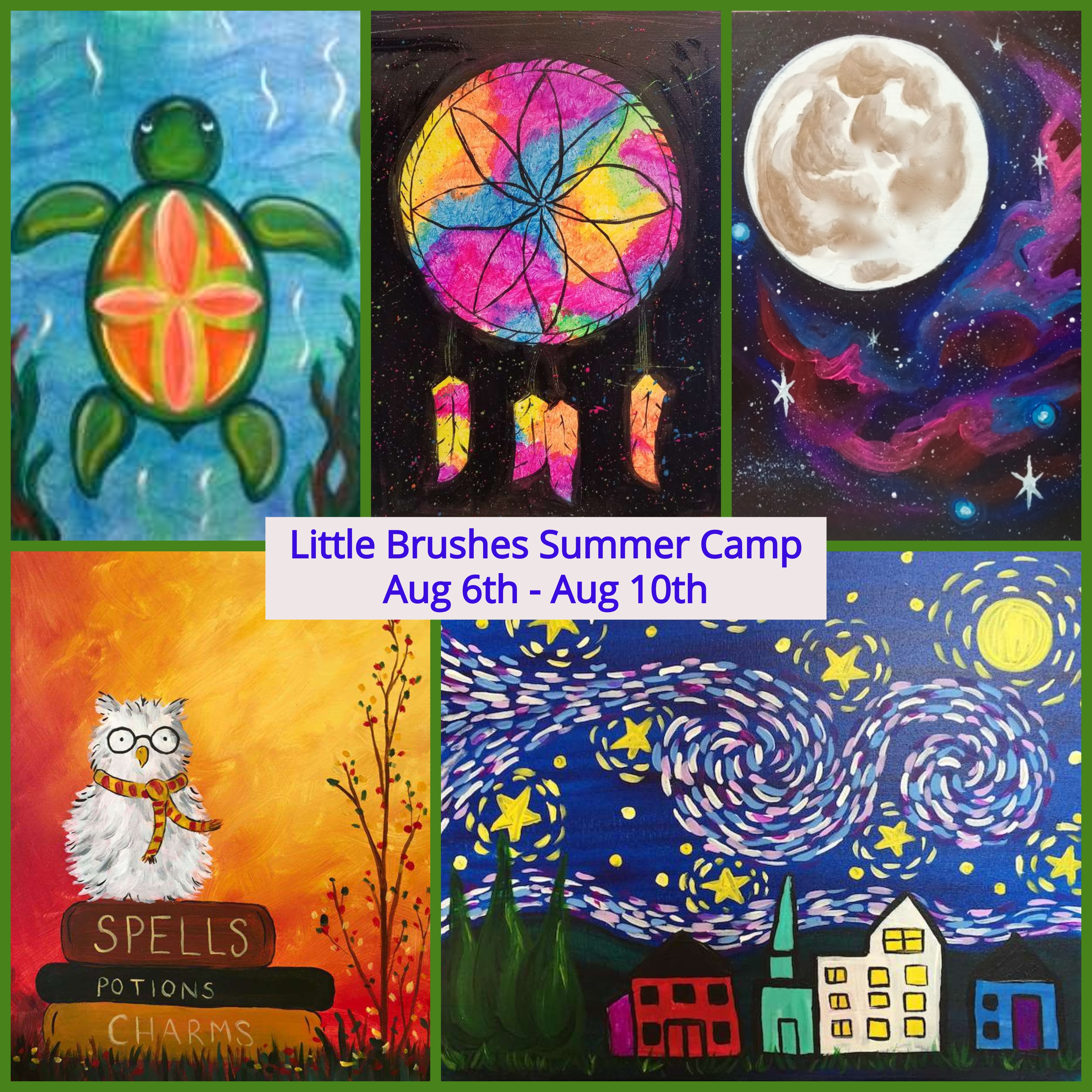 If you're looking for a fun and creative outlet for your little artist, then 'Little Brushes' has exactly what you are looking for!
At Little Brushes we offer a fun-filled party, atmosphere where your little artists can have a blast creating their own masterpieces. From painting to crafting and everything in between Little Brushes fosters a friendly and collaborative environment, providing everything your little artist will need to bring out their creative spirit. Bring your lunch and we'll supply drinks and a snack. Come one day or every day this week, we'll provide the FUN! Limited to 30 seats.
We're offering this special camp from Aug 6-10 (9:00am-100pm) everyday!
-Each day we will feature one of our paintings in the morning, break for lunch, and then continue into the afternoon with a unique craft.
-We'll have different activities each day, so you can sign up for one day, or come all week!
-Little Brushes will be lead by professional artists
-Each day of the camp runs from 9am-1pm and will include time for a painting, lunch (brought from home), and a craft!
-You can choose to sign your child up for the entire day ($45 to participate in all), OR bring them in from 9:30-11:30 and pay $30 for them to participate in the painting only.
*SAVE SOME $$:
-Please enter the code Camp18 to take $15 off the full day camp. Parents, grandparents and sitters can paint, too!
-Register for the full week and save $$
Here are the paintings we'll be offering Monday, July 9 - Friday, July 13:
(*Paintings can be seen, above, a s well!)
Monday: August 6th Sea Turtle Surf
If you enjoy swimming in the ocean, then you will love painting this fun picture of a sea turtle chillin' in the water.
https://www..../event/255265
Tuesday, August 7th, Galaxy Getaway
Be taken away as you look through your telescope and become lost in the beauty of the galaxies! Create your own out of this world painting in just 2 hours! It's going to be out of this world!
https://www..../event/255266
Wednesday, August 8th, Spellbound Scholar
Whether you are a fan of wizardry, books or owls, there is no denying the adorableness of this spellbound scholar.
https://www..../event/255267
Thursday, August 9th Van Gogh's Starry Night - Kids Version
A fun and simplified version of the classic masterpiece "Starry Night" by Vincent Van Gogh. Easy for all ages but specifically designed for the younger artist to enjoy creating a masterpiece of their own!
https://www..../event/255268
Friday, August 10th Black Light Dream Cather
Enjoy an awesome blacklight painting that will glow like crazy!
https://www..../event/255269
Summer Camp - Rancho Santa Margarita, Mission Viejo, Ladera Ranch, Trabuco Canyon, Dove Canyon, Coto De Caza and all other South Orange County cities.
*Be sure to check out our full event calendar using the link below. We do have family events every Sunday morning where the entire family(ages 7+) can take part in Pinot's fun.
In addition to attending our public events, you can also book a painting party with the guest list of your choice! Come in to celebrate a birthday, bridal shower, reunion, retirement, and more with friends and family, sharing their artistic sides, together. Make memories that will last a lifetime with a souvenir to treasure forever with one our classes.
*Learn more about our private parties, here:
https://www....rivate-events
We also play host to tons of corporate events, too! Why not book your next work party or team building event with us? We offer several styles of paintings that incorporate team building strategies, encouraging the whole office to work together, creating a stunning world of art!
*Read more about corporate events, here:
https://www....team-building
Finally, in addition to out studio parties, we offer mobile events, off-site! You choose the location and we'll come to you with all of the supplies!
*Learn more about out mobile events, here:
https://www....ainting-party