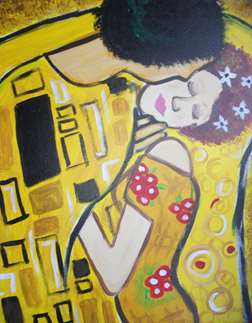 Klimt's Kiss
The Kiss (Lovers) was painted by the Austrian Symbolist painter Gustav Klimt between 1907 and 1908, the high point of his "Golden Period", when he painted a number of works in a similar gilded style. A perfect square, the canvas depicts a couple embracing, their bodies entwined in elaborate robes decorated in a style influenced by both linear constructs of the contemporary Art Nouveau style and the organic forms of the earlier Arts and Crafts movement.
Find events near me
Klimt's Kiss Events Near You
There are currently no classes offered in your location.
All Klimt's Kiss Locations
There are currently no classes scheduled for this painting.