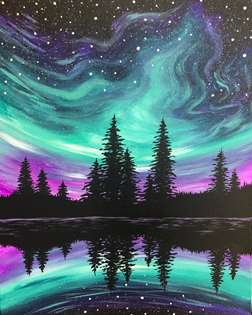 Aurora Reflections
Auroras are unexplained natural phenomena that occur when solar winds disturb the magnetosphere. They usually occur in the polar regions and different colors represent different magnetic wavelengths varying in color and complexity. Come paint your own unique aurora night sky reflecting in a calm lake surrounded by evergreens!
Find events near me
Aurora Reflections Events Near You
There are currently no classes offered in your location.
All Aurora Reflections Locations