Valentine's Day Date Night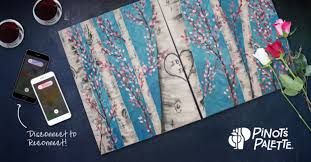 When it comes to your cell phone or your sweetheart – which one would you choose? If you prefer screen time over true face time, you may be falling in the technology trap. Recent research on cellphones and the impact on romantic relationships signals trouble for couples.
Let's face it — most of us are smitten with our smartphones. In fact, 95 percent of Americans own one. On average, we check our phones 150 to 300 times a day. And if that isn't bad enough, results from a recent cell phone use study suggest problems in partner paradise.
> 75% of coupled adults bring their phone to bed with them four night a week
> 55% of people feel cell phones are interfering with quality time with their partner
> 35% say their sex life is impacted by bedtime cell phone use
> 25% say last thing they look at before going to bed is the cell phone, not their partner's face
Join us this Valentine's Day to create a masterpiece together, without your phones, that you can hang up and remember how much fun you had. We walk you through step-by-step AND you each paint one side of a bigger painting! Hope to see you in!