National Mulled Wine Day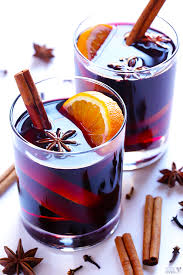 We love National Days when they include wine. And being that our paint and sip nights allow for any type of drink to come in, bring this in the next time you paint with us. We found the best recipe and story from Cookie and Kate and want to share it with you! Enjoy!
Let's cozy up with some mulled wine. Turn on some music, build a fire or light some candles, throw some spices and wine in a pot, and embrace the holiday season. It's really that simple.
I've always associated mulled wine with holiday parties, but a single batch is perfect for two to four people. Mulled wine is unbelievably easy to make, even on a weeknight, and fills your home with holiday fragrance.
This mulled wine is for wine lovers. I've encountered a few mulled wines over the years that tasted like sweet potpourri, but not this recipe. It's fruity and spiced, but the wine still shines through.
You just might even have all of the ingredients at home! If so, you're just fifteen minutes away from mulled wine. Let's make some.
How to Make the Best Mulled Wine
Follow the foolproof recipe below, and your mulled wine will turn out perfectly every time. Here are some key tips:
1) Choose your wine carefully.
Use an affordable bottle of Merlot, Zinfandel or Garnacha. You'll find more wine details in the ingredients section below.
2) Heat gently.
Resist the urge to crank up the heat on your mulled wine! If your wine is steaming, it's hot enough. Wine is delicate. Heat it too long or too high, and eventually your wine will taste too spicy, syrupy and almost raisin-like, and the alcohol will evaporate over time.
3) Go easy on the spices.
You might be surprised by how few spices we're adding, but they are potent. Upon first sip, you might think, "This doesn't taste spicy enough," but I promise you'll change your mind by your second glass.
Mulled Wine Ingredients
Keep in mind that these ingredients are very easily multiplied. One bottle of wine will yield five drinks (enough for two to four people), two bottles yield 10 drinks, and so on.
Red Wine
Wine forms the backbone of this recipe, so naturally, your wine selection is important. Some red wines that you might enjoy at room temperature will not taste so nice when heated. Do not use expensive wine for mulled wine, since we're adding so much to it. Just choose a quality wine (say, 10 to 20 dollars per bottle) and select the varietal carefully.
The best red wine to use for mulled wine is Merlot, Zinfandel or Garnacha (also called Grenache). These wines are dark, fruity and full bodied, which means they can support all of the flavors we'll be adding. Look for labels that describe the wine as "jammy" or with "notes of vanilla."
Avoid red wines that are high in tannins or super oaky in flavor, like Cabernet Sauvignon (I say this as someone who generally enjoys Cabernet Sauvignon). Also avoid very light red wines, like Pinot Noir, because they don't offer enough body to carry the spices.
Brandy
Brandy amps up the alcohol content a bit, though we aren't using much. It's more for warming flavor and a little bite than anything else. I used E&J VSOP, which is affordable and fine.
You can omit the brandy if you don't want to buy it, though you may want to keep a bottle around for sangria.
Fresh Oranges
We're going to squeeze some of the fresh orange juice into the mixture, then slice the rest to make rounds. Oranges are in season during the cold months, so you should be able to find nice, juicy oranges at the grocery store.
Buy two small oranges if you can, just because smaller rounds fit better into mugs. Or, one large will do—you just might need to slice your rounds into half-moons to fit.
Whole Spices
We'll need whole cinnamon, star anise, and cloves. Whole spices, rather than ground, are absolutely key to mulled wine. The good news is that whole spices keep longer than ground spices (a few years, even). I hope you have these in your pantry already—if not, they're worth keeping around for spiced ginger tea or hot toddies.
Maple Syrup or Honey
Alcohol flavor becomes more harsh when heated, so we'll balance out the flavors which just a tablespoon or two of real maple syrup or honey. Wine lovers will love this naturally sweetened mulled wine recipe because it is not too sweet.
I honestly can't decide whether I like maple syrup or honey better. They both offer some extra flavor that plays wonderfully with the other ingredients.
Garnishes
To make mulled wine look even more festive, I love to throw a handful of fresh cranberries into the pot before serving. You might also like to serve individual servings with additional orange rounds or half-moons, cinnamon sticks and/or star anise.
Photo Credit: Specsonline.com