Sunflower House Painting Event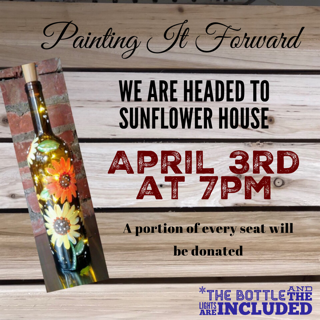 Paint your own beautiful piece of light up decor!
We are going to Sunflower House! Located at 15440 W 65th St, Shawnee, KS 66217. They are allowing outside wine to be brought in for this event.
Everyone coming into the painting area needs a reservation, non-painters are not allowed in due to seating capacity.
Sunflower House provides a safe environment for children to tell, caring adults to listen to their stories and opportunities to bring together the community to help in these efforts. Sunflower House also provides proactive educational programs throughout the community in an effort to stop the cycles of abuse.