Raising Money and Having Fun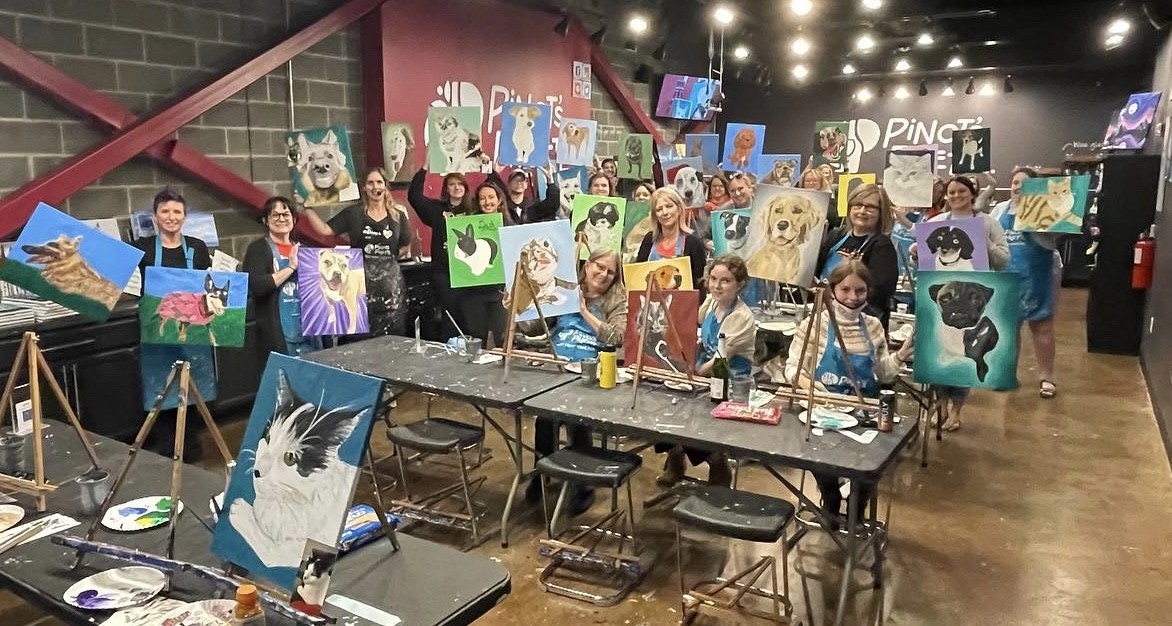 We absolutely love our pets, and our guests are no different. So every time we do our Project Pet events, we pick different local animal charities to donate to. This latest event raised money for Always and Furever Midwest Animal Sanctuary. While we have helped several different charities across the metro, we wanted to let know why we picked this one. First, our artist Shanon has not only adopted from them, she is one of their volunteers. Next, was their mission statement. We've shown it below so that you can read yourself as well. Lastly, is there is no such thing as an animal charity that doesn't need the help, so we knew they would be thankful!
If you work with a charity that you would like us to consider, please email us today!
Mission:
Imagine a place where old dogs, sick dogs, abused dogs, abandoned dogs, and unwanted dogs all came together, to rest, to live, to play and snuggle. Where meals come morning and night, classical music is always playing and love overflows. The only choice they have to make is which couch or dog bed to lay on and which visitor to pick to smother with kisses. Just a place for dogs to be. To wait in the comforts of a home until they can find a family of their own who won't throw them away when they are old or sick or even dying. To know they are loved for who they are, at this moment, and then to love us in return regardless of their past. To be the model of forgiveness and in return teach us to be better, kinder humans and to always know that even if in a small way we can always make a difference. This is the place we strive to be. This is our mission. This is our little red barn. A home for so many souls others discarded and we can't imagine living without.
A little about the President of A&F:
Jennifer Dulski, founder and president
Jen came to Kansas City in early 2017 with her two rescue dogs, Mugsy and Libby, determined to fulfill a dream of creating a sanctuary for elderly dogs with no place to spend their final years. She wasted no time in making that happen as soon as she discovered and purchased the former Mohn property. While lawyer by day, she considers herself a professional recreational athlete by night. Jen's dogs are not only her family but also her lifeline. Nothing made more sense than starting Always & Furever and helping that family to continue to grow.