Miss KS USA Raises Money for Give Hope, Fight Poverty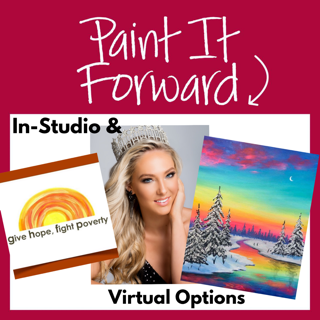 We are excited to be working with Hayden on Dec 20th to raise money both in-studio AND with virtual options for Give Hope, Fight Poverty. We hope to can make it!
About Hayden Brax, reigning Miss KS USA: Born and raised in Kansas, Hayden has achieved her childhood goal to be a University of Kansas Jayhawk like her father. Today she is a proud rising senior at KU and aspires to obtain a doctorate in Occupational Therapy so she can assist in the rehabilitation and recovery of children with disabilities.
Hayden's passion for serving children in need was ignited as a special-needs classroom volunteer at her high school. She cares deeply about empowering children and is an active volunteer with the Douglas County Special Olympics, Best Buddies, and the Make-A-Wish Foundation.
​As part of Hayden's advocacy work for disadvantaged children, she participated in a service trip to eSwatini, Africa that opened her eyes to the prevalence of gender inequality and domestic violence. As an active volunteer with Give Hope, Fight Poverty (GHFP), Hayden continues to support the important work of elevating women (and their children) in eSwatini. Since domestic violence is sadly not an issue limited to developing countries, Hayden also volunteers with local programs in her hometown of Kansas City, including the Newhouse Domestic Violence Shelter.
In her free time, this 21-year-old enjoys exercising, reading, volunteering, and spending time with her pet hedgehog, Hemmingway. When she is not studying or serving in the community, you'll find her at Arrowhead stadium cheering on the Chiefs!
As Miss Kansas USA, Hayden wants to use her platform to advocate for children in need and shine the spotlight on gender inequality and violence.
About the Charity: Give Hope, Fight Poverty (GHFP) is a 501c3 nonprofit organization whose mission is to foster philanthropy domestically by designing service-learning programs that engage US students & professionals with rural communities in the Kingdom of eSwatini, Africa and work together to educate, empower and lift orphaned and vulnerable children - particularly those living in child-headed households - out of poverty.
​Link:
http://www.i...tpoverty.org/