Yellow + Gray: A Color Combo Your Home Will Love!
Each Year, Pantone Announces Their 'Color Of The Year'. This Year, Stunning Shades Of Yellow & Gray Have Made The List!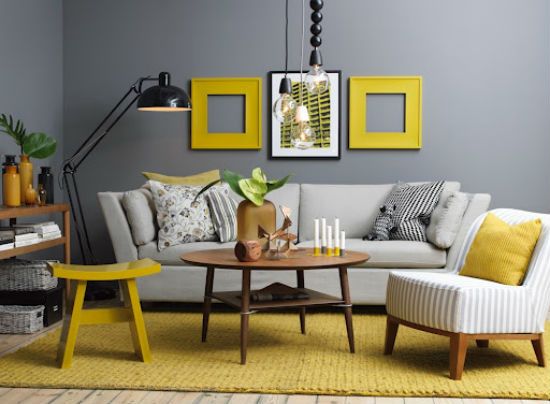 We're all about adding color into your home with artwork, but there are tons of excellent ways to spruce up your living space! From wall colors (like these Pantone shades), to pillows, rugs, and curtains, you can take a plain space and make it bright, cheery, and stylish!
We're all about the color selections of 2021, as we know well that a combination of yellow and grey hues do SUPER WELL at our studio! People love our paintings that have those colors, and enjoy giving them as gifts or making the art to add to their homes.
This combination is safe enough to create in a work of art and give as a gift to someone for a special occasion (*There's nothing like a handmade gift to show someone just how much they mean to you) AND they're stylish enough to fit into any space in your home!
Read on to learn about the color of the year, AND some paintings that we're offering that have the colors in them or that work well with those colors in your home! (*Blues and reds look great with grey and yellow).
Enjoy!
Every year on the first days of December, The Pantone Color Institute announces the new Color of the Year. It has been said to be the best part of the year for anyone who works with color.
The Pantone Color System is the most important color matching system in the world. The system originated in 1963 to solve the problem of complicated color matching in the printing industry.
Soon after, Pantone became the easiest and simplest way to classify, communicate and match colors with the use of a color catalog in a fan format.
Every color, in every tone and tint, was given a number to classify it. Pantone literally wrote the book on color matching. For over 40 years, Pantone has been the go-to color matching system for not only the design industry but also paint, textile and plastic manufacturers.
*** INTRODUCING: THE PANTONE COLOR OF THE YEAR 2021
PANTONE 17-5104 Ultimate Gray + PANTONE 13-0647 Illuminating
A marriage of color conveying a message of strength and hopefulness that is both enduring and uplifting.
PANTONE 17-5104 Ultimate Gray + PANTONE 13-0647 Illuminating, two independent colors that highlight how different elements come together to support one another, best express the mood for Pantone Color of the Year 2021. Practical and rock solid but at the same time warming and optimistic, the union of PANTONE 17-5104 Ultimate Gray + PANTONE 13-0647 Illuminating is one of strength and positivity. It is a story of color that encapsulates deeper feelings of thoughtfulness with the promise of something sunny and friendly.
A message of happiness supported by fortitude, the combination of PANTONE 17-5104 Ultimate Gray + PANTONE 13-0647 Illuminating is aspirational and gives us hope. We need to feel that everything is going to get brighter – this is essential to the human spirit.
As people look for ways to fortify themselves with energy, clarity, and hope to overcome the continuing uncertainty, spirited and emboldening shades satisfy our quest for vitality. PANTONE 13-0647 Illuminating is a bright and cheerful yellow sparkling with vivacity, a warming yellow shade imbued with solar power. PANTONE 17-5104 Ultimate Gray is emblematic of solid and dependable elements which are everlasting and provide a firm foundation. The colors of pebbles on the beach and natural elements whose weathered appearance highlights an ability to stand the test of time, Ultimate Gray quietly assures, encouraging feelings of composure, steadiness and resilience.
One Of Our Most Original & Popular Paintings: ' Forêt Noir et Jaune'
A lovely french grey forest with bright yellow accents that uses a variety of paint techniques for a lively paint session.
Our customers LOVE this painting so much, and it's for the stunning combination of colors
You can click below to order the materials and pre-recorded video instructions and
https://www....op-item/27883
Artwork that will add these colors to your home OR that will work GREAT with these colors already in your living space!
*You'll notice that there are a lot of Vincent Van Gogh paintings on the calendar — That's because we're celebrating his birthday all month long!
((All about the Van Gogh Special Painting Package Deal)):
https://www....birthdaymonth
March 13th - Starry Night Over The Rhone
Van Gogh's fascination with the night sky and the effects of light at night can be seen throughout some of his most famous paintings. This scene depicts a beautiful, clear night sky overlooking the Rhone river near his home in Arles, France.
https://www..../event/499259
(*Virtual):
https://www..../event/521797
March 14th - Touch Of Gold
Sunkissed, golden leaves sprinkle the trees along the lakeside. I am invited to linger a little longer and stay golden.
https://www..../event/521392
(*VIrtual Class):
https://www..../event/521801
March 16th - Van Gogh's Daisies and Poppies
"Let life be beautiful like summer flowers..." Vincent Van Gogh
https://www..../event/521399
(*Virtual):
https://www..../event/521804
March 18th Set Sail
The beautiful colors of sunset with this peaceful painting of calm waters and smooth sailing.
https://www..../event/519564
(*Virtual):
https://www..../event/521806
March 19th Paradise Cove
Everyone has a busy life that could use a bit of paradise. Escape with us; where our artist will lead you step by step through swaying palms, the soothing sounds of waves and the warmth of a tropical sunset.
https://www..../event/517467
(*Virtual):
https://www..../event/517468
March 21 - Vincent's Bouquet
Let's remember Van Gogh and paint his beautiful bouquet of irises.
https://www..../event/521402
(*Virtual):
https://www..../event/521812
March 23 - Maui Sunset
This beautiful sunset will leave you wishing you were sitting on a beach in Maui.
https://www..../event/521405
(*Virtual):
https://www..../event/521816
March 27th Sunflower Shimmer
This shimmering bloom can be painted on a wood board, wood tray, or a canvas.
https://www..../event/521415
(*Virtual):
https://www..../event/521825
March 30 - Simply A Starry Night
A simplified version of Van Gogh's Starry Night focusing on the beauty in the stars and sky. This painting uses greens, blues, and yellows to create a simply beautiful Starry Night!
https://www..../event/521394
(*Virtual):
https://www..../event/521832
While There Are Tons Of Paintings That Look Great With Yellow And Grey Decor (Reds And Blues Looks Lovely With Them), ANY Of The Painting In Our Library Can Be Altered To Fit YOUR Style!