Paintings To Celebrate Van Gogh During His Birthday Month!
We're celebrating the birth month of one of the greatest artists of all time, Mr. Vincent Van Gogh, and you can too with this special painting deal!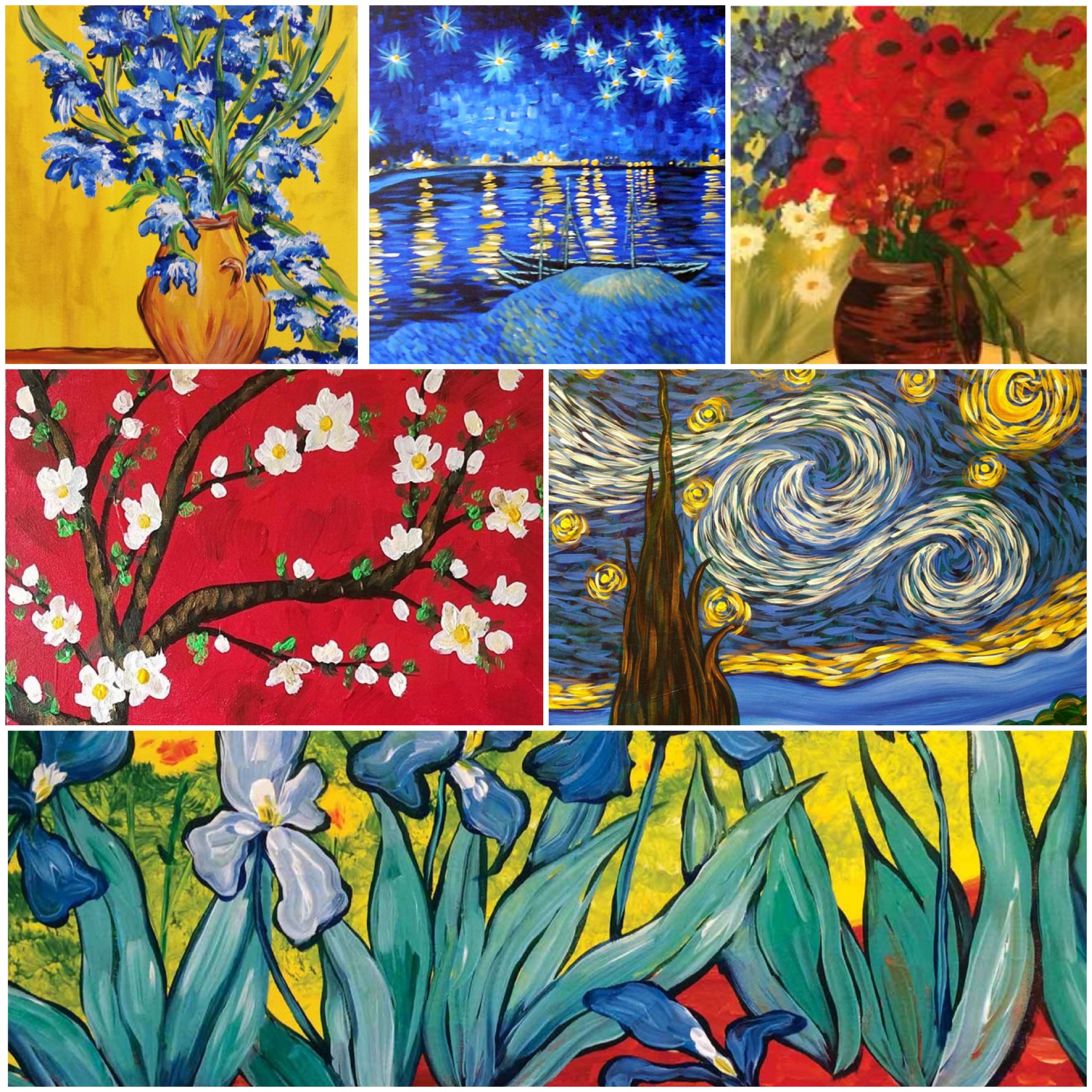 Think of a word-association game where someone says "sandwich" and you say "peanut butter and jelly"
Someone says "a color" and you answer, "red"…
When someone says the word "famous artist", so many of us would answer "Van Gogh"
In fact, Vincent van Gogh has made every list of the "The Top 10 Most well-Known Artists Of All Time". From his popular and most-recognizable 'Starry Night', to his famous sliced off ear, people all all ages have heard of him and seen his work in some form or another.
Van Gogh's birthday is on March 30th and you can celebrate with this special 'Van Gogh Bundle'.
The package will included supply kits and links for the following:
3 PRE-RECORDED VIDEO TUTORIALS
(1) Simply a Starry Night
(2) Van Gogh's Daisies and Poppies
(3) Van Gogh Les Iris)
3 LIVE VIRTUAL CLASSES:
(1) Van Gogh in Bloom (March 11th 7-9 PM)
(2) Starry Night over the Rhone (March 13th 7-10 PM)
(3) Vincent's Bouquet (March 21 12-2 PM.)
If you are unable to attend the live events, you will be able to access a recording beginning two hours after the live event ends. All of these links will be good until April 7th so if you can do the classes anytime that works for you!
Each supply kit will include one 16"x20" canvas – paper plates for palettes, water cup, paper towel, and the exact paints & brushes needed to create these paintings.
Easy, Peasy!
((You can ALSO sign up for these classes, individually! You'll see them listed on their own and can purchase the classes (supplies included) that you want to do the most!
https://www....perville/shop
Vincent van Gogh, one of the most well-known post-impressionist artists, for whom color was the chief symbol of expression, was born Holland on March 30, 1853. The son of a pastor, brought up in a religious and cultured atmosphere, Vincent was highly emotional, lacked self-confidence and struggled with his identity and with direction. He believed that his true calling was to preach the gospel - however, it took years for him to discover his calling as an artist. In Belgium he studied art, and was determined to give happiness by creating beauty. The works of his early Dutch period are somber-toned, sharply lit, genre paintings.
When he was 33 he went to Paris to join his brother Théo, the manager of an art gallery; It was there that van Gogh studied met other Impressionist painters such as Pissarro, Monet, and Gauguin. He tried to imitate their techniques by lightening his dark palette and painting in the short brush strokes of the Impressionists' style. Unable to successfully copy the style, he developed his own more bold and unconventional style.
Eventually, his friend and fellow-artist, Paul Gauguin joined him in his travels and making art, but with disastrous results. Van Gogh's nervous temperament made him a difficult companion and night-long discussions combined with painting all day undermined his health. Near the end of 1888, an incident led Gauguin to ultimately leave Arles. Van Gogh pursued him with an open razor, was stopped by Gauguin, but ended up cutting a portion of his own ear lobe off. Van Gogh then began to alternate between fits of madness and lucidity and was sent to the asylum in Saint-Remy for treatment.
After a couple of years at the asylum, he seemed much better and went to live in Auvers-sur-Oise (a commune on the northwestern outskirts of Paris) under the watchful eye of Dr. Gachet. Two months later, he died from what is believed to have been a self-inflicted gunshot wound "for the good of all."
During his brief career, he did not experience much success, he sold only one painting, lived in poverty, malnourished and overworked. The money he had was supplied by his brother, Theo, and was used primarily for art supplies, coffee and cigarettes.
Van Gogh's finest works were produced in less than three years in a technique that grew more and more impassioned in brush stroke, in symbolic and intense color, in surface tension, and in the movement and vibration of form and line. Van Gogh's inimitable fusion of form and content is powerful; dramatic, lyrically rhythmic, imaginative, and emotional, for the artist was completely absorbed in the effort to explain either his struggle against madness or his comprehension of the spiritual essence of man and nature.
In spite of his lack of success during his lifetime, van Gogh's legacy lives on having left a lasting impact on the world of art. Van Gogh is now viewed as one of the most influential artists having helped lay the foundations of modern art.
Share Interesting Facts About Van Gogh | View Our FULL Calendar!