SO MANY Amazing Paintings!!!
Come join us, these next few months, and paint some of our most popular and fun paintings ever!!!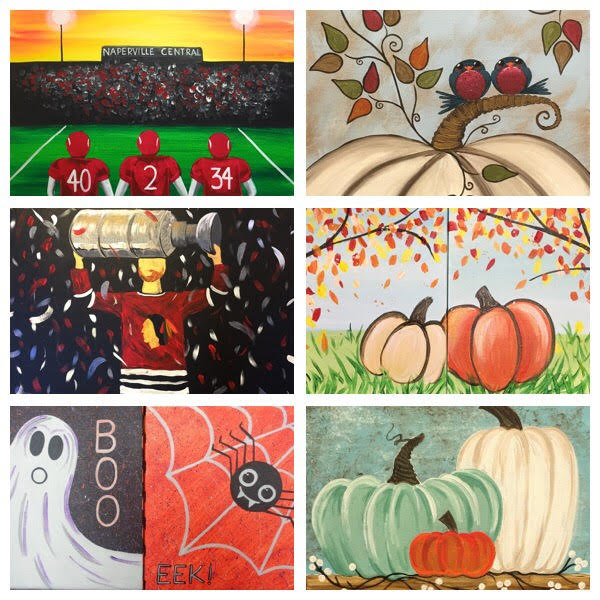 We have some incredible paintings coming up throughout the end of the month, and all of October!!! This is the season of sports, Fall, and Halloween! We have tons of paintings that fit, perfectly, into those categories! People LOVE to decorate for Autumn, as well as as Halloween, so these classes tend to be some of our customer favorites!!
You'll be able to create some amazing art, all on your own, and show it off in your home for the holidays! Our seasonal/themed painting classes are always a crowd-pleaser! They get everyone into the spirit of the season and our customers love them!!! Come join in on the fun! There are styles of paintings for everyone... no matter your age, painting experience, or home's decor!
Our classes make an excellent choice for a date night activity, an exciting girls' night out, or a family day with the whole gang!! View our calendar, on the link, listed below, to see all of the information for the classes! You can choose the painting, and sign up online, too!
((Give us a call, send an email, or stop on in, for additional questions/information, if you'd like))!
***************************************************************************************************
Here are some of the incredible events we have, coming up!!!!
FALL:
9/27 'Autumn's Heirlooms'
9/28 'Elegant Autumn'
*New painting!
10/1 'Pumpkin Spice'
*This is a customer favorite! We will also be offering this painting on 10/30 (ladies' night special $30)
10/2 'Falling Blossoms'
*Ladies' night ($30)
10/5 'Barnside Blossom'
10/7 'Pumpkin Patch' ('Mommy and Me' class, painting on 10"x10" canvases) $25/person
10/12 'My Family'
*(3) 10' x 10' canvases (or one for each participant), pushed together to make a long painting! (Can be painted on a 10" x 30" canvas, as well).
10/14 'Beautiful Birch'
10/17 'Bold Blossoms'
*This is a painting, from our 'Fall Out Of Format' collection of artwork!
Read more about it here:
https://www....e-trendydecor
10/18 'Toot Sweet Autumn'
10/19 'Pile Of Pumpkins'
10/22 'Scarlet Autumn'
10/28 'Autumn Heirlooms'
10/29 'Floral Harvest'
10/29 'Mysterious Moon'
____________________________________________________________________________________________________
HALLOWEEN:
10/4 'Vino Vixen
10/9 'Moonlight Mischief'
*Ladies' Night ($30)
10/11 'Witch Way to Pinot's'
10/13 'Fright Night'
*Another popular painting, this will be offered again on 10/23
10/16 'Never More'
*Ladies' Night ($30)
10/21 'Things That Go Bump In The Night'
*The kids will love this class! It's only $25/painter, and created on a 10" x 10" canvas
10/21 'Starry Nightmare'
10/23 'Hallow-Queen'
*Ladies' Night ($30)
____________________________________________________________________________________________________
OTHER Special Classes:
October 14 & 28 'Open Studio' (10am-1pm)
*Come in and create the painting of your choice, at your own speed! We offer our traditional 16" x 20" canvas, (but no instructor for this class), but we do have art assistants, around to help out the whole time!
10/10 'The Boys Of Fall'
*A football-themed painting, that you can customize with your team's colors!
10/25 'Holding The Cup'
*A hockey- themed painting, that can be customized with any player/team you prefer
10/26 'Wooden Palette Sign'
*Customize this rustic, wooden sign with your family's name and/or initial, to add a personal touch of decor for your home!
10/28 'Winter Is Coming'
*'Game of Thrones' trivia night!
****************************************************************************************************
A photo of each painting can be seen on our site, so check them out and see which looks best for you; We're betting you'll find a lot of them that you love! Come in a paint a few of them! Bring friends and family, to join you in the fun, and make it a night out to remember!
We'll see you soon!
Share View the calendar and sign up for a Fall Painting here!