We're Falling Out of Format...... and It's Gonna Be GREAT!!!
Get ready, folks.... we're about to do something new and stylishly amazing, here at Pinot's Palette!!!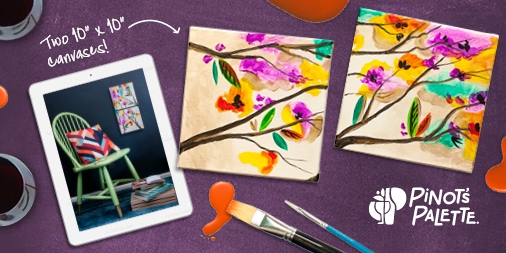 We've been searching the most recent home decorating trends and have designed a few new paintings that will be taught to go along with them! Not only will we be painting on unique-sized canvases, but we will be painting some new and interesting artwork as well!
Bold and beautiful artwork is always a great way to dress up a boring wall and add color into your home! Artwork can be the perfect way to express your personal style and spruce up your decor!
We want to encourage bold choices and playful experiments with painting, in relation to home decor and Fall decorating!
We want to offer some new and trendy ways to create your own home decor in big and bold ways!
HERE'S HOW IT WORKS:
Throughout August, September, and October we are going to be hosting a few classes that encourage our customers to "fall out of format" and create something truly unique and stylish for their home!
Once a month, we'll be offering a new painting to be created on a canvas size, different than our typical 16"x20" canvases. During these classes, we will also be including postcards with a DIY bonus on it! After you get your creative sparks flying from a painting and wine art class, you can go home and keep on going! Use the card (and included online tutorials) to create your own home trends to style up your home this season!
From stylish DIY painted furniture to faux-finished walls, we've got some clever techniques for you to use around the house to add a little punch of trendiness into your home!
COME JOIN US!!!
Our first "Fall Out Of Format" painting is:
Thursday, August 10 (7-9pm)
We will be painting TWO square canvases, measuring 10"x10" each!
https://www..../event/181690
September's class will be a 12"x36" canvas, titled, 'Fallen Feather' and the DIY craft will be a faux-finished wall tutorial!
October's class will be a 18"x24" canvases, titled, 'Bold Blossoms' and the DIY craft will be a painted dresser!
Wine, painting and creating some amazing decor for your home that you'll cherish for years to come... what could be better?!
Sign up on the link below or call the studio today at 331-457-5440 for more information, or you can email us at Naperville@PinotsPalette.com
And don't forget to follow us for the latest updates and pictures!
Facebook: Pinot's Palette Naperville
Instagram: PinotsPaletteNaperville
Twitter: NapervillePinot
Snapchat: NapervillePino
Share Sign up for our special class HERE! | Decor and Design Trends 2017- Vogue