Get Your Team Together For A Paint Sesh! (In-Person Or Virtually)
Our Virtual Painting parties are great for team building, schools, churches, or employee appreciation! We can ship kits anywhere in the country!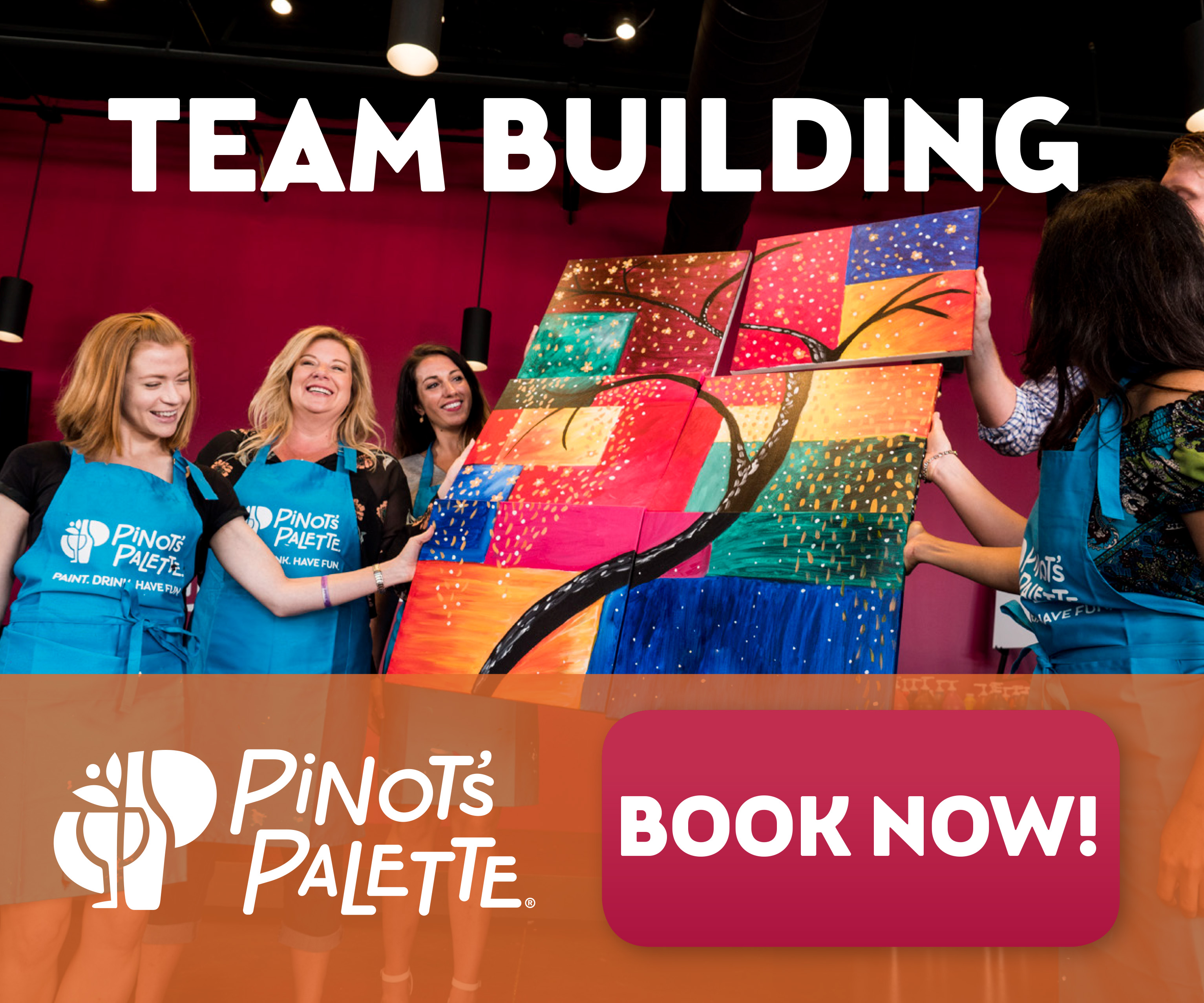 This past year has been weird. Right? From working at home and not seeing co-workers at all to being covered by a mask and staying 6 feet apart when you DO work together, life in the workplace has been a whole new ball game.
While maybe it's been nice to have that break in routine or to stay at home and work with your dogs sitting nearby, it's certainly resulted in some sort of loss in the connection between co-workers. Reconnect with one another over a fun and unique painting experience! Whether you're looking for a way to virtually connect or gather together in person, Pinot's Palette, Naperville, has just what you're looking for!
Bosses or office administrators, event-planners, etc who are in search of a new way to bond while having fun, look no further! If you're the one in the office who is in charge of planning the events for the employees, you're sure to be the hero for finding such a fun and creative activity like a team-building private event with our studio!
It's so much fun to sit with friends and make artwork as you bond over this shared experience, and perhaps even enjoy some food and beverages. With our private events, you'll get the studio all to yourself after you select the date, time, and painting of your choice! Invite your guests and plan any catering (or other food) that you want to have, as well as drinks; You can opt for non-alcoholic beverages or enjoy some of the delicious wine, local beers, or one of our specialty cocktails at the studio!
No matter how you want your party to go, we're here for it!
ALL ABOUT OUR PRIVATE PARTIES:
Remember, when you book a party with our studio, YOU are in charge of the details of your event.
Whatever, you want, we're here to help make it happen.
You can come in early to decorate for the party, get some delicious food catered or bring some in yourself, or plan a meeting before or after the painting session! From games or raffles to a specially-created painting with your company logo (*ask about this option), we're here to make sure your event is the best!
You can start by filling out the info on the link below, then we'll reach out to your to officially get your party booked and the details, moving along. If you want a customized painting created for your event let us know so we can get to work on designing it for you and your team.
Think about a large canvas OR several smaller canvases put together to form a huge painting with your company's logo, hanging in the lobby of your businesses. Think about what a fabulous conversation piece that a collaborative painting would be! We have several styles of art classes for you and your team to enjoy, so be sure to ask about the variety we offer!
We're flexible! We have both in-studio AND virtual public classes. The same goes for our private parties. Whether your guests want to gather together in a space away from the studio or separately from their own homes, doing a virtual class is a lot of fun! Just like our in-person classes at the studio, the virtual ones are tons of fun for everyone! One of our talented instructors will walk you through the painting, step by step, encouraging you the whole time!
Make memories! This is such a unique activity for you to do anytime, especially with co-workers! Bond with others from your office as you get creative together and make some art! Relax and unwind, enjoy some food, and paint!
We hope to see you soon, whether for a public class or a private party!
*** Other Party Types ***
-- Celebrations
Customize a paint and sip party for any occasion, from birthday parties and fundraisers to bachelorette parties and family get-togethers.
https://www....ivate-parties
-- Kids
Little Brushes® kids painting classes celebrate every child's creativity! Customizable for age, skill level, and event type, these parties are nonstop fun for birthdays, field trips, and celebrations big and small.
https://www....ainting-party
-- Virtual
Customize a virtual painting party for any occasion, from birthday parties and fundraisers to bachelorette parties and family get-togethers. We have been working with schools for Daddy-Daughter painting events, senior celebrations, and 8th grade graduations. Create some lasting memories.
https://www....ivate-parties
** Take Advantage Of These Upcoming Spring Classes:
https://www....tenaperville-
Share Book Your Corporate Event! | Check out our public calendar!