Springtime At Pinot's Palette Naperville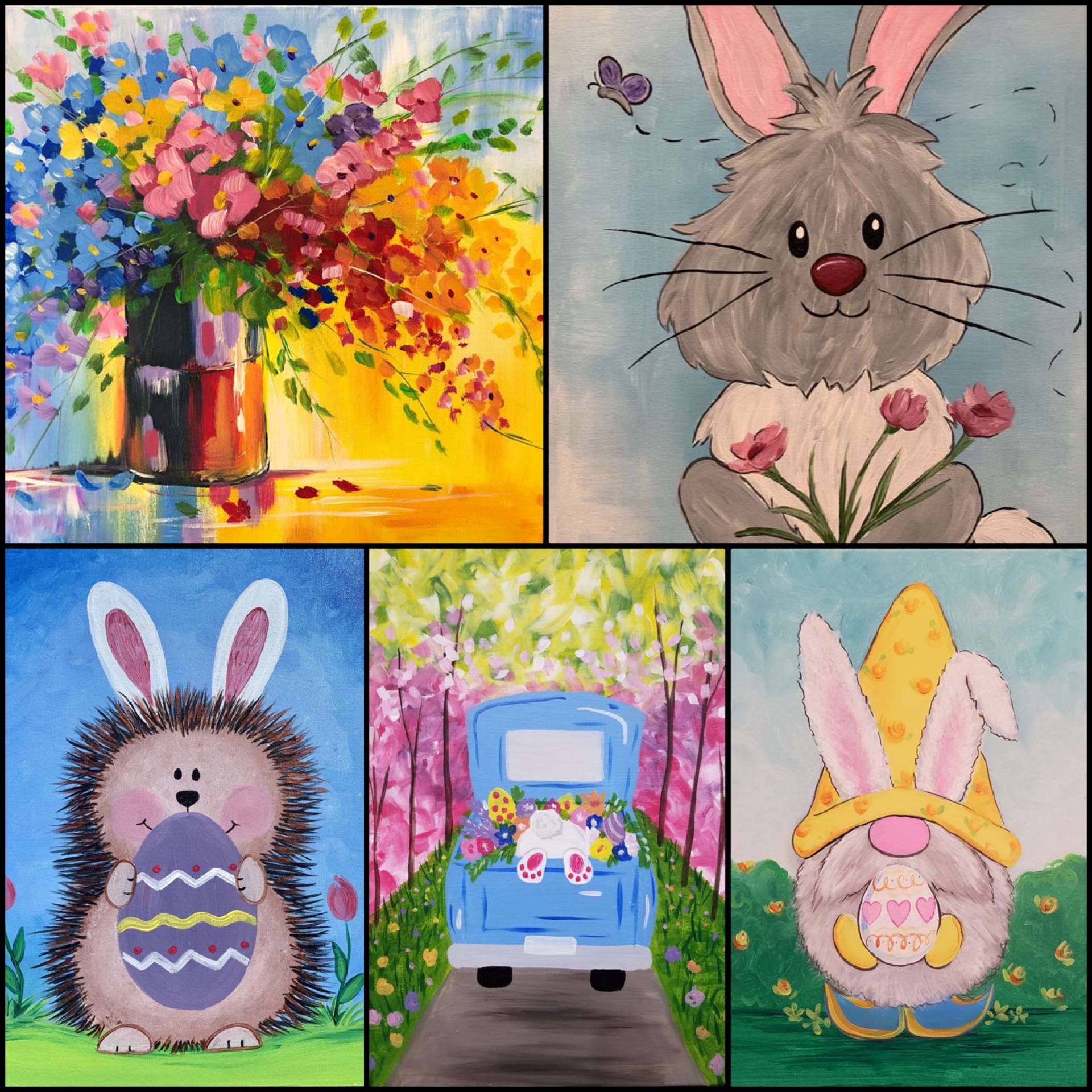 Spring is finally, officially here! Think of last year this time, and all that was going on; March 2021 is a much happier place to be and we're so excited for all that's to come!
Things are beginning to open back up, and life is starting to have some semblance of normal again, and Pinot's Palette is no exception!
We have more in-studio classes than we have in a while, with limited seating and all other proper safety precautions being taken of course. And, we're still offering all of our virtual events for those who prefer to paint at home on their own schedule OR in case of our in-studio classes being sold out (which happens A LOT of the time with the limited seating).
We're brushing off the cold, short days of winter (and what a long winter it's been) and bringing some fresh air, bright colors, and Springtime artwork into the studio for you! Grab your friends and family and reconnect over a creative experience and some wine this season! We have TONS of excellent classes on the calendar, but we've listed some of our favorite Spring and Easter themed paintings below!
Check Out Some Of Our Spring (+Easter) Themed Classes:
March 28th Hunny Bunny
***KIDS' Class - Sign up ASAP!!
Come paint this cute bunny painting. Very easy to change colors and customize.
https://www..../event/529866
March 28th Easter Hedgehog
***KIDS' Class - Sign up ASAP!!
This hedgehog is ready and excited to go on an Easter egg hunt!
4/2 Spring Hitchhiker
Join this Spring Hitchhiker and pick the best flowers you see!
https://www..../event/524708
(*Virtual):
https://www..../event/527846
4/3 Bunny Gnome
Happy Easter! Celebrate with this bunny gnome... customize your Easter egg with decorations or a phrase!
https://www..../event/521440
(*Virtual):
https://www..../event/527849
4/3 Floral Delight
Relax and paint this bright, fun, & colorful bouquet. With bright pops of color, and abstract flowers - this painting is sure to be a hit!
https://www..../event/531593
(*Virtual):
https://www..../event/527850
4/5 Raspberry Rosettes
Grab a glass of wine and enjoy painting these Raspberry Rosettes!
https://www..../event/524713
Remember that in addition to our public classes, we offer 'Private Parties' where you can rent the studio space for a little while to create the painting of your choice with the guests you invite! Celebrate a birthday or other big event; Bond with co-workers at a team-building paint party; Or have a private paint session just because! The only reason you need to have to make art with one of our private events is that you want to do it all YOUR way!
From the date and time, to the painting, music, guestlist, food, and drinks, it's your call! :)
Here's Why You Should Have A Private Party:
https://www....pinotspalette