Why Should You Have A Private Paint Party At Pinot's Palette?
There are lots of great reasons to come to Pinot's Palette for a paint party!
Bring out your inner artist with a public paint class in the studio (or virtually) OR with one of our awesome private events!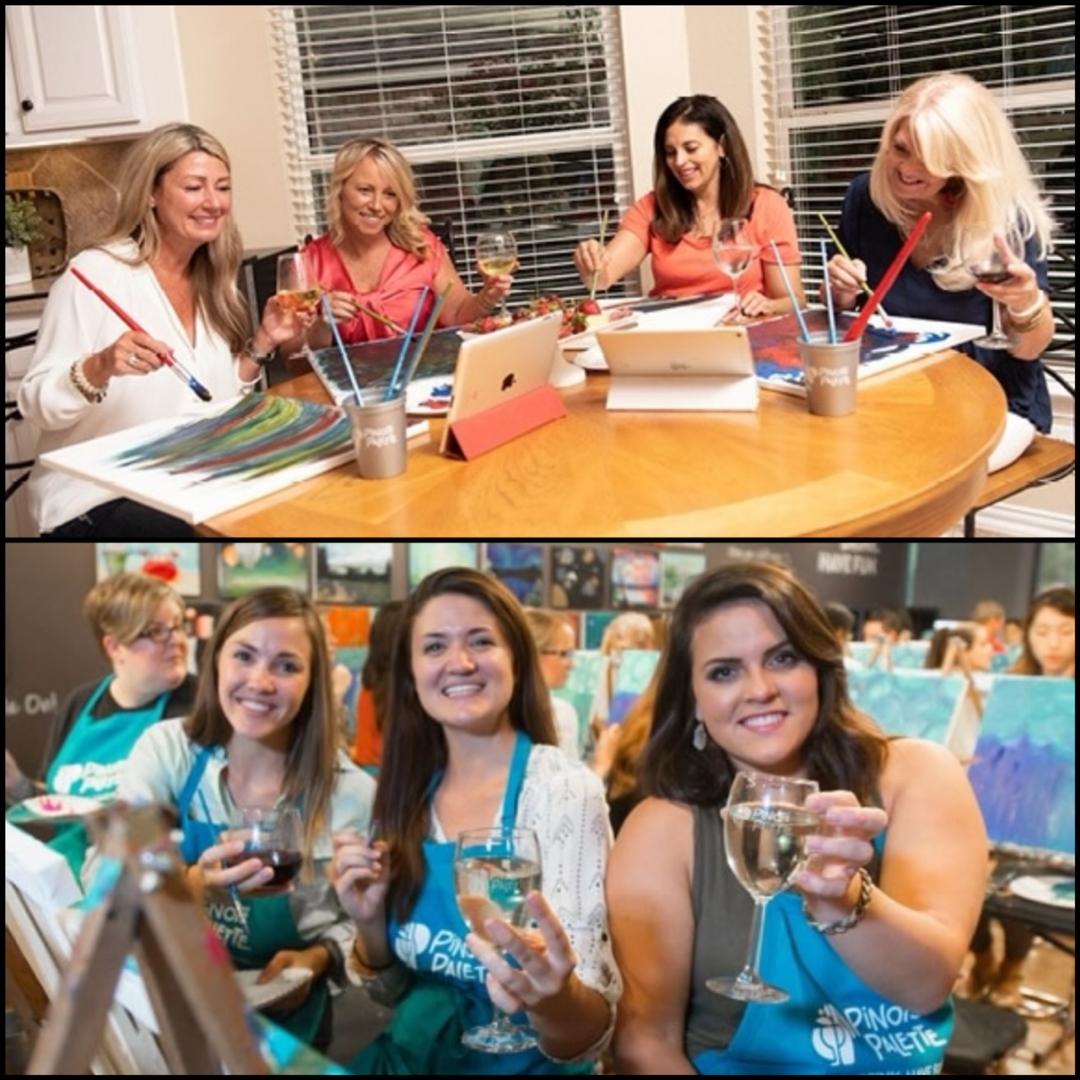 It's Party Time! After the year we've all had, we're finally ready to have some fun! Our regular, scheduled classes are tons of fun, but imagine the awesomeness of those public classes, just for YOU! With our private parties, you can choose everything you want to make your event, all that you need it to be! Whether you're celebrating a birthday, hosting a team-building event for your employees, or eager to plan something fun for your child and their friends, we're here for you!
Tuesday Nights are our Happy Hour Night. Classes start at 5 p.m. and we are offering $5 glasses of wine. Come in and paint after work with coworkers, or paint early and enjoy a night on the town in Downtown Naperville, we have so many amazing restaurants and shops.
We have various styles of parties to work with all ages and if you're thinking, "But I don't know how to paint" (like most of our guests), we'll teach you; That's what we're here for, after all.
You can be as creative as you want with your painting colors, the style, and anything else you want to add to your masterpiece...just be yourself. Invite the guests of your choice and enjoy every moment of this creative and exciting activity!
We're sure that you and your friends and family will have a great time, EVERY time.
One of our local artists will guide the group through every step of the painting. Your party will have a private room, complete with all the little extras to make the night run smoothly.
So, Why Should You Have A Private Paint Party?!
*** You're In Charge!
With a private painting party, you get to call the shots. Ask us about custom paintings, drink specials, catering partnerships and music playlists. Select the date and time, as well as the artwork you want to create!
*** It's Fun!
There's just something about painting and other creative activities that makes people happy! Add in some wine and you've really got a great time! Hang out with your bffs for a girls' night out (or in), your sweetie pie for your next date night, or your coworkers for a private team-building event and make some art!
*** It's Different
Though the painting and wine concept has been around for over 12 years, there are still many people who have not tried it out! In fact, over half of the attendees in our classes have never done a guided painting before! Try something new (even if you haven't picked up a paintbrush since grade school), and get painting!
Take plenty of pics during this Insta-worthy activity and inspire others to do it too!
*** To Reconnect and Bond Over A Creative Activity
It's been a rough year! Whether you're super ready to get together with friends, family, or see co-workers again, you can do it with us! From joining us in the studio for an in-person public class or private event, to all of our virtual options, we're here for you!
*** To Express Yourself
Get in touch with your inner artist as you paint the day away. Have fun altering the colors and styles of your artwork (if you working on your own canvas), or collaborating with co-workers on one large piece, you'll enjoy using the materials to make art, and remember to be relaxed about it! Don't stress… just have fun! We're here to help you along the way, so enjoy some time with friends, maybe some wine, and making some masterpieces!
??Which Style Of Party Will You Book??
-- Celebrations
Customize a paint and sip party for any occasion, from birthday parties and fundraisers to bachelorette parties and family get-togethers.
https://www....ivate-parties
-- Corporate/Team-Building
These events encourage creativity, teamwork, and fun – no art experience needed! Count on a well-organized, upscale event.
https://www....porate-events
-- Kids
Little Brushes® kids painting classes celebrate every child's creativity! Customizable for age, skill level, and event type, these parties are nonstop fun for birthdays, field trips, and celebrations big and small.
https://www....ainting-party
-- Virtual
Customize a virtual painting party for any occasion, from birthday parties and fundraisers to bachelorette parties and family get-togethers. We have been working with schools for Daddy-Daughter painting events, senior celebrations, and 8th grade graduations. Create some lasting memories.
https://www....ivate-parties
Share View Our Public Class Calendar! | Book A Private Event!