Upcoming Classes You Won't Want To Miss!
Fabulous classes coming up -- both VIRTUALLY and In-STUDIO!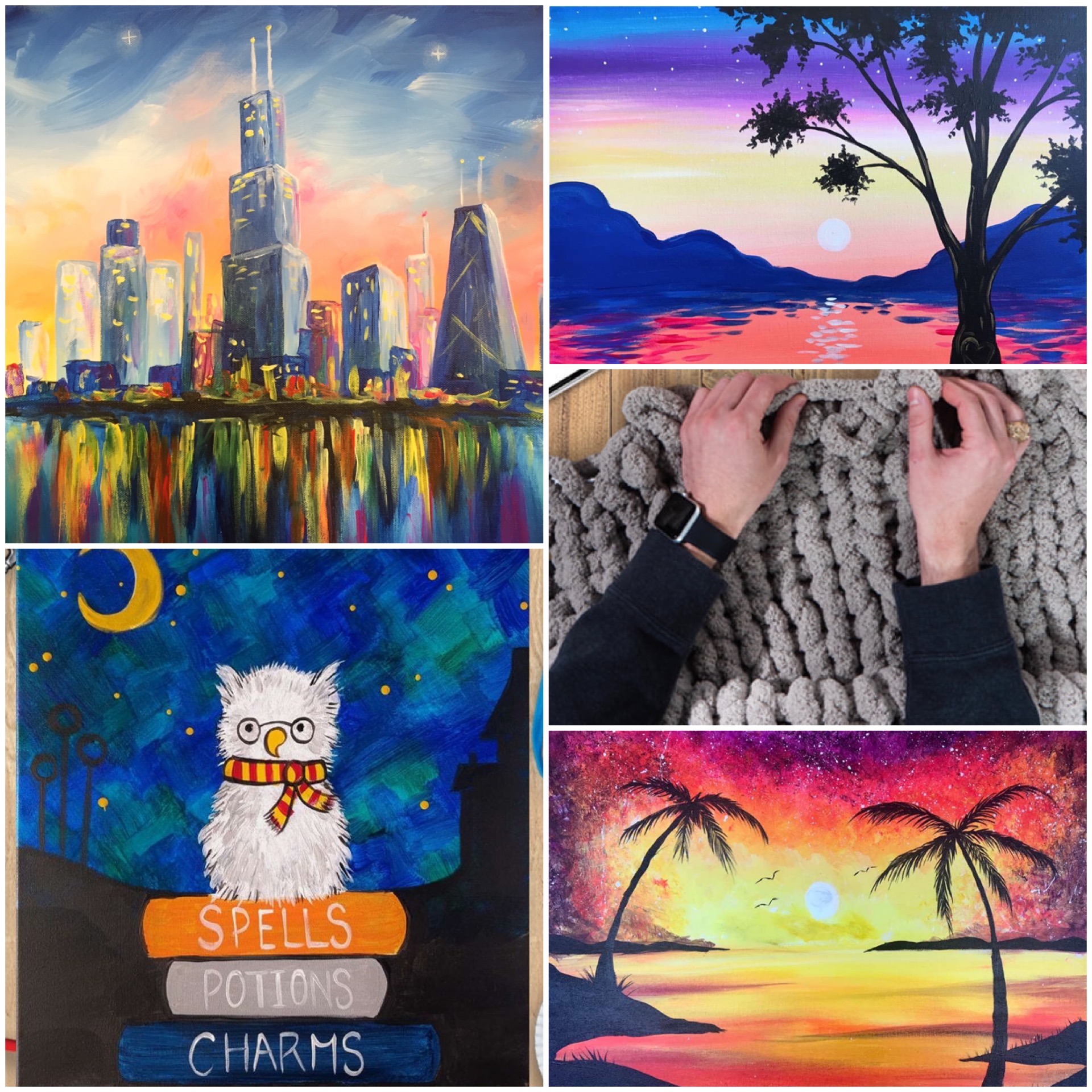 We've been back in business for weeks and so excited to be seeing all of our favorite faces again!
While our studio is welcoming (a limited number of) guests, we're still offering plenty of virtual (live and recorded) classes, too!
Here are some of the fun events coming up throughout the next week, both, in the studio AND online; Check them out and join as many as you'd like!
Bring friends along to join in the fun and spend some quality time with them as you finally get to reconnect again!
**Here's what's coming up:
7/30 VIRTUAL Knit Blanket Making Class
(Pre-recorded)
Introducing Pinot's Pre- Recorded Video Tutorial Blanket Kits. Our take home kits will include - 4 skeins of Chunky Knit Yarn. Once your order has been placed, we will email you with our color options. You will also receive a link to a pre-recorded video tutorial that will take you STEP-BY-STEP throughout the project!
https://www....op-item/27343
7/30 VIRTUAL Painting Class — LIVE!
'City Reflections'
This is a great painting to customize to fit your hometown! Add some of the famous buildings located in downtown Chicago!
https://www..../event/466297
— Join us IN-STUDIO for a live in-person version of 'City Reflections'
https://www..../event/433853
7/31 'Simple Scholar'
Everyone loves that famous boy wizard we call 'Harry'! Join in this LIVE VIRTUAL CLASS to make something special on theme with the movies! Studying is for the birds! Take a break from your wizard tests to paint this cutie.
https://www..../event/465229
7/31 'Shoreline Sunset; — IN-STUDIO (Seating is limited- sign up ASAP)
This painting is absolutely stunning and one of our newer ones. Warm, bold colors make this beautiful sunset painting a perfect way to keep your love of summer alive all year round.
https://www..../event/433834
— If you aren't able to get a seat for the in-studio class, we're offering a LIVE VIRTUAL version of this lovely paintings:
https://www..../event/466394
8/4 'Summer Under The Stars' — IN-STUDIO Class! (Seating is limited!)
Spend summer laying on the beach, under the stars, and with wine of course! This new painting is filled with the most magical colors that are sure to look amazing in any room of your home.. OR to give as a handmade gift to someone special.
https://www..../event/433857
— For the VIRTUAL Version of this class, click here:
https://www..../event/469514
8/5 Painted Wine Bottles! LIVE VIRTUAL EVENT!
Nothing like winding down at sunset with a hand painted wine bottle. This beautiful wine bottle gives off a great ambience outdoors with its glowing lights.
— To Make this in-person in our studio, click here:
https://www..../event/433858
AND --- KEEP IN MIND the many other services out studio is offering right now!
— Take-Home Paint Kits:
Paint and have fun in your own space! Our painting kits include all the supplies you need and are fun for all ages!
Your kits can be picked up from Pinot's Palette on the day you sign up for. (You can walk in and get them or give us a call and we'll bring it out to you).
*Learn more:
https://www..../event/470959
And even more:
https://www....homepaintkits
— Virtual Summer Camp: Beginning Monday, August 3, we're offering a week of virtual art camp!
Pay per day or for the whole week to make lots of amazing artwork!
Little Brushes Kids Camp - Come join the fun!!
Enjoy the Pinot's Palette experience from the comfort of your home! Our studio's artists will guide you step-by-step through the project. The experience is completely interactive - you'll be able to ask the artists questions throughout the event. Your painting kit will provide everything you need to complete the daily paintings.
*Learn more:
https://www..../event/422716
— Freestyle Afternoons and Evenings (Open Studio):
Open House and Self-Guided Paintings at the studio are so much fun and a great way to relax and unwind from a long day
$15 to paint a Mini 8x8. $25 to paint a larger 16x20 canvas. Paint your denim, wine glasses, or bottles, too!
We have over self-guided paintings to choose from. There will be artists available to assist you.
*Leran more:
https://www..../event/474358
— Private Parties:
Book a birthday, retirement, book club meeting, or other celebration with the studio (in-person OR virtual) and the rest is up to you! Pic the time and date, as well as the painting for the class, and you and your guests will have a blast making some artwork and celebrating something great (or nothing at all— Just book a party with loved ones so you can reconnect at a time when it's bee difficult to see each other).
***Corporate/Team-Building events are the same as private parties; The guest list and other details are up to you as you and your co-workers (or employees) bond together to make some artwork and memories at the studio (or virtually from any location)!
*Learn more:
https://www....rivateparties