It's Christmas In July At Pinot's Palette!
Why limit the holiday fun to just one time of year?!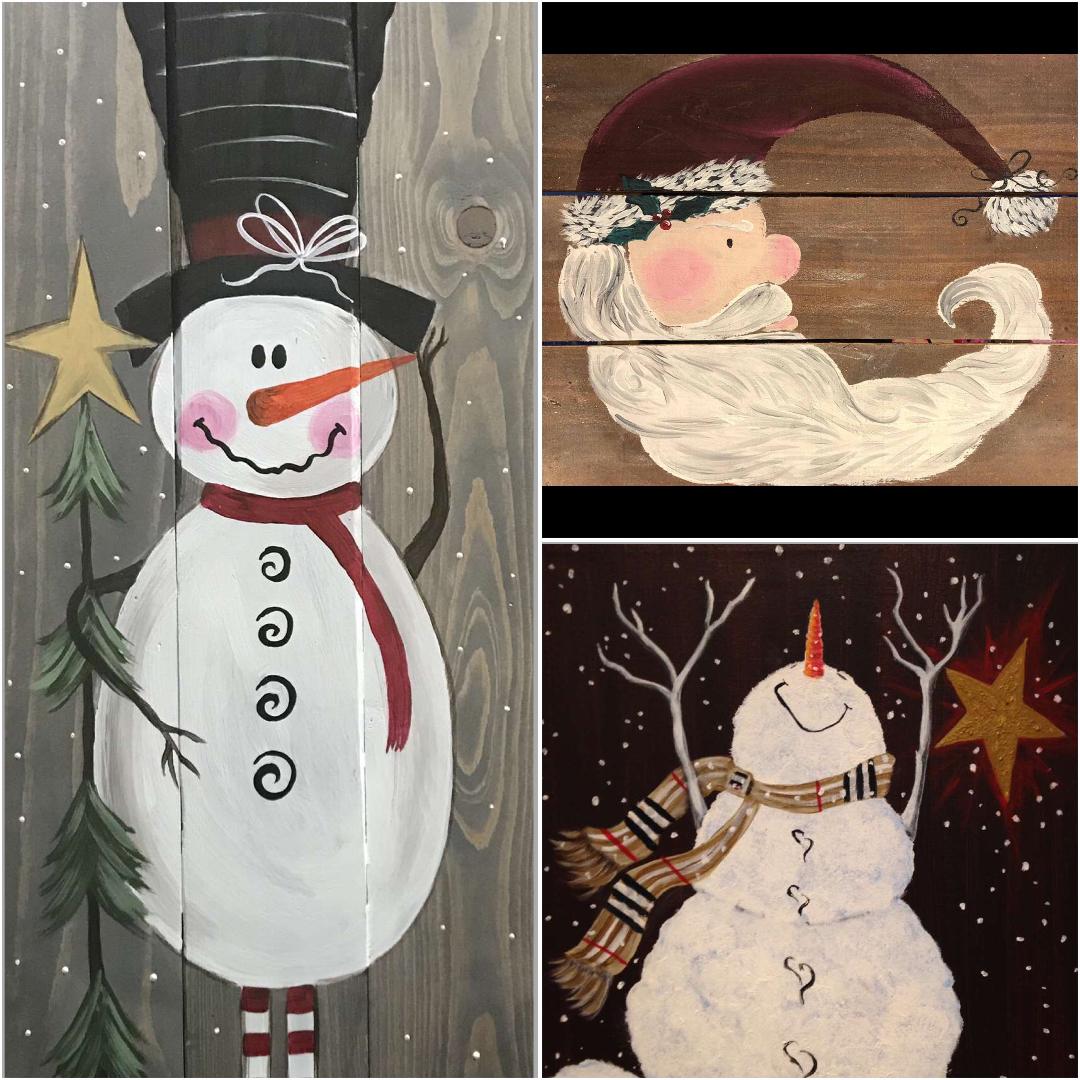 It's Christmas in July here at Pinot's Palette and we're celebrating big! We're offering some special painting classes where you can come in and make a Christmas-themed artwork to have ready when the holidays arrive!
Whether you're looking for some cute handmade decorations to use in your own home, OR eager to get ahead of your big "to-buy-for" list and give a hand-painted present to those you love, we're got you covered!
Our classes make a creative and fun activity for you and your loved ones to experience together, so be sure to tell your friends and family about these special 'Christmas In July' classes (or any of the others on our calendar) and spend time with them as you make your masterpieces together!
There's nothing like a handmade gift to show someone just how much they mean to you! The time and effort that you put into making a work of art for a loved one will show when they unwrap an original painting, made by YOU! Get ahead of your long holiday gift list and make some artwork now to have on hand when December rolls around!
Check out these 3 paintings we're offering for 'Christmas In July':
July 9th
'Snowman's Bliss'
(*Shown, bottom right)
This snowman is livin' his dream! A beautiful snowfall on a dreamy winter's night, with only a gingerbread star to light the sky. He can play until his heart's content, while little ones are tucked in bed! This charming painting will put a smile on your face and brighten your heart!
https://www..../event/345951
July 22nd
'Vintage St. Nick'
(*Shown, left side)
With his long curly beard and rosy red cheeks, St. Nick will be a treasure hanging in your home for the holidays.
This will be created on a WOODEN PALLET!
https://www..../event/345617
July 25th
'Old World Snowman'
(*Shown, top right)
This painting is on a 10" x 30" wood pallet. It is a complementary painting to our Old World St. Nick painting and will make a perfect addition to your holiday decorations!
This is painted on a WOODEN PALLET!
https://www..../event/338148
In addition to these Christmas classes, we're always offering beautiful art to make, all year long! From new paintings to artwork that's "off the canvas", we've got some great ones coming up!
Check out our full calendar:
https://www....rville/events
Specialty classes you won't want to miss:
https://www....julycalendar-
**And remember that all throughout the month of July and August we have our Buy 3, Get 1 FREE sale! going on!! Bring all of your friends and family our to paint, drink, and have a lot of fun with you in these creative and exciting classes!
https://www....atsitallabout
Keep in mind that we offer private parties in addition to our public classes, listed on the calendar!
Celebrate something special with the date, painting, and guest list of your choice!
**Private Parties:
https://www....ivate-parties
**Corporate Events: building events:
https://www....porate-events
**Kids' Parties:
https://www....ainting-party
**Mobile Events:
https://www....ainting-party
"This place is so much fun! Even if you can't paint. Every one that work's there is so nice and helpful."
-Nina G.