Specialty Classes That Are Going To ROCKING Our Calendar!
We're thinking beyond the canvas this month!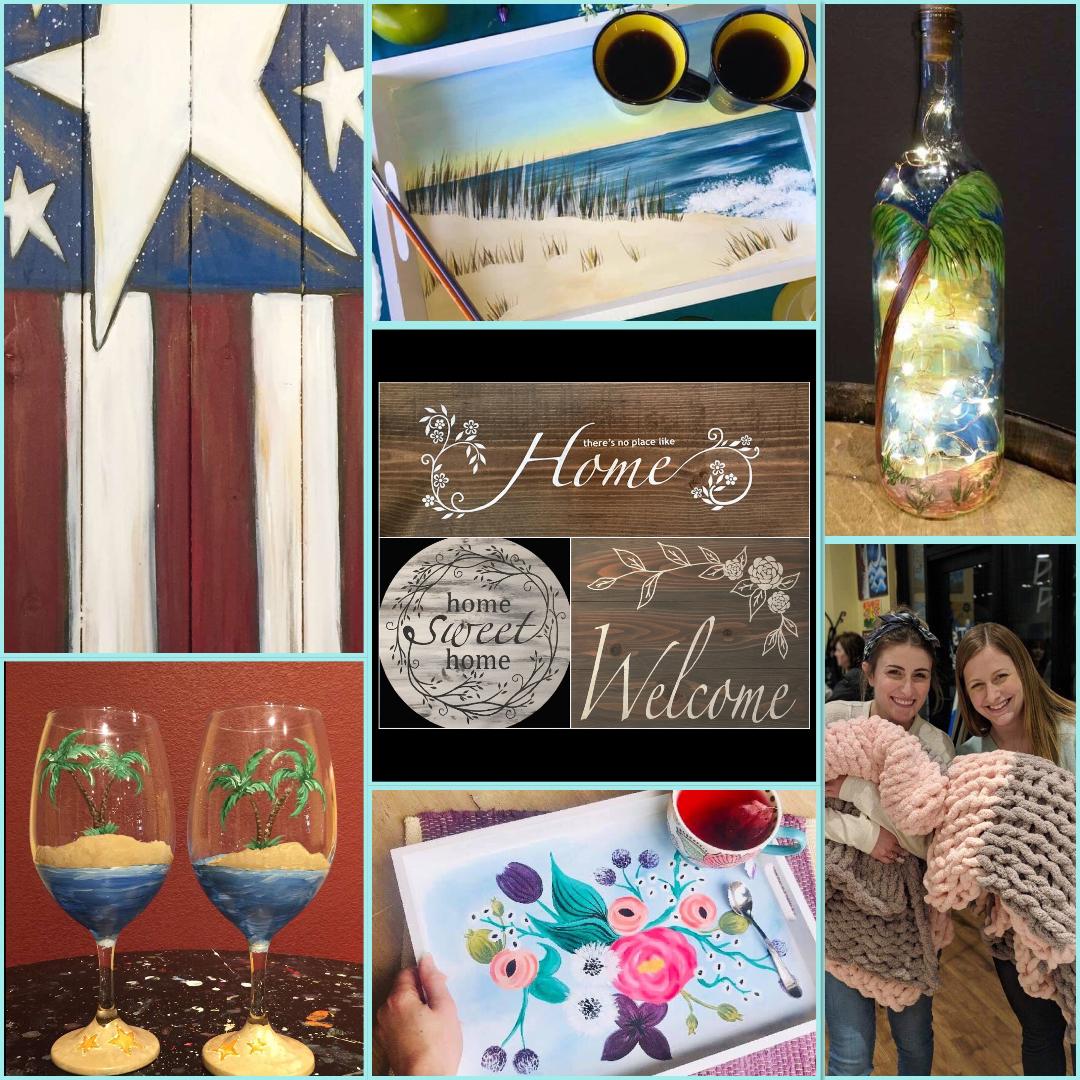 July's calendar is Hot-Hot-Hot, just like the weather, and we're happy to say that we've added on a LOT of specialty classes!
Since our opening as a franchise in 2009, Pinot's Palettes across the U.S. have been teaching people to paint with acrylics on a 16"x20" canvas; Throughout the past few years, however, we've been expanding our definition of "painting and wine" classes and our customers have been really happy about it!
We started offering various-sized canvases and painted wine glasses and bottles, then added on wooden pallet paintings and signs, and have recently added more and more... From DIY knitted blankets, to tea trays, marble art, and paintings with 3-D accents (just to name a few), our calendar has been full of great things and we're eager to share them with you!
Keep an eye on our calendar throughout upcoming months, too! You never know what we'll be adding next!
July 1 WOOD BOARD WORKSHOP
DIY Workshop! Sand, distress and stain a wooden board before you apply a stencil! The Wood Board can be hung in your home, or serve as a great home warming gift for someone special. You will choose your choice of stain and paint color for the lettering when you come to the studio.
https://www..../event/332760
***NOTE: This class will be offered again on JULY 21st!!!
https://www..../event/338095
July 2 WOODEN PALLET PAINTING
'Folk Art Flag'
Looking for the perfect rustic chic flag for your home decor? Look no further! We've got you covered in creating your very own, easy to achieve folk art flag. This flag will look great around the house during those special holidays!
https://www..../event/333017
July 6 CHUNKY THROW BLANKET
Join us for this unique workshop to create a chunky cozy throw blanket! No experience or knitting needles required.
The blankets are 40 x 50 inches. Colors will be Taupe, Cream, Dark Grey, Light Grey, and other colors as they are available. You can choose when you arrive. First come, first served!
*Sign up:
https://www..../event/332755
((More about this super popular class)):
https://www....sareallabout-
July 8 PAINTED WINE GLASSES
'Paradise In A Glass'
If you are not able to drink wine on the beach, then bring the beach to your house when you paint it on these wine glasses.
https://www..../event/332768
July 14 PAINTED, ILLUMINATED WINE BOTTLE (AND YOGA!!!)
This decorative wine bottle makes you want to kick off your shoes and wiggle your toes in the sand as watch the setting of the sun.
This is an extra-special class as we'll be doing a chair yoga session along with our artwork!
What goes better than yoga and wine? Learning how to paint the beach on a wine bottle! Let's do some chair yoga together as we paint an oceanic scene across a wine bottle! Not sure you can do it? We will walk alongside you on your beachfront journey! All students will receive a free ten-class pass to Edge Yoga School to explore their journey further.
https://www..../event/338099
July 17 PAINTED TEA TRAY
'A Day At The Dunes'
Kick back and relax as you drift away to the waterside and enjoy A Day At The Dunes on this beautiful wooden tea tray
https://www..../event/338112
July 22 WOODEN PALLET PAINTING
'Vintage St. Nick'
It's Christmas In July!!! With his long curly beard and rosy red cheeks, St. Nick will be a treasure hanging in your home for the holidays.
https://www..../event/345617
July 25 WOODEN PALLET PAINTING
'Old World Snowman' — Christmas In July
This painting is on a 10" x 30" wood pallet. It is a complementary painting to our Old World St. Nick painting and will make a perfect addition to your holiday decorations!
https://www..../event/338148
July 31 PAINTED TEA TRAY
'I Picked This For You'
A bright and stylized floral painting. Perfect for decorating a modern home
https://www..../event/345478
We'll be seeing you soon for some of these specialty classes and we can't wait to see your final creations! Remember that we'll supply you with everything you need, including the paints, brushes, and apron (along with a delicious stock of wine and beer for purchase)! Tell all of your friends and family out to make memories and art with you in a fun and creative environment!
In addition to the public classes on the calendar, we also offer private events, too!
**Private Parties:
https://www....ivate-parties
**Corporate Events: building events:
https://www....porate-events
**Kids' Parties:
https://www....ainting-party
**Mobile Events:
https://www....ainting-party