Chicago Love!!! Check Out These Windy City Themed Paintings Coming Up This Month!
Sinatra said it best, "… And each time I roam, Chicago is calling me home, Chicago is why I just grin like a clown – It's my kind of town…"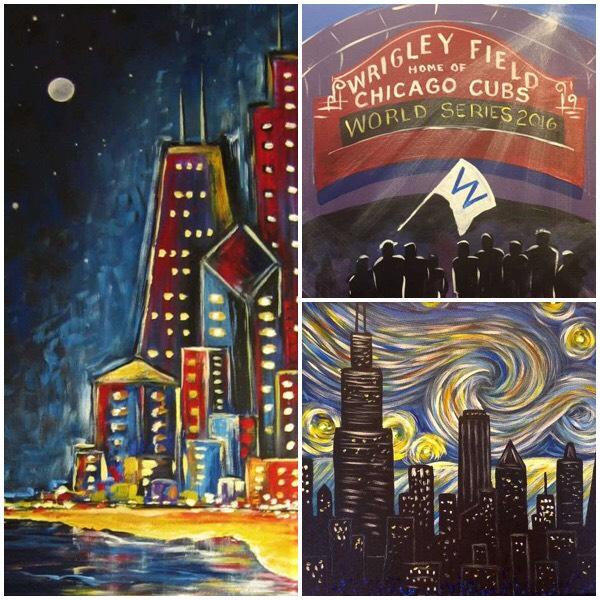 Chicago is (in our completely biased opinion), one of the BEST cities in the world! With so many incredible sights to see and things to do, this famous city is an exciting place to live and a wonderful area to visit.
Chicago is the 3rd most populous city in the US and is well-known throughout the country for it's architecture, sports teams, and deep dish pizza. :)
Located on the shores of Lake Michigan, Chicago was incorporated as a city in 1837 and has been growing, rapidly ever since (in 1900 Chicago was one of the five largest cities in the world). Today, over 2.7 million people reside there!
Not only do millions of people live in the city but it attracts over 50 million tourists a year! Chicago welcomed a record 58 million domestic and international visitors in 2018 making it the second most visited city in the nation after New York.
*Not to mention all of the people who make a stop through the city on a layover, as O'Hara airport is one of the businesses airports in the world!
Chicago is an international hub for finance, commerce, industry, technology, telecommunications, and transportation. It was the site of the creation of the first standardized futures contracts at the Chicago Board of Trade, which today is the largest and most diverse derivatives market in the world, generating 20% of all volume in commodities and financial futures. The region also has the largest number of U.S. highways and greatest amount of railroad freight
More than 400 neighborhood festivals are celebrated annually in Chicago, most during the warm summer months, including the music of blues, jazz, and country.
'Sporting News' named Chicago the "Best Sports City" in the United States in 1993, 2006, and 2010.
Along with Boston, Chicago is the only city to continuously host major professional sports since 1871, having only taken 1872 and 1873 off due to the Great Chicago Fire. Fans of the White Sox, Cubs, and Bulls have been calling Chicago their home team for decades and there's no risk of that changing, anytime soon!
**Ideas for a weekend Chicago getaway:
https://www....aroundchicago
If you live in Naperville, where our studio is located, you've likely seen us before or visited. We're constantly updating our calendar with beautiful works of art, many depicting landscapes, florals, and recreations of famous paintings; Other times, we have paintings of animals, wine bottles or glasses, holiday-themed art, and customizable creations.
Our regular customers, know that we LOVE to offer creative, one-of-a-kind pieces that are only taught in the Pinot's studios around the area, like our Downtown Naperville location….. Those special paintings pay homage to the great city of Chicago and we know how much our customers love to paint something near and dear to them.
Whether you've lived in Chicago to have friends or family there, or you currently live there, or enjoy going to the city for a weekend getaway, we know how popular our Chicago-themed paintings are and we're offering a lot of them this month!
From brand new paintings, full of color, to Van Gogh- inspired artwork, and some paintings for the sports fans, we've got some fabulous ones on the schedule!
Check them out and sign up ASAP!
March 7
BRAND NEW PAINTING
'Colorful Chicago'
Colorful Chicago shines bright under the moonlight. Paint the town tonight! This will be painted on a long canvas!
This painting is hot off the press (well… hot off the easel) and we can't wait to share it with you! Be the first in the country to paint this impressionistic beauty, filled with primary colors, and a style that will take your home's decor up a notch!
https://www..../event/311834
March 8
'Starry Night Chicago'
Inspired by Van Gogh's Starry Night, this painting combines the famous swirly sky with the windy city skyline.
Without a doubt, our Van Gogh 'Starry Night' paintings (we have several versions of it) are among the most popular ones we offer! Everyone recognizes this famous masterpiece and is eager to come in and try it out with their own take on the post-impressionistic style!
https://www..../event/300622
March 12
'Fly The "w"'
Take me out to the Ball Park! Celebrate your favorite team with this painting depicting the excited crowds of people flocking into the stadium to celebrate the win!
Customize this fun and unique painting with the colors and team info of your choice This would make a great gift for the special sports fan in your life!
https://www..../event/300624
We look forward to seeing you soon! Join us for one of these fantastic paintings, inspired by Chicago, or come in for one of the many other excellent creations on our calendar! As usual we'll provide yo with all of the supplies, including a professional instructor to walk you through the painting, step-by-step, encouraging you the whole way! No prior-paint experience? No problem! That's what we're here for! You'll be surprised at how you can turn a blank canvas into a masterpiece in just a 2-3 hour class. Gather loved ones together to come in and spend time with you or come in alone to relax and unwind after a long day! Join us with your honey for a fun date night, a girls' night out, or any other occasion!
In addition to our public classes, we're also always offering private events where you can book our studio for a special event!
**Private Parties:
https://www....ivate-parties
**Corporate Events: building events:
https://www....porate-events
**Kids' Parties:
https://www....ainting-party
**Mobile Events:
https://www....ainting-party
"We absolutely love it here!! Even my 8 year old son can show up the rest of the adults at an adult class! Amazing instructors and super awesome and friendly staff. I couldn't be happier!"
-Brandi P.
Share Ideas for a Chicago getaway | View all of our classes HERE