A Creative In-Person OR Virtual Date Night
Have a fun Date Night with Pinot's Palette and try something new and creative with someone special! Whether you're looking to go out and paint at the studio or stay in and paint from home, we've got something for you!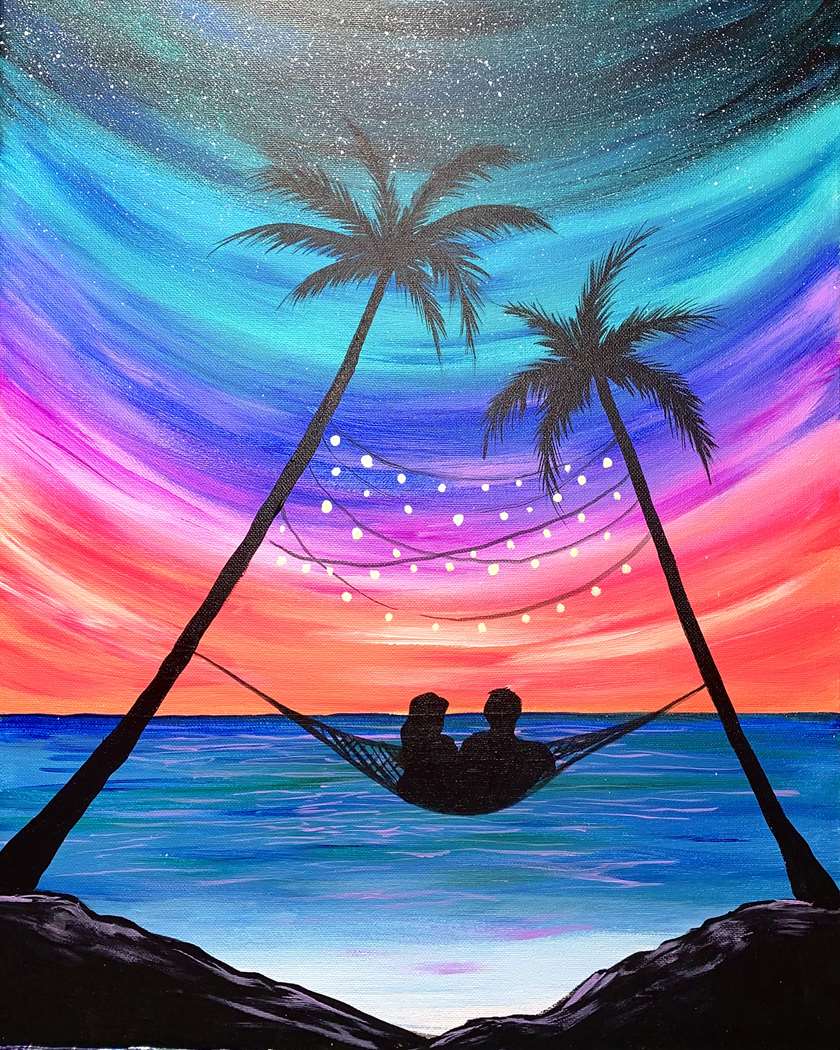 Like with everything this past year, date nights have probably been different than those of the past. From outdoor dining only, to minimal capacity inside, or if you've opted to not go out to a restaurant all together, just the simple act of getting dinner has felt odd. Masks are required everywhere we go, and the constant risk of getting sick has been in our minds for far too long…
BUT, we're making it through, and we have a lot to look forward to!
Let Pinot's Palette, Naperville, be a part of your next date night! Whether you're eager to come to the studio to join a class or you'd prefer to paint from home, we've got you covered there too!
OUR VIRTUAL CLASSES ARE A TON OF FUN for all ages and can easily be followed from the comfort of your own home (or anywhere!).
If you've never been to one of our classes, they're tons of fun! Come in OR PAINT VIRTUALLY with friends or family OR jsut alone to unwind after a long day! One of our artists willw alk you through the painting, step-by-step, encouraging you the whole time. Enjoy some wine and music as you paint and make memories AND the best part is you'll leave with your handmade work of art as a souvenir to display iny our home and treasure forever…
NOW, imagine all the fun of one of our regular classes, but as a DATE NIGHT! You and your significant other can reconnect with one of our online, virtual classes as you relax from the comfort of your own home. Enjoy wine and snacks (or a full dinner!) as you paint along with the step-by-step directions of the instructor
While we do sometimes offer "date night" classes where it's a 2-canvas work of art that each of you paints half of, ANY of our paintings can be made as a 2-part masterpiece OR enjoyed alone on each of your canvases as you paint beside one another.
These Paintings Would Make A Fabulous Date Night:
April 7th - Endless Sunset
On April 7th
Endless Summer
So romantic!!!
https://www..../event/524715
(Virtual):
https://www..../event/527854
April 8th - Ikebana Bliss
This sophisticated long painting would look amazing in any room! Customize it with the colors you want and then display them pushed together or side by side!
https://www..../event/524742
(Virtual):
https://www..../event/527855
April 9th - Vivid Aurora Night
BLACK LIGHT PARTY - Paint under black lights! So much fun!
https://www..../event/527055
April 10th - Sunny Side Up
This painting is a beautiful and bright close up of a sunflower. It has the contrasting of warm and cool colors that attracts the eye and will look good hanging as a decorative piece in someones home all year around, especially in spring.
PUSH these 2 paintings together and make one large sunflower!
https://www..../event/527032
(Virtual):
https://www..../event/527856
April 16th Poppies à la Van Gogh
Landscapes are the perfect painting to make 2 and then push together!
https://www..../event/527033
(Virtual):
https://www..../event/527866
**Have An AFTERNOON Date With Our Freestyle Afternoons!
Monday-Friday from 1-5pm
If you need a break or are looking for a fun way to spend time with your sweetie mid-day, join us in the studio for an afternoon of painting! Do your own thing or follow along with one of our Self-Guided Painting Instructions. Freestyle Afternoons are designed for people looking for some unstructured creative things to do individually or with friends and family.
Grab some food before or after class at a local Naperville spot!
https://www..../event/524154
(Paint from home):
https://www..../event/527856