Come Paint With Us!!!
We've got some amazing classes coming up throughout the next month! From Chicago-themed artwork to pet classes, ladies' nights, and date nights, we've got something for everyone!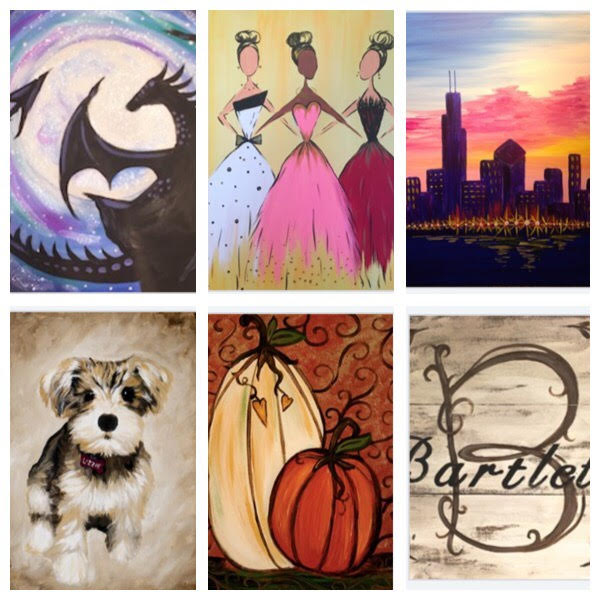 Through the rest of August and all throughout September, we'll be painting some great stuff and we'd love you to join us! With Fall just around the corner, we've got some great Autumn-themed paintings, which will be a great addition to your home's Fall decor!
Stop in to our studio to check us out and get more information, OR view our website and see our calendar, sign up for a class, and more!
(*sight, listed below)
While any of our paintings are always a big hit, here are some of the extra special ones, we have coming up soon:
8/25 (8-10pm) 'Game of Thrones trivia night'
Jon Snow may know nothing but what about all of you GoT fans out there?! Come test your knowledge of the show throughout the night while we paint a super cool dragon!
Chicago love and pride:
Represent Chicago with 2 of the silhouette paintings of the city's popular skyline:
-8/26 (8-10pm) 'Starry Night Chicago'
-9/9 (7-9pm) 'Subset City'
Fall Out Of Format:
We're changing the size of our canvas for the day and trying some fun and trendy home decor painting styles!
-9/7 'Fallen Feather'
Read more here:
https://www....e-trendydecor
'Ladies' Night' Classes!!! (Monday nights)
Get the girls together and spend some time painting and drinking wine. What a great match!!
$30 special price!
Family Day (Saturday afternoons)
Bring the whole family and spend the day painting and bonding! Discover one another's creativity as you create your own masterpieces and bring them home to display together!
$30 special price
Painting it Forward event
September 10th we will be hosting a fundraising event for 'AdoptaBull' an English Bulldog Rescue Foundation. Help us give back to he community... if you're an animal lover like we are, this event is for you!
Date Night paintings:
Bring your sweetie in to paint half of the painting, while you paint the other half! Share half of the painting with a friend, roomie, family member, or significant other and watch two paintings, become one masterpiece!
9/23 (7-10pm)
Paint Your Pet!
'Project Pet' is always a customer favorite! After you sign up, you'll send us a photo of your pet and we'll have a sketch of it, waiting for you, the day of the class. Paint your beloved animal and take it home to keep forever as an extra special piece of art!
Customized initial and name painting:
Want to make a super cute and trendy painting that you can ALWAYS have on display? We'll walk you through a step by step painting where you'll customize it to your needs at the end! Add an initial and family last name to it, making it personalized artwork that you'll be proud to show off!
9/14 (7-9pm) 'Rustin Family Name'
Fall paintings!!!
This is a great category of artwork that our customers LOVE to paint! During the Fall, when home decorating and decor updating is at its highest, people enjoy filling their home with the warm colors of Autumn. Rich oranges, reds, and browns, add a lovely feel to any room this season. We're here to help you create some of your own decor! We'll be offering some gorgeous paintings that are sure to make your home feel warm and cozy and ready for Fall in no time!
-8/27 (4:30-6:30pm) 'Falling Blossoms'
-9/6 (7-9pm) 'Harvest Moonlight'
-9/16 (3-5pm) 'Pumpkin Spice'
-9/27 (3-5pm) 'Autumn's Heirlooms'
-9/28 (7-9pm) 'Elegant Autumn'
** this is a NEW painting!!! First time painted at our studio!
Whichever class appeals to you, we look forward to you your visit! We think you'll enjoy a few of these! Take a break from life's hectic schedule and use that time to create something you'll treasure forever. Bring friends and family in to paint with you, making it a day or night out to remember!
Cheers!