Make A Beautiful Bow Wreath This Season!
Dazzle your door this Christmas with a stunning bow wreath that'll greet your guests with a festive flare!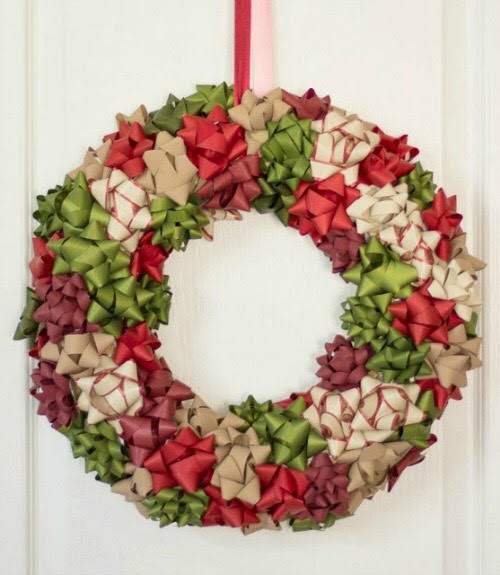 We found this amazing DIY wreath, adorned with bows, and just had to share it! Made from inexpensive, easy to find supplies, this wreath is perfect for a beginning crafter with a low budget in mind.
The best part about this door decor is the ability to customize it to your taste! Select specific colors that coordinate with your personal style and home's decor! Add a lovely ribbon for hanging or even make a larger bow on the hanger to add an extra touch of texture and color. In addition to the bows, you could add in other accents like artificial flowers, tiny presents, ornaments, and more!
This wreath really is one of the easiest projects you'll ever do! It calls for hot glue, so parents should be present, but the kids would absolutely LOVE to help with this wreath! Let them pick out all of the items for he wreath and hand them to you as you glue them down!
*Check out the link at the bottom of the page for the full tutorial!
While you're in the crafting mood, be sure to check out our calendar (we have some seriously awesome classes coming up!), and sign up for a painting and wine class in Downtown Naperville! In addition to our studio classes, we'll be have a pop up studio in the Fox Valley Mall in Aurora. Two times the locations, makes two times the amount of amazing classes we are offering this holiday season!
Read more about the incredible classes we that we have coming up, here:
https://www....comingclasses
Register for one of our public classes and bring some pals along! We make a great idea for a unique date night, a fun girls' night out, and a creative space for you and your family members to come spend time together while you paint!
We have gift certificates available for purchase, so be sure to take advantage of that while you're looking through our website, or while you're in one of our classes! A painting and wine class makes a thoughtful and interesting gift for anyone on your list!
*We have locations, all over the US and even Canada, so you can share the gift of a Pinot's Palette class with loved ones, near and far!
We hope you enjoy making this super easy, incredibly adorable wreath for your home, and make a few extra, while you're at it! They would make a special gift for anyone; handmade gifts are some of the best! We hope to see you in the studio (or the mall), soon! You can come to several classes and create some paintings for gifts, as well!
Cheers to you this holiday season and may you and your family have a wonderful new year!!!
(For more incredible DIY wreath tutorials, check out this list of 67 wreath ideas from 'Good Housekeeping'
https://www....tmas-wreaths/