Get Ready For These INCREDIBLE, Upcoming Classes!!!
From family days and date nights, to discounted classes and paintings that light up, we've got it all this holiday season, and we hope you'll join the fun of a painting and wine class in Downtown Naperville and Aurora!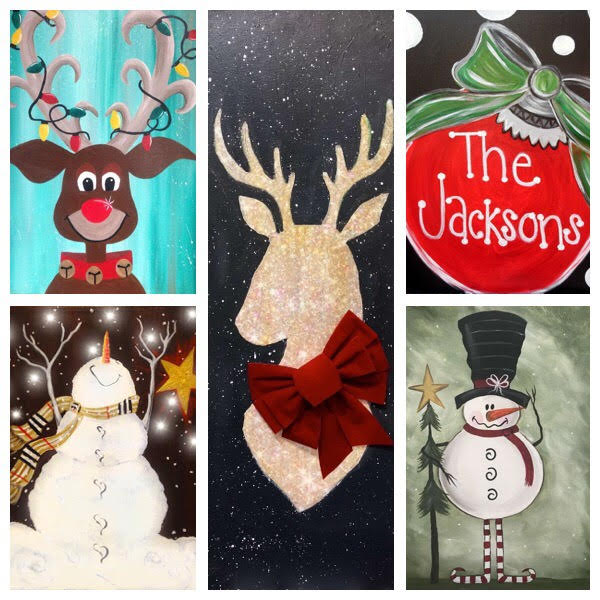 While we always have some excellent paintings to offer, this time of year tends to be some of our biggest and most popular classes! People love to get into the holiday spirit, any way they can. By creating a beautiful, holiday-themed painting, the fun and joy of the season comes out for all to see!
Being able to spend time with loved ones, drinking some wine and relaxing, while painting a masterpiece, is always wonderful! It's so exciting to create a handmade piece of artwork that you'll cherish forever, and always hang in your home to remember the fun night out you had. You'll get tons of compliments and know that you have a 'one-of-a-kind' decoration to display all season long, every year!
This year, we have SO MANY classes to choose from, as a 'pop up' studio at The Fox Valley Mall in Aurora throughout all of December! With twice the amount of classes as usual, that's twice as many painting choices, date and time choices, and locations, so you can choose the classes that work best for you!!!
Listed below, are just some of the various classes we offer. Be sure to view our entire calendar, at the bottom of the page, for complete information. Keep in mind that we'll be hosting classes, both in our Pinot's Palette studio in Downtown Naperville, as well as The Fox Valley Mall in Aurora, so check the details of each class, before registering :)
DECEMBER CLASSES!!!!
*Open Studio!
Stop in and paint what you want! In these classes, you decide what you'd like to create on the canvas and we'll help you get there!
While we won't have an instructor, walking you through a painting like in our standard classes, we'll have artists available to help with anything you may need from color-mixing, to sketching!
(Dec. 8, 9, 10, 16, 21, and even on Christmas Eve, Dec 24!)
*Family Events
- Gather the whole family to paint! Ages 7+ are welcome and each family member gets their own canvas!
-Mommy & Me (or Daddy & Me)
(Various dates and times, each week throughout all of December)
You paint one canvas and your child paints the other one... push them together for one, complete painting!
*Date Night
Come in with your other half, whether it's your spouse, roomie, bff, or anyone else you wish to share a piece of artwork with!
You'll paint one canvas and they'll paint the other, then push them together to make a whole painting!
(Dec 9 & 22)
*Teen Night
Tell your teens to come in a paint a fluorescent rendition of Van Gogh's 'Starry Night'!
(12/20)
*Light Up Paintings
We'll be creating some beautiful, holiday themed paintings, then completing the masterpiece with a strand of real lights! These incredible paintings add ambience to any room!
(Dec. 10, 15, 29)
*Customizable Initial/Family Name
Paint a canvas, customized with your family's name or monogram! These make a special holiday decorations, just for you!
(Dec. 12, 14, 16)
*Multimedia Painting
In this painting of a reindeer, we will add real glitter and bows, creating a textured, multimedia work of art!
(12/21)
*$30 Specials
You'll save some money when you sign up for one of these classes, which is always a good thing this time of year!
(Dec. 11, 15, 16, 22, 23)
*Paint A Cartoon Version Of Yourself
Refer to one of those many selfies you have on your phone and paint a cartooned self-protrait. We'll help guide you through creating various skin tones, hair colors and styles, and backgrounds!
(12/27)
*Starry Night
The 'Starry Night' Paintings are absolutely our most popular paintings! Everyone recognizes the beloved and world-renowned Vincent Van Gogh work of art and it's a super fun one to paint
Check out our various versions(
- Simply A Starry Night- (12/9)
- Christmas Starry Night- (12/11)
-Starry Christmas Night- (12/23)
- Starry Night Chicago- (12/23)
We hope to see you all soon!!! Check out the full calendar below to see the many, many classes we have to sign up for! With the kids out of school and family in town, these classes are a great way to spend time this season!
Share View our entire calendar and sign up for a class! | Purchase a gift certificate HERE!