Easter-Themed Crafts To Make, ASAP!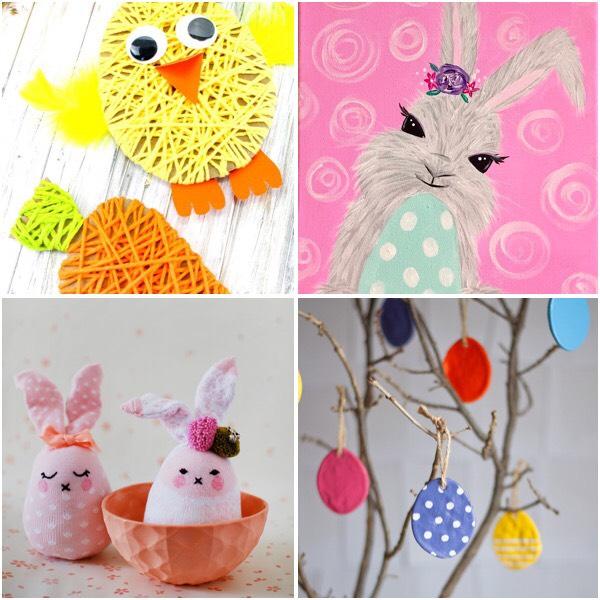 Easter is just days away and we're so excited!
Who doesn't love time with family, carrot cake, egg hunts, yummy food, and adorable decor?!
We've found some cute, easy-to-make DIY craft ideas for you and the family to enjoy this week! Make and display them in your home for some handmade, personal decorations; Give them out to friends and family for a personal and thoughtful gift (*think of how sweet these would be as a hostess gift to whoever is making Easter dinner!).
Whether you want to take some time for yourself and get crafty or make it a group project where you enlist the kiddos' help, these easy crafts will get you in the holiday mood, ASAP!
Check them out:
*Yarn chicks and carrots
With easy-to-find supplies and simple instructions, anyone can make this adorable craft! Make a bunch and string them all together in a banner decoration!
https://www....fts-for-kids/
*10 craft ideas for styrofoam eggs
https://diy-...yrofoam-eggs/
*Sock easter bunnies!
Make these cute, soft bunnies, in all colors and sizes and use them to sit around the whole house! Make a bunch and give them out as gifts!
https://craf...ks--cms-20438
*Salt dough eggs
Make these salt dough eggs and get in touch with your inner-artist when you decorate them any way you like! Once you have the salt dough technique down, the sky's the limit with what you can make with it!
https://www....t-dough-eggs/
*Bunny Painting!
Join us on April 19 (10:30am - 12:30pm)
We'll be painting 'Bella Bunny'
This adorable bunny wants to hop on home with you, why keep her waiting?! Customize your background color, pattern, and more to make it your own!
Bonus! This is a $30 special price for the class!
https://www..../event/324682
(*Spring-themed artwork, coming up):
https://www....regoingtolove
**Bonus: The Best Carrot Cake Recipe:
A wonderfully moist, perfectly spiced carrot cake recipe. This cake is surprisingly simple to make and includes a step-by-step video for no-fail results every time. Top everything off with my simple cream cheese frosting for what truly might be the perfect carrot cake.
https://suga...-cake-recipe/
Enjoy making some of these fabulous crafts this time of year! While you're in the creative mood, why not come in for a painting and wine class?! Create your own, handmade work of art to hang in your home and remember all of the fun you had, making it! Bring friends and family in to celebrate life and creativity with you as you paint, drink, and have fun! In addition to our public classes, we also offer private events! Join us for a birthday, wedding celebration, retirement party, corporate/team-building event, kids' party, and more!
**Private Parties:
https://www....ivate-parties
**Corporate Events: building events:
https://www....porate-events
**Kids' Parties:
https://www....ainting-party
**Mobile Events:
https://www....ainting-party
Share Easter craft ideas for kids | View our full calendar here