Fill Your Home With All Things 'SPRING'! We've Got Some New Artwork That You're Going To Love!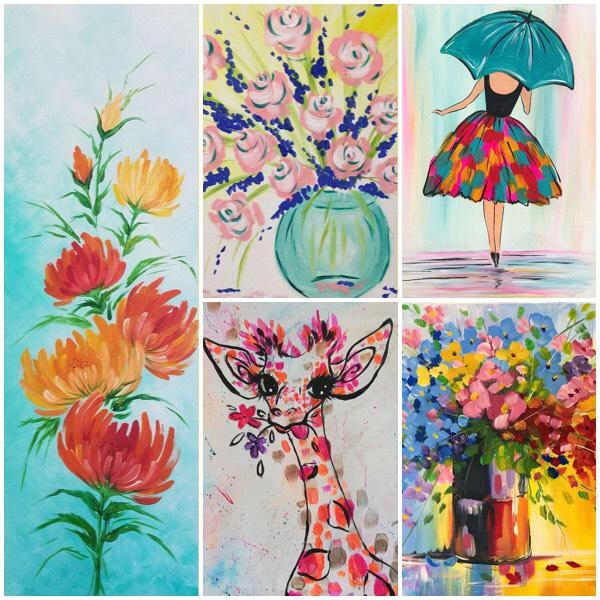 When a new season arrives, people are eager to change their clothing, hair styles, home decor, and even recipes (especially when the season changes from one weather extreme to another). When the cold days of winter are gone and the warmer weather is finally here, it's customary to throw open the windows and clean the house really well (Hello, 'Spring Cleaning'!)! Being inside for so many months, dealing with the cold air, harsh rain, and inches of snow, we want to trade our routines in for something lighter and happier!
When you make small changes, whether it's with your home, yourself, or your daily activities, it automatically promotes growth and happiness, making the new season, feel even more fresh and new!
Here, at Pinot's Palette in Naperville, we have a calendar that's stocked with tons of stunning, Springtime artwork, just waiting for you to come in and create! Add some bright and flowery masterpieces into your home and bring the beauty of Spring, inside! Swap out pillows, rugs, curtains, and other decor for a small price (specially at places like Ross, TJ Max, Marshalls, Home Goods, and more!) and create a fresh new look in your living space, in addition to bringing in some new artwork!
**Check out what's coming up at Pinot's Palette:
April 10, 'Monet's Irises'
These beautiful irises painted in the spirit of Claude Monet bring a lovely spring scene to your home!
*This is painted on a LONG canvas!
https://www..../event/300631
DIY Chunk Blanket
Just because the weather is warming up some days, doesn't mean it won't still be chilly some days!
Join us for this SUPER POPULAR blanket-making class where you'll learn how to make a warm and cozy blanket (all materials are provided)
- April 11
https://www..../event/320515
- April 15
https://www..../event/311823
- April 19
https://www..../event/320250
*MORE about these popular blanket-making classes:
https://www....sareallabout-
April 13, 'Country Tulips' Wooden Pallet Artwork
This attractive bouquet of flowers will brighten you day!
https://www..../event/308379
April 13, 'Monet's Water Lilies'
Claude Monet is one of the most popular of all the impressionist painters and for good reason! His water lily paintings are quite a sight to see in person and are also really fun to paint. Paint your own Monet with this serene scene.
*This is painted on a LONG canvas!
***Think of how lovely this painting would look, next to the painting on April 10th ('Monet's Irises)! Adorn your home with some colorful, Impressionistic style, and group these beauties together in the same space, or add each into separate rooms to keep the flow of your home, harmonious.
https://www..../event/311822
April 17, 'Beautiful Blooms'
A beautiful bouquet of flowers to brighten your day
https://www..../event/311825
April 18, 'Simply Monet'
Today the sky is cloudless, there is no wind and the lilies are peacefully floating around their blossoms. We salute you Monet.
https://www..../event/311827
April 19, 'Sassy Giraffe'
A cute, very easy rendition of a baby giraffe eating some flowers.
https://www..../event/324682
April 22, 'Spring Orange Blossoms'
This is a $30 Special price! Come create all of the best parts about spring on a canvas! From blue skies to pops of colorful flowers, this stunning masterpiece will look great in any space!
https://www..../event/311831
April 24, 'Rainy Day Chic'
Embrace the shower of nature while strutting your gorgeous style!
**This is a NEW PAINTING!
https://www..../event/324330
April 27, 'Floral Delight'
Relax and paint this bright, fun, & colorful bouquet. With bright pops of color, and abstract flowers - this painting is sure to be a hit!
https://www..../event/311852
**MORE WAYS to update your home for Spring!
https://www....dates-2213522
We look forward to seeing you soon for some of these Springtime works of art! Join us for a painting and wine class where you'll spend time, getting in touch with you your inner-artist, as you paint, drink, and have fun! Remember to tell your friends and family about the classes, too, so you can enjoy time with loved ones, as you get creative in a new and exciting environment!
In addition to our public classes, we're also always offering private events where you can book our studio for a special event!
**Private Parties:
https://www....ivate-parties
**Corporate Events: building events:
https://www....porate-events
**Kids' Parties:
https://www....ainting-party
**Mobile Events:
https://www....ainting-party
"Staff was fun and very helpful! I also love the variety of paintings to chose from!"
- Janette Garcia
Share View our full April calendar here | Tips for decluttering & organizing