Celebrate 'Grandparent's Day' With A Trip To Pinot's Palette To Paint And Spend Time With Loved Ones!
Get ready! Grandparent's Day is Sunday, September 9th.
In an effort to honor our elders and all that they have done for our family, we want to pass along some information on the history of this special day and offer some ideas of how you can spend the day with them!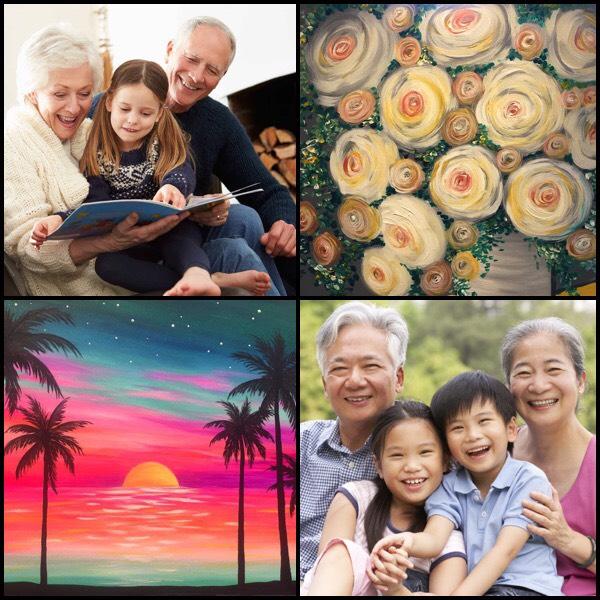 National Grandparent's Day is a secular holiday celebrated in the United States since 1978. It's officially recognized in a number of countries on various days of the year, either as one holiday or sometimes as a separate Grandmothers' Day and Grandfathers' Day.
Some of the additional countries that celebrate the day are Australia, France, Germany, Italy, Mexico, Poland, Spain, and Taiwan.
Marian McQuade from West Virginia has been recognized, nationally, as the founder of National Grandparents Day. McQuade made it her goal to educate the youth around her community about the important contributions seniors have made throughout history. She also urged the youth to "adopt" a grandparent, not just for one day a year, but rather for a lifetime. Co-founder Cynthia Bennett, who worked for Marian's husband, contributed by writing letters of verification.
In 1973, Senator Jennings Randolph (D-WV) introduced a resolution to the senate to make Grandparents' Day a national holiday.
In February 1977, 'Grandparent's Day' was offically designated as the first Sunday of September after Labor Day of each year. The purpose of the day was stated as "a way to honor grandparents, to give grandparents an opportunity to show love for their children's children, and to help children become aware of strength, information, and guidance older people can offer".
Learn more about Grandparent's Day!
https://gran...arentsday.org
There are so many great ways to show family that you care about them. For grandparents, the gift of an experience and time spent with loved ones is probably better than any material gift they can receive. Bring them in to experience a painting and wine class at our studio and cherish the quality time you spend with them, making some lovely art and some wonderful memories. First-time painters shouldn't worry… that's what we're here for! We'll walk you through the painting, step-by-step, assisting you the whole way through with anything you may need. You'll be surprised at how you can go from blank canvas to masterpiece in just a 2-3 hour class.
If your grandparents don't live near you or aren't able to attend a painting class, you could always make a painting for them as a gift! We have a calendar, full of amazing paintings, so check them out and see which one you think your grandparents would like! Creating a handmade gift for them is something they will love so much and treasure forever. They'll appreciate the time and effort you put into their gift, making it even more special than anything you could have bought from the store. Showing someone you love them with something you made, especially with them in mind, is thoughtful, loving, kind, and so valuable to the recipient.
*Here are just a few of the upcoming classes that would be good ones too attend for a gift-making experience:
(1) Bring the whole family out to make a painting for them at one of our Open Studio Classes (the next one is On September 7) and have everyone make a different painting for them to hang in their home.
Sign up for the class:
https://www..../event/268644
(2) If you want to commemorate their wedding day, sign up for our newest painting, 'Going To The Chapel' and paint a picture of a local, historic church in Downtown Naperville (Century Memorial Chapel) and customize it with their name and wedding date.
Sign up for the class:
https://www..../event/261315
Read more about this painting:
https://www....inotspalette-
Here are the paintings we'll be offering over the Grandparent's Day weekend:
Friday, September 7
'Japanese Winter'
*This is a Date Night painting! You can come in with your spouse and bring in your grandparents to paint as a fun double date; You could also purchase a gift certificate for your grandparents as a special gift for their day and they could attend this class as a fun date night!
https://www..../event/261264
Saturday, September 8
(1) 'You Know Hoo'
*This is a Family Day event, only $30 to attend!
You know Hoo it is. Have an enchanting time painting this adorable owl. He has just enough magic to light up your room with cuteness!
https://www..../event/265341
(2) 'Sunny Side Up'
This painting is a beautiful and bright close up of a sunflower. It has the contrasting of warm and cool colors that attracts the eye and will look good hanging as a decorative piece in someones home all year around, especially in spring.
https://www..../event/261272
(3) 'Starry Night Chicago'
Inspired by Van Gogh's Starry Night this painting combines the famous swirly sky with the windy city skyline.
https://www..../event/257005
Sunday, September 9 Grandparent's Day!
(1) 'Golden Wildflowers'
Upon a rich metallic brass background sits a jar of bright turquoise flowers with fun yellow accents.
https://www..../event/256760
(2) 'Peaceful Posies'
*This class is a fundraiser for the American Cancer Society. Come in and help raise money for a good cause.
Send a message of peace and love with this serene bouquet or cream, peach, and pale yellow flowers.
https://www..../event/259571
(3) 'Endless Summer'
We are day dreaming about summer and being on the beach. What about you?! Come find your happy place with us while painting this beautiful paradise scene.
https://www..../event/256761
We hope to see you soon for a class at our studio whether you're coming in for a Grandparent's Day celebration or another occasion. If you're looking for something fun to do in or around the Naperville area, we make a great spot to visit for everything from a fun and unique date night, an awesome girls' night out experience, and we even offer private events! When you view our classes on our website, you'll be viewing our schedule for our public classes, but you can also book a painting party with the guest list of your choice! Come in to celebrate a birthday, bridal shower, reunion, retirement, and more with friends and family, sharing their artistic sides, together. Make memories that will last a lifetime with a souvenir to treasure forever with one our classes. *Learn more about our private parties, here:
https://www....ivate-parties
We also play host to tons of corporate events, too! Why not book your next work party or team building event with us? We offer several styles of paintings that incorporate team building strategies, encouraging the whole office to work together, creating a stunning world of art!
*Read more about corporate events, here:
https://www....porate-events
Share 101 Grandparent's Day Ideas | View our full calendar here