Looking For Ways To Celebrate A Wedding Or Engagement In Downtown Naperville? Look No Further Than Pinot's Palette!
Join us for a new, amazing, and customizable painting on September 25th!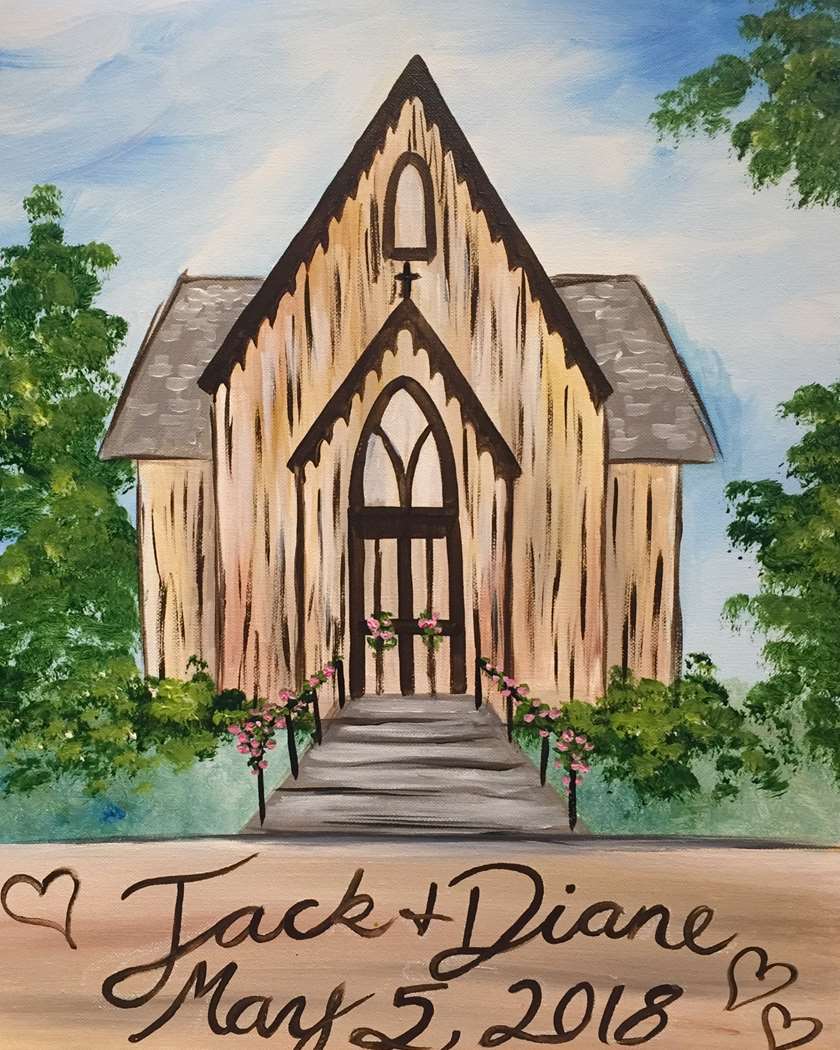 There are so many great things about Fall. The weather cools, the leaves begin to change, and there are a whole lot of weddings! Take advantage of one of our newest paintings and join us to create this one of a kind masterpiece that anyone with a love of Naperville will fall head-over-heels for! One of our talented artists, Angela, came up with this painting, specifically designed to embrace the history and beauty of Downtown Naperville. If you or anyone you know is getting married in or around the area (especially in the church from the painting, 'Century Memorial Chapel'), or if there is someone who holds the city, near and dear to their heart, this is the painting for them!
We enjoy tailoring our paintings to our customers' needs and preferences so they can really appreciate the art they make, and have it hold a special meeting to them. This is a great example of one of the paintings, meant for our local customers and fellow-lovers of Naperville. If you're a native or a long-time resident of the area, you likely know all about this historic church and the stories behind it. It's a quaint, lovely little chapel that has housed hundreds of happy couples tying the knot throughout the last 50 years and we LOVE it for it's architectural structure and long history. While the painting was designed by a Naperville artist and calls it's 'home' our studio in the Downtown Naperville area, this painting will be used, Nationally, by our 160+ studios. Anyone, anywhere in the US can create this masterpiece, personalizing it with the date and names of their choice, making it a great painting for ANYONE who might be getting married!
Enjoy a little information about the history of the church that is the star of this painting!
St. John's Episcopal Church, built in 1864 and was the place of worship for many years until the town outgrew it's small size. They soon needed more room so they doubled the church's capacity by adding a wider middle section during the 1870s. The congregation worshipped in the building until the late 1960s.
In 1969 a group of concerned Naperville residents rescued the church, which was threatened with demolition by new development. They formed the Naperville Heritage Society, raising money to move the church to land owned by the City of Naperville. The church was deconsecrated and its name changed to Century Memorial Chapel to commemorate its historic place in the community. The successful relocation of the Chapel to this site sparked awareness of historic preservation in Naperville and formed the cornerstone of Naper Settlement.
The Century Memorial Chapel was built in 1864 by the congregation of St. John's Episcopal Church in the Gothic Revival style, a design movement inspired by medieval European architecture. In 1970 the Chapel was moved from Jefferson Avenue and Ellsworth Street to Naper Settlement.
Naper Settlement was established in 1969 by a group of individuals who were interested in saving St. John's Episcopal Church from demolition. The group, called the Naperville Heritage Society, was a grassroots effort of community members who raised the funds to have the historic church transferred to the grounds of the Martin Mitchell Mansion. The church has been renamed Century Memorial Chapel and is the site of many special events, from weddings to recitals.
*Learn more about the Naperville Settlement, here:
http://www.n...x.aspx?NID=27
*Learn more about holding a wedding at the church:
http://www.n....aspx?nid=109
JOIN US AS WE PAINT THIS INCREDIBLE MASTERPIECE!
This painting's debut will be on Tuesday, September 25, 2018 from 7-9pm
Celebrate the day you'll say "I do" with this cheerful scene. Customize it to coordinate with your special day.
Our rendition of the beautiful Century Memorial Chapel at Naper Settlement. Paint with your names and date of marriage. Paint it for your friends, your parents, or your grand parents were married at this chapel. Makes a great gift! You can personalize this painting is so many ways! Change the name and date to fit your story; Add decorations or a different color on the outside of the chapel; Paint the trees and surrounding landscaping to match the season you were married (colorful Fall leaves or snow-covered branches, etc). Make this painting as special to you as that day was and have something to hang in your home that YOU made to remind yourself of that wonderful moment in time!
There are so many occasions for painting this special work of art! From making it for your own wedding, creating it as a gift for a loved one, or coming to the class as a way of celebrating a bridal shower, bachelorette party, engagement party (and more), this is a great masterpiece to make with loved ones by your side. Make some memories and a great work of art in the process in one of our classes; Whether it's a public class or a private class, you'll have a great time creating this painting and celebrating a beautiful life event!
(*Read on to learn more about the various party types we offer, such as public classes, private parties, corporate events, and more!)
***Here are some of the many ways to utilize this painting:
1. For a wedding gift or another celebratory gift!
Do you have parents or grandparents who were married in this church in the past? Think about the joy in their eyes and happiness in their smiles as they unwrap a handmade painting of the church where that magical day took place! Not only will this be a gift for them to hold on to their memories and display for everyone to see, but it will be something that's made with love and dedication by someone who means so much to them. There is nothing like a handmade gift, as it shows so much thought, reminding that special someone that they mean the world to you and the proof of that love is hanging on their walls forever.
Check out the story of one of our amazing couples who had their first date night at our studio, back in 2016, and just got married this past year:
https://www....wnnaperville-
2. For a proposal:
If you've been thinking about the perfect, unique way to propose to the one you love or if you perhaps have a friend that's contemplating it, we'd love to suggest Pinot's Palette Naperville! If you're living or visiting in or around the area and need a place to pop the question, look no further than our fabulous painting and wine classes! We have an incredible staff, eager to assist you with this special event in any way you may need. Our past proposals have contacted us a week to a few days before (or as far out as you'd like...), and worked closely with our staff to devise the perfect plan of action.
Once you've decided that Pinot's Palette is the perfect spot for this memorable event in your life, the next step is to figure out how you'd like to arrange it. You can come in to one of our public classes and paint along with a room full of people who will be incredibly happy for you and your new fiancé, OR plan a private event for a more intimate proposal. There have been dozens of proposals, held at many of our locations across the US, where the happy couples painting together and one person adds the words, 'Will you marry me?' onto their canvas, without the other person knowing what's happening. There's something so incredible about the person who is being asked this life-changing question, looking over to see the one they love so much, asking them the question they want most, and seeing the happiness and tears in their eyes as they answer, "Yes!". This would be a great painting to bring someone to and propose to them on the canvas, painted with this historic and romantic landmark!
3. Bridal Shower, joint-wedding shower; or engagement party:
Want a great way to always remember your bridal shower?! Creating a unique piece of artwork to hang in your home and always remember your special day is perfection! At Pinot's we cater to YOU! When you book your private event with us, the studio is all yours for the class... you can have it your way! Decorations, food, gifts, and more are all possible additions for your party. Arrange it to cover whatever best suits you and your needs!
Imagine a lovely bridal shower brunch with delicious buffet food and mimosas for guests to snack on, party favors for them to leave with, and some traditional bridal shower games?! You could also plan it as a bachelorette party, later in the evening, and have some wine, music, games, and more! Want a wedding party for the bride AND groom? Why not?! Come celebrate your upcoming nuptials with us! Book a private party for an Anniversary, as well! You can come in and paint the church you were married in, a s you sit alongside friends and family and have a great time!
More about booking your event with us:
https://www....morewedoitall
We hope to see you soon for a class at our studio whether you're attending a wedding-related event or just one of our standard public classes. If you're looking for something fun to do in or around the Naperville area, we make a great spot to visit for everything from a fun and unique date night, an awesome girls' night out experience, and we even offer private events! When you view our classes on our website, you'll be viewing our schedule for our public classes, but you can also book a painting party with the guest list of your choice! Come in to celebrate a birthday, bridal shower, reunion, retirement, and more with friends and family, sharing their artistic sides, together. Make memories that will last a lifetime with a souvenir to treasure forever with one our classes.
*Learn more about our private parties, here:
https://www....ivate-parties
We also play host to tons of corporate events, too! Why not book your next work party or team building event with us? We offer several styles of paintings that incorporate team building strategies, encouraging the whole office to work together, creating a stunning world of art!
*Read more about corporate events, here:
https://www....porate-events
Share Sign up for this special painting HERE | View our full calendar here