3 DIY Face Masks To Make Now
Now that experts suggest that wearing a mask or face covering is helpful against the coronavirus, folks are scrambling to make their own rather than tap into the supply of surgical face masks needed by essential workers.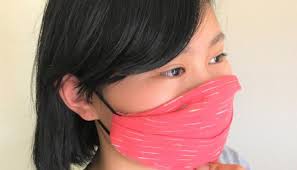 It's difficult to keep your distance in a grocery store or pharmacy, so now the CDC says we should wear a homemade mask in public to slow the spread of the coronavirus — particularly in areas with high community transmission.
Officials don't want healthy people using medical masks because of fears they would buy them all (kind of like toilet paper) and not leave them for health care workers.
We have the answer: Make your own
We've listed 2 different sewn masks and a no-sew version so anyone can make one to protect themselves when they're out on their essential trips like grocery shopping or getting gas.
If you have the supplies and time on your hands, you can make some for the whole neighborhood, drop some off at your local doctor's office, or pass them out to any other essential workers out there. We know they'd appreciate it so much. <3
---- Sewn Fabric Mask ----
1. This face mask design has a very good seal along the face, however, some may still find that fogging still happens to their glasses when they breathe. In order to make the face mask sealed even better, nose wire is added in as optional. If you don't need the nose wire, you can still sew the sleeve but just skip the wire, or, you may completely omit the sleeve part.
https://www....wing-pattern/
2. Check out this pleated face mask from Hobby Lobby
Here's a pattern, a detailed set of photos for the steps, and even have a video tutorial on YouTube.
https://imgp...emask-Web.pdf
(Video Tutorial):
https://www....v=o8OyV15ua24
---- No-Sew Mask ----
DIY no-sew face masks with fabric and hair elastics
This easy face-mask tutorial from DIY blog Japanese Creations has gone viral, and to make one, you don't need to know how to sew or be even remotely crafty at all!
https://nypo...air-elastics/
Note: The masks don't need to be professional-grade to help fight against COVID-19.
According to recent studies, the virus can spread between people in proximity by coughing, sneezing or even speaking.
It is important to note that covering your face with a piece of cloth won't protect you.
But, it could help you from spreading the virus if you're like some people who lack symptoms and don't know they have it.
If you're looking for some ways to keep the kids busy during the pandemic, we've got some great ideas for you! From in-home painting classes with Pinot's Palette to virtual tours and outside activities, we hope they help keep you and your little ones from going stir-crazy in self-quarantine.
Check them out:
https://www....eedrightnow--
Stay safe out there and to all of the amazing "essential" workers out there, we appreciate you all! Thank you especially to our doctors and nurses, firefighters, police officers, paramedics, truck drivers and delivery drivers, and so many others out there risking their lives for us!