"Painterly" Artwork: Learn About This Style & How You Can Make Some Of Your Own At Our Studio!
Paint like the masters with this fun and easy technique that dates back centuries...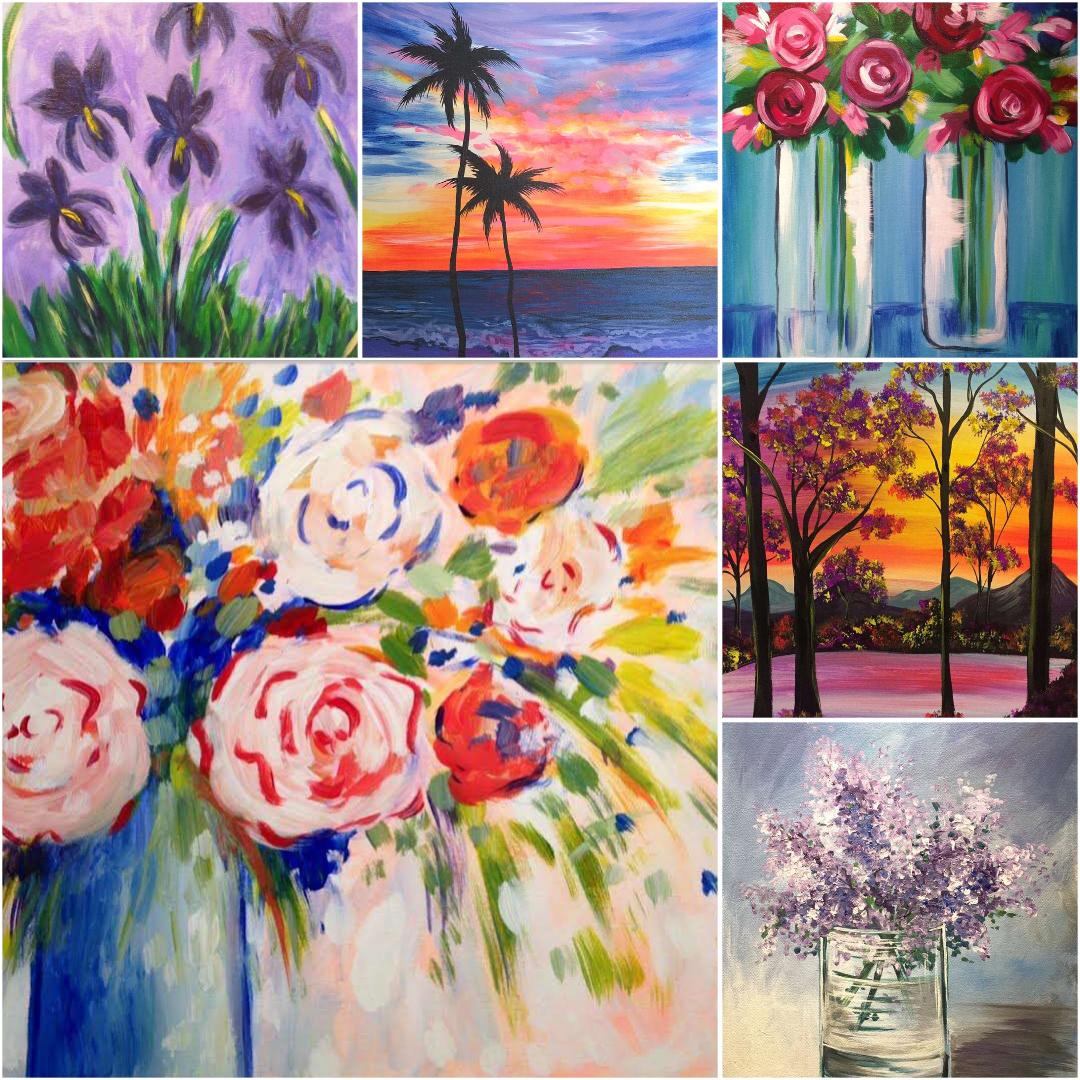 'Painterliness' is a concept, based on the German term "malerisch" (painterly), a word popularized by Swiss art historian, Heinrich Wölfflin (1864–1945), to help focus, enrich, and standardize the terms being used by art the historians of his time, to characterize works of art.
The term, "Painterly" is used to describe a painting, done in a style that celebrates the medium that it was created in; Whether it's oil paint, acrylic paint, pastels, watercolor, etc., 'Painterly' artwork doesn't try to hide the texture and movement of the materials, which gives it a cleaner and more polished look, and preferred by many artists.
It refers to the application of paint in a 'loose' or less than controlled manner, resulting in the appearance of visible brushstrokes within the finished painting.
The Impressionists, Fauvists and the Abstract Expressionists tended strongly to be painterly movements, the most common of all of these is 'Impressionism'…
Just take a look at the works of Monet, Renoir, Manet, Degas, Cézanne, and other famous Impressionists, and you'll get the perfect idea of what a painterly stye of art looks like! The quick and excited brushstrokes, the movement and personality that they hold, and the intense effort that the artists put into the piece can all be seen in these types of art. We find it absolutely intriguing as just looking at it will give you a great idea of the passion and creativity that the artist had as they created the masterpiece; Seeing the work, come to life, with just the pattern, color, and texture, made with specific materials by the artist, gives us insight to the personal thoughts and feelings of the artists and how and why they may have made such a piece.
Many famous artists, from both past and present, have been big fans of a the rich and textured draw of this painterly style; Notably, artists such as Vincent van Gogh, Claude Monet, Edvard Munch, Rembrandt, and Pierre Auguste Renoir… just to name a few.
Though we're fans of pretty much ALL types of art, for different reasons, we have to say that some of the paintings in our studio that do the best with our customers are the ones that contain a textured-look to them! People see the styles that look similar to those of Monet or van Gogh and want to paint like them! They want to channel their inner-artists and try to hone-in on the talent and drive that these famous artists possessed and create something similar.
Famous artwork like van Gogh's 'Starry Night' or Monet's 'Water Lillies" is something that everyone recognizes and it's where so many of our customers, want to start. Without a doubt, our "homage" paintings are some of our most popular, and have been that way since our company's opening in 2009!
We know that so many people are worried about coming into a studio to create art, when the majority of them have't picked up a paint brush since 5th grade…
That's where we come in! We're here to guide you through the painting and give you as much assistance as you need…. AND, that's why we love to suggest light and loose paintings like some of our 'Painterly"' styles of artwork like a van Gogh or Monet recreation, or a painting with textured trees, or one with choppy, thick brushstrokes. It's nice to be able to relax your wrist and mind, as you color OUTSIDE of the lines. For someone who's new to painting, it can sometimes get difficult and frustrating to try and keep everything in a perfect, contained shape, taking away some of the enjoyment, and diminishing the experience.
While ALL of our paintings are fantastic (and meant for beginners), if you're really nervous about trying out a class, keep the idea of the 'painterly' style in mind; Come in for one of the paintings on the calendar that is created in that style, OR come in for any of our paintings and change it to that style! Thinking outside the box and making your art, YOUR way, is what art is all about!
Remember to have fun with it!
Join us for some of the classes we're offering this May, that are created in a very "Painterly" style! Enjoy making the relaxed, loose brushstrokes, as you paint your masterpiece. Remember, there's no right or wrong way to do your art, anytime you make it, and especially with this style of art, it's even easier to hide a "mistake" that you don't like, as it gets lost in a sea of color and texture. Get lost in the process of being artistic and creative and making your masterpiece, exactly how you want to. Creating art (and other creative activities) is a fun and relaxing activity that allows you to express yourself with no words; Bring in your friends and family to spend time with you, as you all make some paintings, and you've really got a great time in store for you!
Listed, are just some examples of the upcoming 'painterly' styles of artwork, this May:
May 3, 'Vitamin Sea'
https://www..../event/320293
May 5, 'Pinot's Poppin' Peonies'
https://www..../event/311841
May 5, 'Monet's Lilac Irises'
This is a fundraising event for the American Cancer Society. All are welcome. So, invite your friends!
https://www..../event/308576
May 11, 'Apricot Roses'
(Celebrate Mother's Day!)
https://www..../event/311853
May 11, 'Sunset City'
(Celebrate Mother's Day!)
https://www..../event/311854
May 12, 'Lilacs In A Glass'
(Celebrate Mother's Day!)
https://www..../event/311842
May 12, 'Tulip Trio'
(Celebrate Mother's Day!)
https://www..../event/311848
***Our Mother's Day weekend classes (including the ones, listed above, are a GREAT way to spend time with Mom!)
Learn more about the fabulous classes we're offering for Mom:
https://www....llweekendlong
May 17, 'Simply A Starry Night'
https://www..../event/321937
May 18, 'Shimmering Sunset'
https://www..../event/320480
May 19, 'Dance Of The Buttercups'
https://www..../event/320492
May 25, 'Date Night Starry Night'
https://www..../event/320487
May 26, 'May Bouquet'
https://www..../event/320493
May 26, 'Vintage Flag'
https://www..../event/311850
May 31, 'Romance In The Park'
(Date Night Painting- come in and paint one canvas while your date paints the other! Push them together at the end to make a large work of art!)
https://www..../event/321202