May 12th Is Mother's Day! Join Us For Some Amazing Classes, All Weekend Long!
"Of all the gifts that life has to offer, a loving mother is the greatest of them all."
-Unknown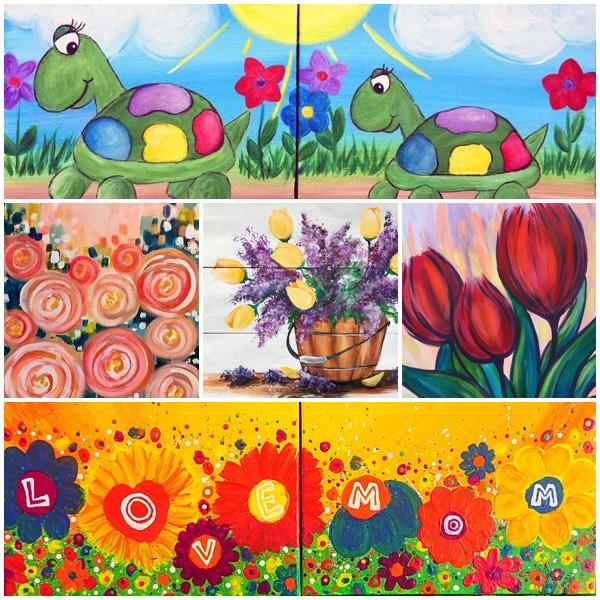 With less than a few weeks before Mother's Day, time is flying by, and Mom's big day will be here before you know it! Make your plans, now, and be ready to celebrate 'Mom' when Mother's Day weekend gets here! We have several classes throughout that weekend that you could bring your Mom (or any of the amazing women in your life) to! Paint and sip wine in a fun and creative environment, while making lots of great memories, along the way.
A painting and wine class at Pinot's Palette is a great way to spend time with anyone, as you make a masterpiece while enjoying wine, music, and the company of loved ones.
Mother's Day is such a great time to come in for one of our classes, as it's a way to spend quality time with someone and celebrate life, love, and happiness. Whether it's your Mom, Grandma, Aunt, Sister, Mom friends, or any other Moms that you're wanting to celebrate, giving them the gift of an experiences always great idea!!!
Check out all of our upcoming Mother's Day Weekend classes! Book your seats, ASAP, and bring them in on their special day to celebrate!
If you're looking to make a gift for your Mom, check out our full calendar and see all of the paintings we're offering throughout the next few weeks! Giving a handmade gift to someone (especially a parent or family member), is one of the most loved and cherished things they can receive! Who wouldn't love a painting that was made just for them, by someone who they love very much?! Give the gift of a hand-painted masterpiece and the recipient will always hold you in their hearts and thoughts when they look at their gift.
If you have a Mom or other loved one who lives out of town, but would still love to come to a class, we have over 160 locations throughout the US! Buy a gift certificate to give them and they can take a class at a studio near them; Our gift certificates, also come in handy if you already have plans for Mom, but would still love to paint with her at a better date and time!
Check out this full list of our US studios:
https://www....com/locations
(*Buy a gift certificate on the link at the bottom of the page)
MOTHER'S DAY WEEKEND CLASSES:
*** Friday, May 10
'Lasso The Moon' DATE NIGHT
Grab your sweetheart and paint these two canvases to create a romantic scene. Who can resist the famous words of George Bailey from It's a Wonderful Life?
"You want the moon? Just say the word and I'll throw a lasso around it and pull it down."
Stack two canvases for a date night painting or paint on one 10x30 canvas.
https://www..../event/318369
*** Saturday, May 11
'Two-Riffic Turtles' MOMMY & ME
Parents/grandparents will have a fun time painting with their child/grandchild these cute & colorful turtles.
https://www..../event/320681
'Apricot Roses'
Roses can come in a variety of colors and fragrances and each kind can symbolize something special. Rose that have a mixture of yellows and reds to create orange roses are seen as a bridge to friendship. The yellow roses symbolize friendship while red roses represent love. With the colors together, you have a perfect mixture of the start of a new journey with someone special.
This beautiful painting represents the beautiful apricots roses and can be a special gift to yourself or to a dear friend. Change up the rose colors for a new special meaning!
https://www..../event/311853
'Sunset City'
Chicago has one of the most beautiful skylines in the United States. Sunset City would make a beautiful edition to your painting collection! Customize it to your own city's background!
https://www..../event/311854
'Aurora Reflections'
Auroras are unexplained natural phenomena that occur when solar winds disturb the magnetosphere. They usually occur in the polar regions and different colors represent different magnetic wavelengths varying in color and complexity. Come paint your own unique aurora night sky reflecting in a calm lake surrounded by evergreens!
https://www..../event/318371
*** Sunday, May 12 -Mother's Day-
'Love Mom' MOMMY & ME
Happy Mother's Day!
Bright and colorful painting with fun designs to show Mom how much you love her. Make a forever memory!!
https://www..../event/320676
'Lilacs In A Glass'
Inspired by Manet's painting, this bouquet of purple lilacs can add a soft touch of color to any space.
https://www..../event/311842
'Country Tulips'
WOODEN PALLET Painting
This attractive bouquet of flowers will brighten you day!
https://www..../event/320447
'Tulip Trio'
Spring is almost here and these blushing tulips are ready to make their debut.
https://www..../event/311848
*Bonus: Monday, May 13
'Loving Blooms'
PERSONALIZE IT
Love is a flower that grows in any soil, works its sweet miracles undaunted by autumn frost or winter snow, blooming fair and fragrant all the year, and blessing those who give and those who receive
- Louisa May Alcott
This class is only $30
https://www..../event/320460