Make An Impression!!
You've undoubtedly seen the work of some of the Masters like Monet, Van Gogh, and Degas......
Impressionism and Post-Impressionism are two of the most well-known and influential art movements throughout all of art history!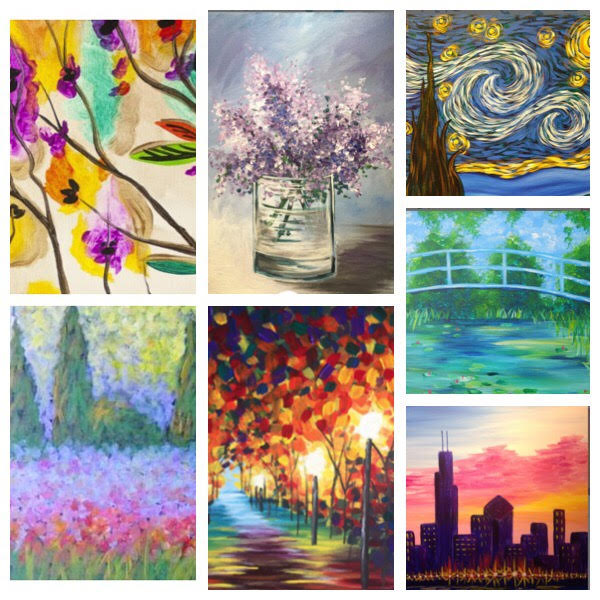 While very similar, and often confused with one another, there are differences between Impressionism (Monet's work) and Post-Impressionism (like Van Gogh). They were both huge art movements, producing some of the greatest works of all time, as well as having a French foundation.
Impressionism began in the early 1870s and was influenced by Japanese block prints. It is the child of Realism (modern life) and Naturalism (or objectivity). It is described as having small, thin, and choppy brushstrokes, an open composition, and avoided the color black. The impressionistic idea was to capture a moment in time quickly. (The reason for such quick brush strokes...). The style also held the inclusion of movement, which was a critical element, calling for the angles to be quite unusual for a painting. The subjects didn't appear quite as realistic or detailed as they always had in previous decades of art.
The father of Impressionism was Claude Monet. Other famous Impressionists include Pierre-Auguste Renoir, Edgar Degas, and Èdouar Manet.
*Check out some of the most famous Impressionistic paintings here:
https://lear...ist-paintings
As for Post-Impressionism, the name says it's all: it was the art movement that came about after Impressionism. This style of art was born and utilized between 1886-1905. It is described as the fusion of Impressionism (modern technique) and Romanticism (or subjectivity)--(remember that Impressionism was objectivity). Post-Impressionism is one of the most loved, popular, and easily recognized art movements! The father of the movement was Paul Cèzanne and some other, well-known artists were Vincent Van Gogh, Paul Gauguin, Henry Rousseau, and George's Seurat.
*Some of the most well-known Post-Impressionistic paintings can be seen here:
https://lear...ist-paintings
If you love the Impressionistic and Post-Impressionistic styles as much as we do, you're in luck!!! We often offer many Van Gogh and Monet replication paintings, which are always a HUGE hit! People love to paint Starry Night and any version of it we offer! It's easily-recognized and super fun to paint!!!
Join us for one of these upcoming Impressionistic-style painting classes at our studio:
8/3 (7-9pm)- 'Simply A Starry Night'
8/6 (12:30-2:30pm)- 'Tuscan Wildflowers'
8/10 (7-9pm)- 'Jeweled Branches'
*Join us for this special class! Check out the information HERE:
https://www....e-trendydecor
8/11 (7-9pm)- 'Sunset City'
8/12 (7-10pm)- 'A Walk Through Color'
8/24 (7-9pm)- 'Tipsy Wine Garden'
8/26 (7-10pm)- 'Starry Night Chicago'
**Click the link below to sign up for this class!!!! A fun version of the famous 'Starry Starry Night', customized for the great city of Chicago!!!
https://www..../event/180299
8/28 (7-9pm)- 'Budding Romance'
8/31 (7-9pm)- 'Lilacs in a Glass'
9/1 (7-10pm)- 'Monet's Lily Pond'
CHEERS!!!