Meat, Cheese and Wine Pairings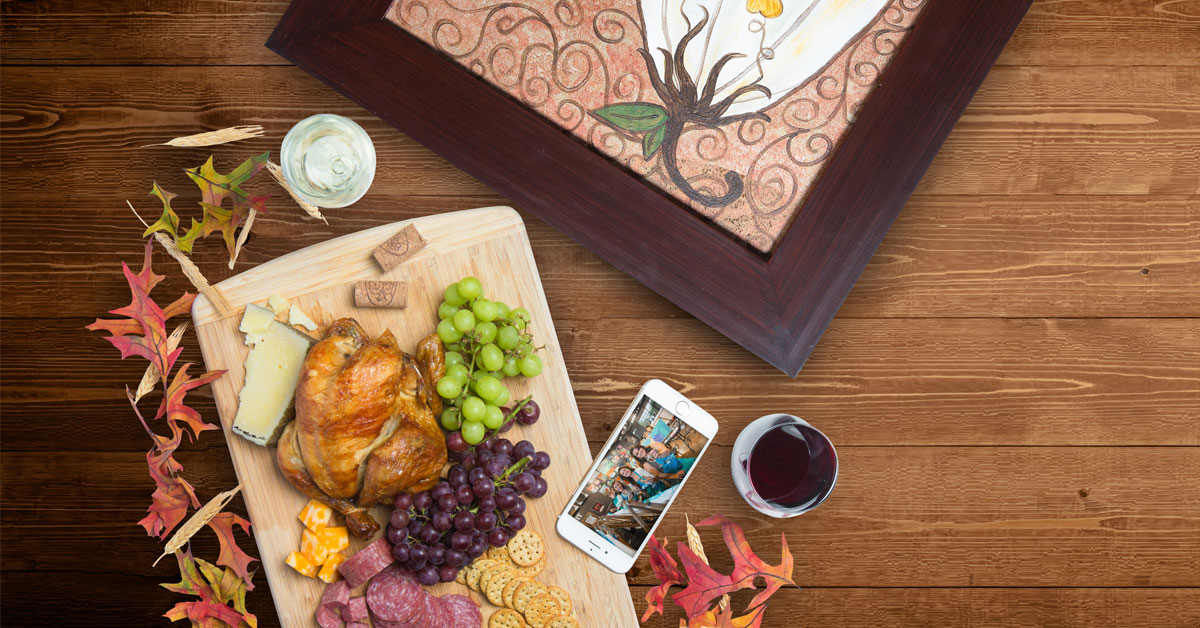 Paint, Drink and Be Thankful with us at Pinot's Palette in Montrose! This time of year can get hectic and stressful, so why not take a little break to relax and celebrate your closest friends! This November we are celebrating Friendsgiving All Month Long!!! Join us at one of our public paint parties, or if you have a larger group of friends host a private paint party! Our quaint, historic art studio in Houston is the perfect atmosphere to Paint, Drink, and Be Thankful! And what's a party without some delicious food and wine?? Follow our easy charcuterie, cheese and wine pairing tips below to really take your Friendsgiving to the next level!!
Create the perfect spread on a large wooden cutting board or even a chalkboard! Give your friends some variety between spicy, sweet, and smoky flavors. Let's start with a selection of meats:
What meats to choose?
-Capicola - spicy, tender Italian ham.
-Dry-cured Chorizo – smoky and spicy
-Prosciutto – smooth and salty
-Mortadella – grown folks' bologna
-Salami – the Tom Hanks of meats. Everyone loves it.
What pairs excellent with the above meats? You guessed it, CHEESE!!!
Which Cheeses?
(one unique, one mild, and a crowd pleaser)
-Goat – sweet and sharp. Pairs well with just about everything.
-Havarti – mild and slightly sharp
-Blue Gorgonzola – the world's oldest blue cheese. A blue cheese lover's dream
Finish off your board with some crackers and perhaps some of these flavorful additions:
-A beautiful Stone-ground Mustard.
- Fruits, such as figs, blueberries or grapes.
- Small pickles, cherry peppers, or garlic stuffed olives
Now that your board is set to please all palates, finish off your spread with some delightful wines that will pair perfectly with variety the flavors you've selected!
Wines to serve:
- Rustic Reds such as a Cabernet Sauvignon or a Merlot pair well with Smokey meats and cheese.
- Riesling, Moscato or a Chenin Blanc complement your lighter meats like ham.
-Pinot Noir or a Beaujolais make a perfect food companion. These wines will pair with everything on your board.
-Sauvignon Blanc or Pinot Grigio is ideal for a lighter, more versatile pairing for your fruits and lighter cheeses.
This November don't miss the opportunity to show your friends how thankful you feel to have them in your life! Pinot's Palette in Montrose will take care of making sure your night is filled with unforgettable fun and blissful creativity! Enjoy $6 OFF each seat using code: TURKEY18 (Discount cannot be applied to existing reservations or used on specialty events like Project Pet, Family Days, Fundraisers, or Private Parties)
The best friends, the perfect plate, Friendsgiving is yours to create! Book your Friendsgiving TODAY!
Share Book Your Friendsgiving Party! | Private Party Information