Drink a Blue Elephant?
Our motto here at Pinot's Palette is "PAINT, DRINK, HAVE FUN! Let's be honest, the drink part has a lot to do with the fun part. Most people think of a bottle of wine or champagne when planning what to sip on while they are attending a painting class, but there is so much more! If you would like to change it up a little and add some more "fun" to the "drink" try pairing some of our beautiful paintings this month with it's complementing libation!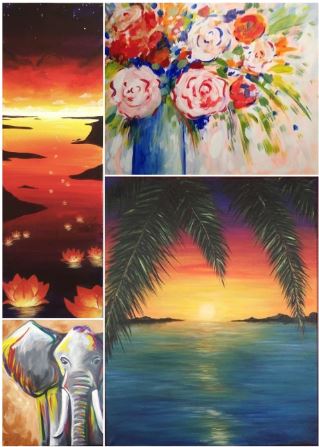 DREAM ISLAND (pictured bottom right)
"Dream Island" is a beautiful paradise sunset that would pair perfectly with the delicious, tropical Blue Hawaiian!
Blue Hawaiian
1 oz. Light Rum
1 oz. Blue Curacao Liqueur
2 oz. Pineapple Juice
1 oz. Coconut Cream
Place a slice of pineapple slice and a maraschino cherry for garnish.
SUNSET LANTERNS (pictured top left)
"Sunset Lanterns" is a tranquil painting with glowing, floating Lotus flowers. The Red Lotus is a lychee flavored drink that pairs perfectly with this peaceful painting.
Red Lotus
1.1/2 oz. Vodka
1.1/2 oz. Lychee Liqueur
1 oz. Cranberry Juice
Garnish with a lime twist.
ELEPHANT (pictured bottom left)
"Elephant" is a regal, strong painting with lots of bold colors just like this crowd-pleasing cocktail, Blue Elephant.
Blue Elephant
1 oz. Vodka
1 oz. Lemon Juice
1 oz. Pineapple Juice
.1/2 oz. Blue Curacao
Fill your cocktail shaker with the ingredients, add ice and shake well. Strain into a glass filled with ice. Garnish with a pineapple slice.
PINOT'S POPPIN' PEONIES (pictured top left)
"Pinot's Poppin' Peonies" is an elegant bouquet with a modern twist and so is The Mosé. The Mosé will definitely give the tried and true mimosa a run for its money!
The Mosé
2 Strawberries Sliced
1 tsp sugar
2 oz. Tequila Blanco
1 oz. Lemon Juice
Splash of Rosé
Muddle strawberries with sugar in a glass until they are slightly smashed. Add all other ingredients into a cocktail shaker with one cube of ice. Shake for about 45 seconds. Pour into a wine glass.
Enjoy $6 off per seat with code SUMMERVIBES. We can't wait to paint with everyone!! Code not redeemable at Painting It Forward fundraising events, Specialty Events, or Private Parties.
Seats are limited, sign up TODAY!