Complementary Colors for Your Home Decor!
What is a complementary color?
Complementary colors are colors that are opposite of each other on the color wheel (see above).
There are traditionally three sets of complementary colors:
Red and Green
Purple and Yellow
Blue and Orange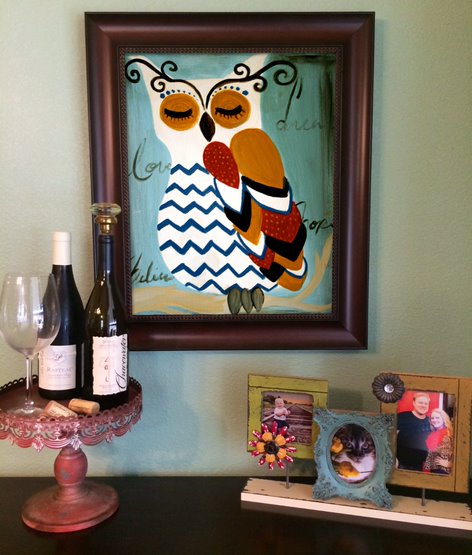 Do you have a room in your house that is starting to seem a little dull to you? There's just not much excitement going on in the realm of color and just doesn't seem to have much personality? Maybe you need only to look as far as the old tried and true friend, the color wheel. The color wheel is an easy guide that may show adding one simple complementary color to your room be it a throw pillow, blanket, vase or painting can change the room's whole vibe!
In ye old times, decorating with complementary colors was considered a no-no, too bold and not pleasing to the eye because it was just too loud for our weak eyes to take. Well gone are the days of Chantilly curtains and knitted toilet paper holders. This is your house, and it should be a reflection of you so liven things up! It is true that large areas of complementary colors can get a little iffy but in small doses the added spark of color is stunning.
So how does knowing this help pizazz up your room? When complementary colors are viewed beside each other, they have an optical effect. Each color intensifies the other. Example, a small yellow throw on a purple couch really pops and vice versa. If your bedroom needs a makeover and you have a blue bedspread add an orange pillow or a tangerine colored vase to your nightstand and see how your room instantly has more life. Since we are talking about adding color and not a piece of furniture, this is renovation on a dime. You may have a red rug that you never thought about putting it in the bathroom to complement the green shower curtain.
Paintings with complementary colors are beautifully vibrant! Join us at Pinot's Palette to paint and sip your way to a complementary masterpiece. We have several paintings coming up that demonstrate how these colors work beautifully together.
The calming effect of a blue ocean against an orange sunset is one of our favorites. You and partner can join us for our date night painting August 3rd from 7-9 pm "Romance on the Beach." Also, "Elephant at Dusks" from 7-9 pm on August 17th displays a brilliant blue sky that fades into an orange sunset.
If you prefer the elegant combination of sage green and dusty rose join us for "Pinot's Poppin' Peonies" on August 4th from 2-4pm.
"Colorful Cacti" on August 31st from 7-9:30 pm is a magnificent explosion of color. This painting uses all three sets of complementary colors resulting in a kaleidoscope of vibrancy.
Enjoy $6 off per seat with code SUMMERVIBES. We can't wait to paint with everyone!! Code not redeemable at Painting It Forward fundraising events, Specialty Events, or Private Parties.
Seats are limited, sign up TODAY!