Apple Harvest Sangria
In case you haven't noticed, apples are in season! The local markets are filled with colorful varieties, the apple pies are flying off bakery shelves, and we thought of the perfect use for this Fall-forward fruit: sangria.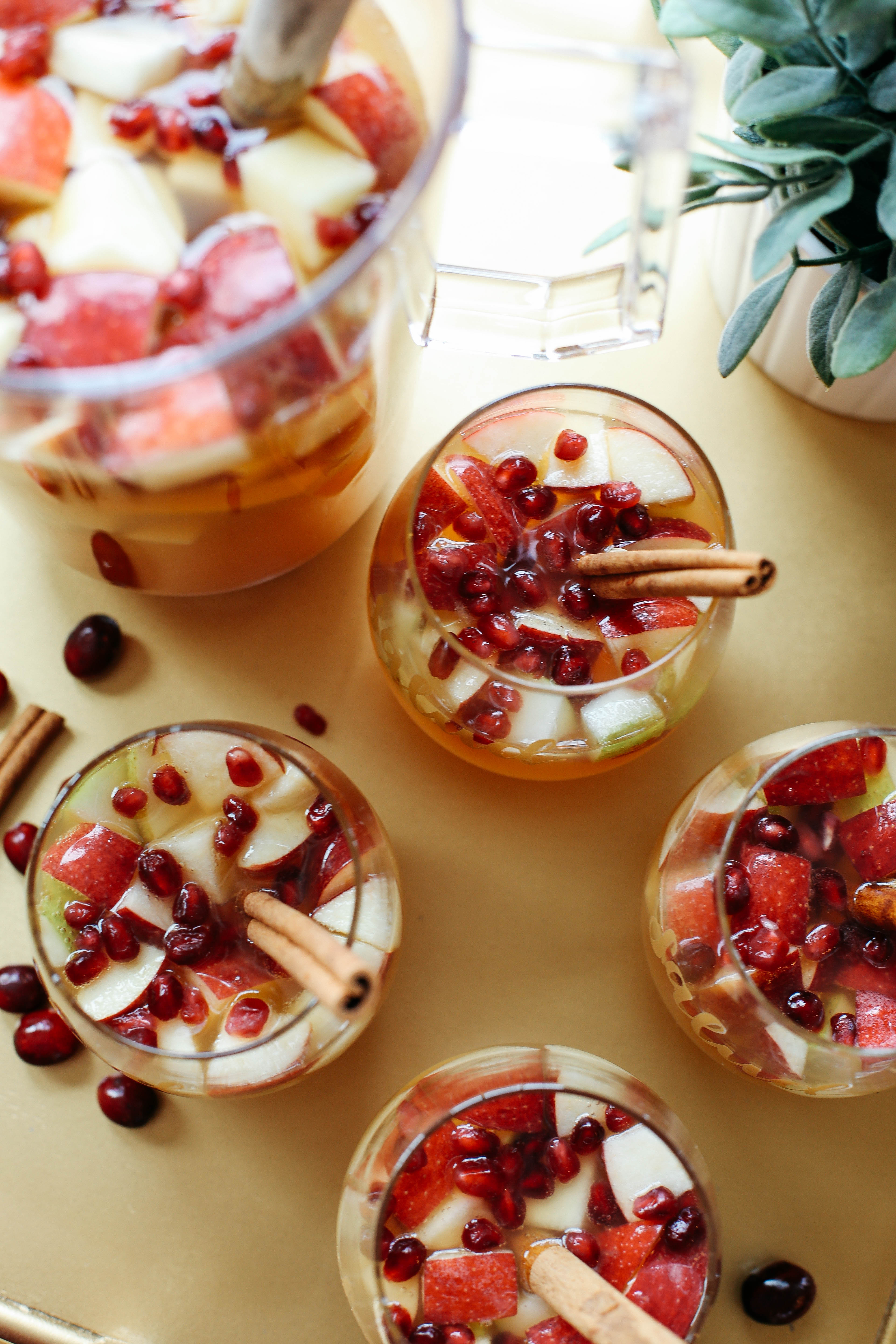 Sangria can be made with virtually any fruit and wine combination. It can be spiced up with herbs, boozed up with spirits, or zested up with citrus. We love sangria because it's beautiful, perfect for parties and nearly impossible to get wrong. For this particular sangria, we wanted to bring in the unique flavors of Fall (minus the oh-so-popular pumpkin spice) and take full advantage of the delicious and plentiful apples in season.
This original recipe will not only taste delicious and provide you with cozy Fall vibes, it'll also make your house smell amazing. Try it, bring it in a decorative pitcher to your next painting class, and let us know what you think!
Recipe makes: 1 pitcher (serves 6)
Prep Time: 30 minutes
Ingredients:
1 (750 mL) bottle of buttery chardonnay
2 cups marsala wine
1/2 cup amoretto liqueur
2 cups apple cider
1 envy apple, diced
1 honeycrisp apple, diced
1 blood orange, sliced
2 cinnamon sticks
1 cup fresh cranberries
2-3 sprigs of fresh tarragon, plus more for garnish.
In a small saucepan, combine the apple cider, cinnamon sticks, and tarragon. Bring to boil, then lower the heat and simmer for 10-15 minutes. Strain and discard the cinnamon and tarragon, and set the infused cider aside to cool. In a large pitcher, combine the chardonnay, marsala, amoretto, apples, orange slices and cranberries. When the cider is cooled, pour it into the pitcher and stir. Chill in the refrigerator for at least 2 hours before serving. Garnish with a fresh sprig of tarragon to make it extra fancy. Cheers to a Happy Fall, yall!