Bar Menu
Sipping on your favorite beverage in house has never been easier in our painting studio! We support our Livermore wineries and breweries! We have a great selection of local wines and craft beer for you to choose from. Join us for your favorite drink and a fun night of painting!
*Drinks options are subject to change without notice*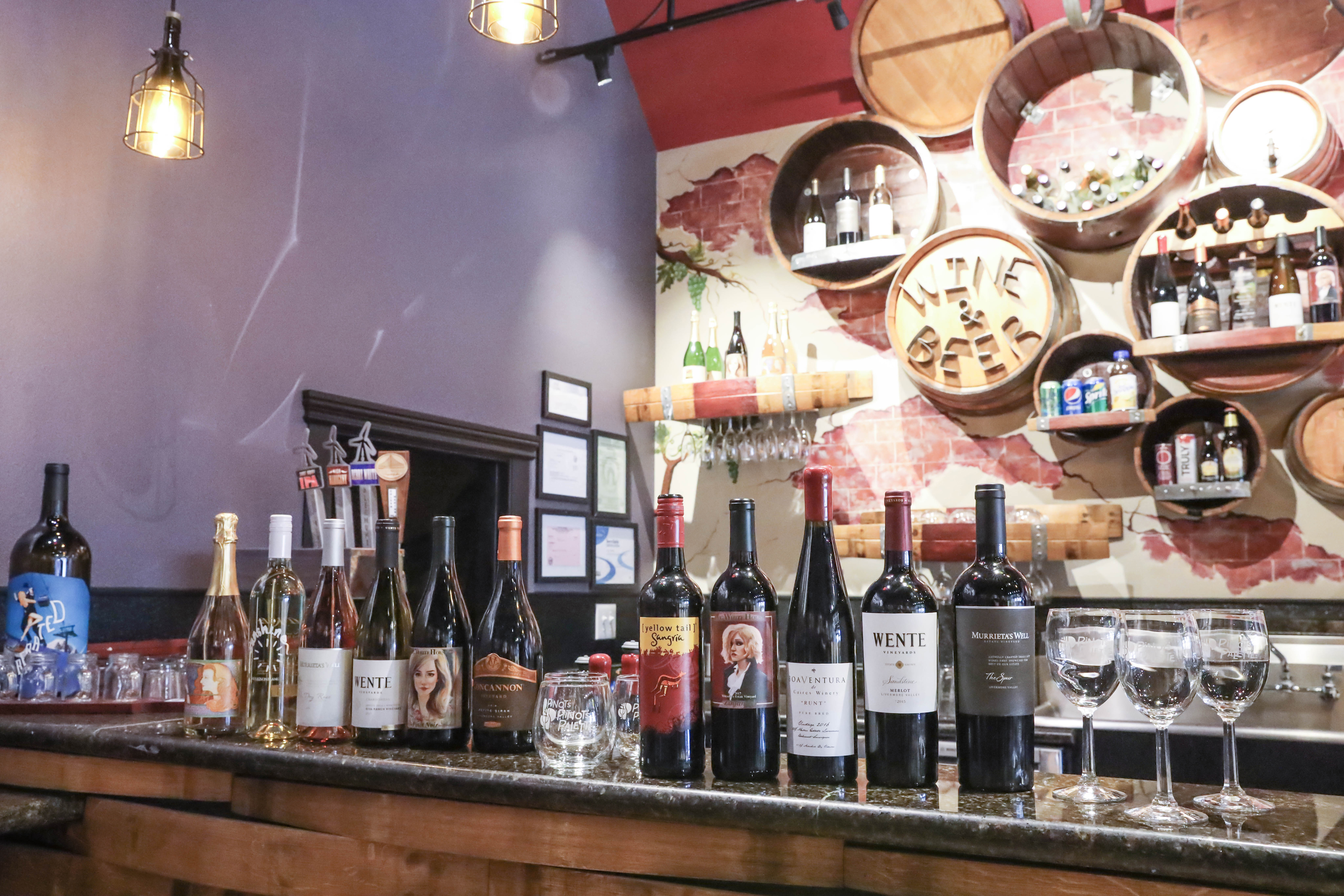 SPARKLING
Champagne, Ruby Hill (187 ml) (LIVERMORE) $9 bottle
Sparkling Brut $39/bottle (Sold by the bottle only.)
Peach Sparkling Wine, Big White House $28/bottle (Sold by the bottle only.)
WHITE WINES
Chardonnay, Wente' Vineyards Riva Ranch (Livermore) $13 glass/$37 bottle
Sauvignon Blanc, Mitchell Katz (Livermore) $7 glass/$19 bottle
Rose, Fenestra (Livermore) $12 glass/$34 bottle
Ruffino Moscato $11 glass/$30 bottle
RED WINES
Cabernet Sauvignon, Wood Family (Livermore) $13 glass/$39 bottle
The Spur Red Blend, Murrieta's Well (LIVERMORE) $13 glass/ $37 bottle
Pinot Noir, The Big White House, (Livermore) $13 glass/$37 bottle
Merlot, Wente (Livermore) $10 glass / $28 bottle
Petite Sirah, Concannon, (Livermore) $7 glass/$20 bottle
Zinfandel, Enrenberg Cellars (Livermore) $8 glass/$22 bottle
LIVERMORE CRAFT BEER
(Rotating Draft Beers Subject to Change)
Altamont Beer Works:
American Lager $7
Maui Waui IPA $8
Berry White $7
Eight Bridges:
Hoppy Salvation IPA $8
SPECIALTY DDRINKS
Margarita (wine based but taste like a tequila margarita)....$7
Frose' (4 juices: Strawberry, Lemon, Grapefruit, Peach)....$12
Frosecco (Lemon)....$12
BOTTLES/CANS
Crispin Hard Cider - $6
Hard Seltzer (Variety) - $6
NON-ALCOHOLIC DRINKS
Bottled Water..........$1
Soda Can..........$2
Coke, Diet Coke, Sprite
Diet Snapple..........$3
Tea..........$2
Sparkling Water..........$3
Coffee..........$3
Hot Chocolate.....$2
Izze Sparkling Juice....$3
SNACKS & APPETIZERS
Trail Mix with M&M's...$2
Sargento Nut/Cheese/Dried fruit Pack...$3
Bite Size Salami and Provolone....$5
Mini Pizza...(cheese or peperoni).... $4
Veggie Spring Rolls...$4
Chicken Taquitos...$4
Vegan Samosas...$4
Mozzarella Sticks...$3
Italian Style Meatballs...$4
DESSERT
Milk Chocolate Carmel Macadamia Nut Clusters (2)....$2
Godiva Ganache Dark Chocolate (4)....$2
*Food item availability is are subject to change.
*Please note that California law prohibits BYOB in this establishment. Outside food/beverages cannot be allowed
Paint. Drink. Have Fun.