Bar Menu
Sipping on your favorite beverage in house has never been easier in our painting studio! We support our Livermore wineries and breweries! We have a great selection of local wines and craft beer for you to choose from. Join us for your favorite drink, great appetizers and a fun night of painting!
*Drink and food options are subject to change without notice. Options are based on availability*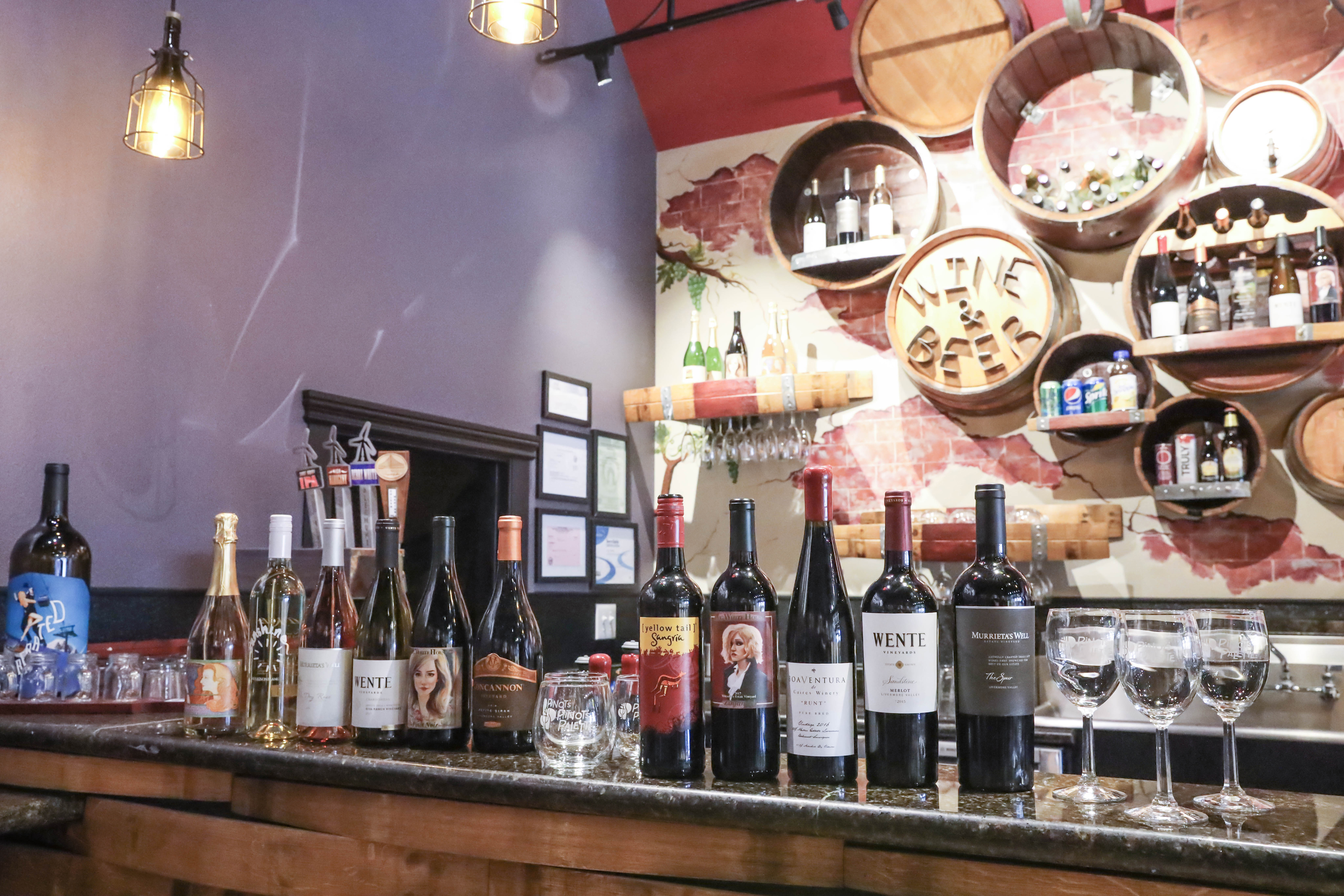 SPARKLING Sold by the bottle only
Sparkling Wine, Ruby Hill (187 ml/single serve) (Livermore) $9 bottle
Sparkling Wine, Ruby Hill (Livermore) $30 bottle
Peach Sparkling Wine, Big White House (Livermore) $34/bottle
WHITE WINES
Chardonnay, Wente' Vineyards Riva Ranch (Livermore) $13 glass/$37 bottle
Rose, Darcie Kent (Livermore) $12 glass/$34 bottle
Ruffino Moscato $11 glass/$30 bottle
RED WINES
Cabernet Sauvignon, Wood Family (Livermore) $13 glass/$37 bottle
The Spur Red Blend, Murrieta's Well (Livermore) $13 glass/ $37 bottle
Merlot, Wood Family (Livermore) $13 glass/$37 bottle
Pinot Noir, Leisure Street Winery (Livermore) $15 glass/$47 Bottle
LIVERMORE CRAFT BEER
(4 Rotating Draft Beers)
Altamont Beer Works & Pennyweight Brewery: $8/Pint
SPECIALTY DRINKS
Vodka Cranberry $9
Rum & Coke $9
Bloody Mary $10
Michelada $8
Margarita $10
_________________________________________________
Dirty Paint Water ($12)
Rum, blue curacao, grenadine & orange juice
Coco Loco ($13)
Rum, orange juice, pineapple, grenadine & coconut syrup
Happy Little Tree ($12)
Vodka, triple sec, lime juice, & Sprite.
Picasso ($10)
Rum, coke, & lime juice
Painting in Paradise ($12)
Tequila, orange juice, pineapple & grenadine.
Starry Night Margarita ($12)
Margarita with blue curacao & gold glitter
BOTTLES/CANS
Hard Cider - $6
NON-ALCOHOLIC DRINKS
Bottled Water $1
Coke, Diet Coke, Sprite $2
Hot Tea $2
Sparkling Water $3
Coffee $3
Hot Chocolate with whip $3
Izze Sparkling Juice $3
Capri Sun $1
SNACKS & APPETIZERS
Trail Mix with M&M's (small snack bag) $3
Charcuterie Board (serves 2 guests, (8) salami, (8) slices 4 kinds of cheese, (8) 2 kinds of crackers, green olives, mixed nuts $15
Mini Pizza...(cheese or pepperoni) (cut into 4 bites) $4
Veggie Spring Rolls with Sweet Chili Sauce (V) (6) $5
Chicken & Cheese Taquitos with Salsa (4) $5
French Fries (GF) (basket) $5
Garlic Fries- olive oil, parsley, parmesan cheese (GF) (basket) $7
Italian Style Meatballs with Marinara Sauce (8) $5
Mozzarella Sticks with Marinara Sauce (6) $5
Chicken Tenders (4) Sauces: Ranch, BBQ, Sweet Chili $8
*Please note that California law prohibits BYOB in this establishment. Outside food/beverages cannot be allowed
Paint. Drink. Have Fun.