Bar Menu
Sipping on your favorite beverage in house has never been easier in our painting studio! We have a great selection of local wines and craft beer for you to choose from! Join us for your favorite drink and a fun night of painting.
*Drinks options are subject to change without notice*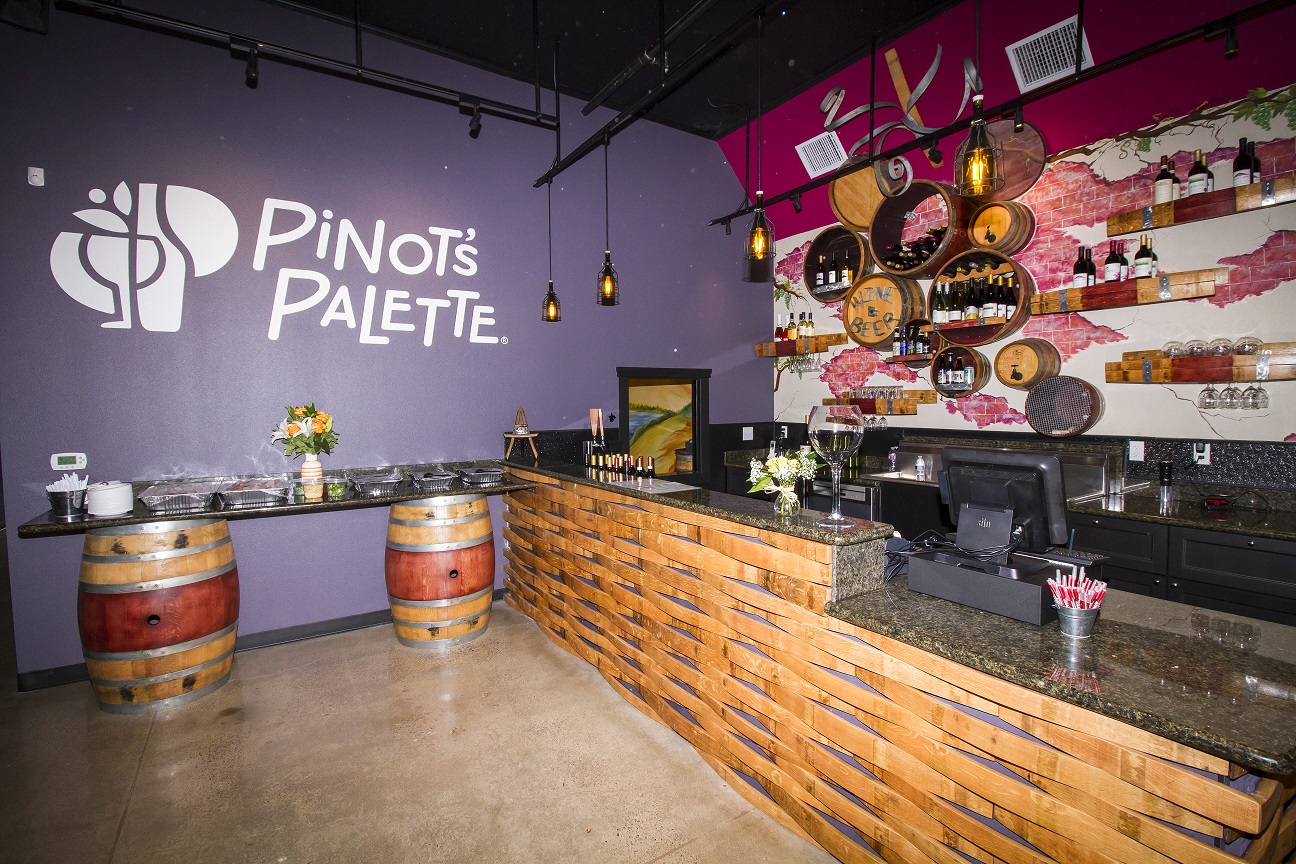 SPARKLING
Champagne, Ruby Hill (187 ml) (LIVERMORE) $9 bottle
Bright aromas of apple, lemon, and tropical fruits
Sparkling Brut, Mumm (NAPA) $39/bottle (Sold by the bottle only.)
WHITE WINES
Moscato, Robert Mondavi 375 ml (half bottle) (NAPA) $18/bottle
Chardonnay, Wente Vineyards Riva Ranch (Livermore) $13 glass/$45 Bottle
This wine has lovely notes of citrus and tropical fruit, such as pineapple and mango. The rich mouthfeel gives a taste of lemon-curd or a baked apple tart, graham and toasty vanilla from barrel aging.
Chardonnay, Darcie Kent (Livermore) $12 glass /$34 bottle
Vintner/Artist Darcie Kent crafted this wine in stainless steel and neutral oak barrels without malolactic fermentation to be CRISP and REFRESHING
Sauvignon Blanc, Wente (Livermore) $9 glass/$25 bottle
Dry Rose, Murrieta's Well (Livermore) $12 glass/ $42 bottle
This wine displays a vibrant peach color with aromas of strawberry, melon and jasmine. On the palate, bright acidity and flavors of melon and berry are highlighted in this well-balanced, opulent wine
RED WINES
Cabernet Sauvignon, Ruby Hill (LIVERMORE) $12 glass / $34 bottle
Flavors of black cherry and currant with notes of cedar and vanilla
The Spur Red Blend, Murrietas Well (LIVERMORE) $13 glass/ $37 bottle
Pinot Noir, Love Noir, (Livermore) $11 glass/$30 bottle
Love Noir is a luxurious, fruit-forward take on Pinot Noir. Generous notes of dark cherry meld with a hint of
mocha and finish with a silky, smooth texture. Grapes locally sourced from LIvermore & Ripon.
Merlot, Wente (Livermore) $10 glass / $28 bottle
Blackberry and blueberry caramel and toffee notes
Petite Sirah, Concannon, (Livermore) $7 glass/$20 bottle
Enjoy this artful expression of voluptuous blackberry, blueberry and layered spice leading to a long, velvety finish.
LOCAL LIVERMORE BEER
Eight Bridges Golden Nectar Draft $7
Wonderful malty aroma, that is classic to this style and is balanced with a noble hop character. This beer is crystal clear, straw colored with a brilliant white head. Its flavor is crisp and clean like a good pilsner should be.
Altamont Beer Works: "Shot Away" IPA $7
A true "West Coast" IPA Which is hop forward without the extreme hop bitterness. Light in body and color; this is bursting with huge citrus and tropical aromas.
Eight Bridges: Citrus Voodoo $7
Hazy IPA
Shadow Puppet: "Kentucky Brown" $7
traditional brown ale.
BEER
Crispin Hard Cider - $6
NON-ALCOHOLIC DRINKS
Bottled Water..........$1
Soda Can..........$2
Pepsi, Diet Pepsi, Sprite
Snapple..........$3
Tea..........$2
Sparkling Water..........$3
Coffee..........$3
Hot Chocolate.....$2
*Please note that California law prohibits BYOB in this establishment. Outside beverages cannot be allowed. All guests in the studio must be 21 years old. Beverages and pricing are subject to change without notice.
Paint. Drink. Have Fun.