Liberty Station Food and Bar Menus
Enjoy a glass of wine, a cold beer, or a nonalcoholic selection from the bar while you paint! No need to get up from your seat, our bartenders will come to you so you can stay in the paint zone :-)
We also offer a select menu from the award winning Italian restaurant, and our lovely neighbors, Solare Ristorante. You can order through our bar, and Solare will deliver it to you!
Click the link here to see Solare's Menu:
http://www.s...lare-Menu.pdf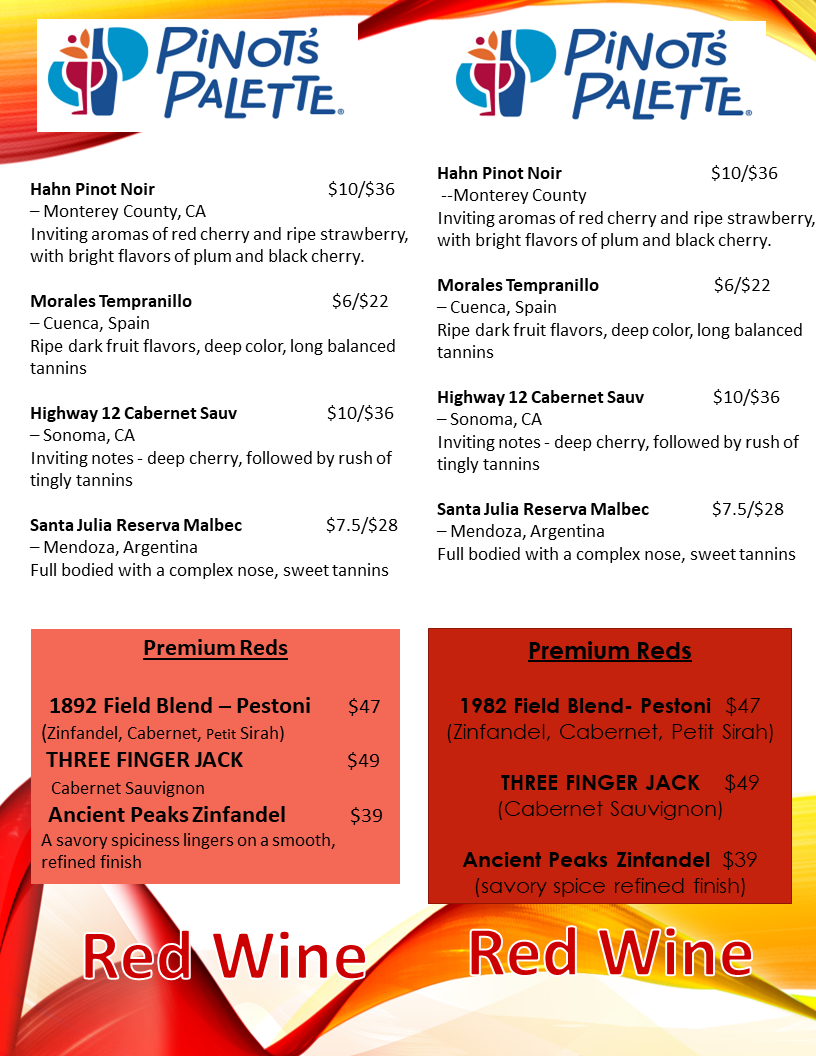 White Wines Red Wines Beers and Non-alcoholic beverages available. Paint. DRINK. Have Fun!!!
Prices are listed for Glass/Bottle ("$---" signifies selection not available by the glass)
Clean Slate Riesling $7/$26
– Mosel Germany
Slightly sweet, with bright, crisp flavors of green apple, pear and peach
Kris Pinot Grigio $7.5/$28
– Montagna, Italy
Featuring acacia flower, lime, honey, and a unique touch of almond
Bellafina Pink Moscato $6.5/$24
- Fosslata di Piave, Italy
Soft and sweet, fresh aromas of melon peach and red berries
Ponga Sauvignon Blanc $8/$30
- New Zealand
Light-bodied with refreshing flavors of passion fruit, gooseberry and grapefruit
Bodegas Borsao Rose' $7.5/$28
Bright red fruit aromas, delicate spice flavors, and notes of strawberries
Dante Chardonnay $6.5/$24
- Oakville, CA
Lighter bodied with expressions of apple and orange peel
Hahn Chardonnay $10/$36
- Monterey County, CA
Aromas of citrus, banana, lemongrass and baked apples
Alto Adige Terlaner
- White Blend ---/$44
Sparkling Wines
Tiamo Prosecco (Split) $7
– Italy
Bellafina Prosecco $6.5/$24
– Fossalta di Piave, Italy
Francois Montand Brut ---/$28
– France
Dry and wonderfully balanced fruit aromas light and bubbly
Red Wines:
Hahn Pinot Noir $10/$36
– Monterey County, CA
Inviting aromas of red cherry and ripe strawberry, with bright flavors of plum and black cherry
Morales Tempranillo $6/$22
– Cuenca, Spain
Ripe dark fruit flavors, deep color, long balanced tannins
Highway 12 Cabernet Sauv $10/$36
– Sonoma, CA
Inviting notes - deep cherry, followed by rush of tingly tannins
Santa Julia Reserva Malbec $7.5/$28
– Mendoza, Argentina
Full bodied with a complex nose, sweet tannins
Premium Reds:
1892 Field Blend - Pestoni $47
(Zinfandel, Cabernet, Petit Sirah)
Fighter Pilot Red Zinfandel $53
(In honor of our courageous Aviators)
Ancient Peaks Zinfandel $39
– Paso Robles, CA
A savory spiciness lingers on a smoothth, refined finish
Beer:
Pacifico $4.5
Angry Orchard Hard Apple $5.5
Ballast Point Sculpin IPA $6
Orange Avenue Wit $5.5
Alpine Duet $6
Karl Strauss Red Trolley Ale $5.5
Lagunitas Pilsner $5.5
Belching Beaver P.Nut Stout $6.5
Saint Archer Blonde Ale $5.5
White Claw Hard Seltzer: $5.5
SABÉ cocktail:
Skinny Margarita - $8
Sodas and Non-alcoholic:
San Pellegrino $3.5
Sparkling Italian Water 500ml
Diet Coke 12 oz $2.5
Blood Orange Pellegrino $3
Sprite 12 oz $2.5
Coke 12oz $2.5
Coffee Kurig $2
Water Bottle $1