DIY Not So Ugly Sweater Class!
Who is ready for something different this holiday season?? ☃🎄☃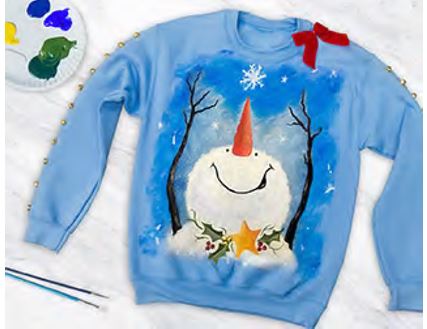 We are super excited to be offering this December our Not-So-Ugly-Holiday-Sweater class!
Holiday sweaters are such a great way to show your festive spirit and if you want to leave your sweater cute and cozy we are more than ok with that. If you want to tacky it up with bells, ribbions, and garland we are super ok with that too!
The first part of the class will be similar to our other awesome classes where you are painting. Of course this time you will be painting on a sweater but hey we told you it would be different! After that we are going to get crafty. Let the garland fly and bells jingle and make this the most holiday sweater that is sure to win first prize at all of your office holiday parties!
Registration ends November 17th so we have time to order all the holiday fun!