Host a Fundraiser
Been looking for a way to raise money for a good cause? Well we would love to help out with an event!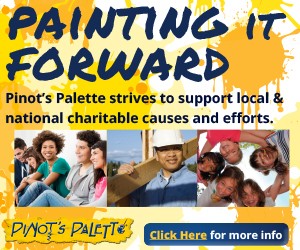 Are you wanting to raise money for a charity, non-profit organization or a good cause? Consider having a painting party with us! We are happy to book public classes on Sundays, Monday or Tuesday nights that do not have an already scheduled event. Depending on the number of seats sold we would either give 10-15 dollars of each seat sold AND half of our bar proceeds toward your cause. With both of us promoting and getting the word out about your event we should have a great turn out!
Adam and I, the owners of Pinot's Palette Huntsville, very much love to give back to our local community and would love to hold fundraisers for a good cause! If you're interested in hosting a fundraiser with us, send an email to huntsville@pinotspalette.com or give the studio a call at 256-801-9640.